Here Are The Top Electric Cars According To Social Media; Electric Cars Are Still A Sliver Of Total Car Sales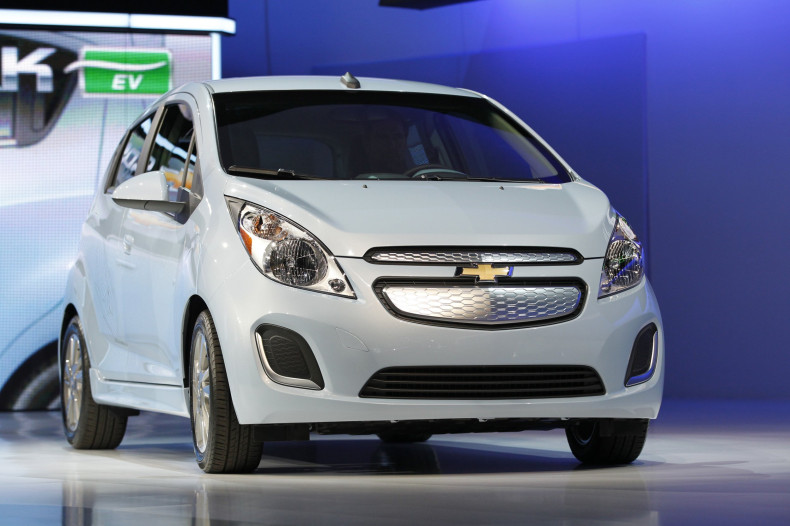 Electric vehicles have been around longer than gasoline burners, but it has taken over a century for battery technology to make EVs a viable alternative to internal combustion engines. And as the public slowly begins to embrace the technology, social media analysts recently looked at the online chatter to see which e-cars are getting the most attention.
In comments on sites like Twitter and Facebook, the Tesla Model S predictably ranks as the most talked-about electric car on the Internet, according to the poll conducted by SAP SE (FRA:SAP), a German software developer and marketing analytics firm, and announced in Forbes on Sunday.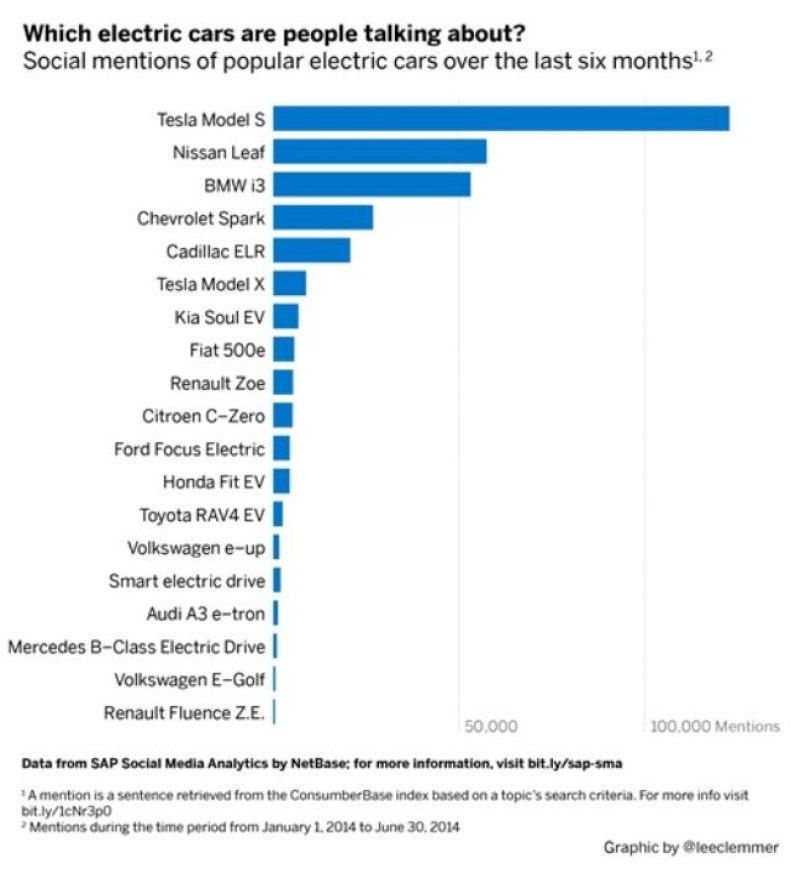 Tesla Motors Inc. (NASDAQ:TSLA) and its founder, tech inventor Elon Musk, have managed to capture the public's attention with the accolades-drawing Model S electric drivetrain, which delivers the longest range of any EV on the market. The company's relatively recent placement on the stock exchange and its 700 percent rise in stock value since the Tesla Model S launched in third-quarter 2012 has helped fuel this chatter.
Coming in second place is the world's best-selling electric car, the Nissan Leaf, followed closely by the most recently introduced EV in the market: the i3, from Bayerische Motoren Werke AG (ETR:BMW). After that comes the Chevrolet Spark, which is offered as a conventional gas-burner and as an EV; and the Cadillac ELR, offered only as a plug-in electric vehicle hybrid (PHEV). After that, the SAP analysts found a considerable dropoff in online discussions.
The Ford Focus Electric drew less online comment than even the Citroen C-Zero and the Fiat 500e. Cars like the Toyota RAV4 EV, the Mercedes B-Class Electric Drive and the bottom-ranking Renault Fluence Z.E. are getting hardly any attention relative to the most popular cars on the list. And their sales reflect this lack of interest. The RAV 4 EV is being phased out as Toyota's relationship with Tesla in battery development is coming to an end, thanks in part to a souring of relations between Toyota and Tesla over differences in how the RAV4 should be engineered, according to Bloomberg.
While a few EVs are attracting a lot of interest, they're still barely a blip on the screen of total auto sales. While Nissan Leaf sales are up 34 percent in the U.S. so far this year, the volume is a low 15,755 units. To put that into perspective: Nissan has sold over 200,000 of its Altima midsized cars in the same period of time. Honda has sold less than 600 Honda Fit EVs and Honda Accord PHEVs in the U.S. since the start of the year.
According to research firm HIS, EV sales (which include PHEVs) will grow 67 percent in the U.S. this year.