Hillary Clinton Email Scandal Update: Ex-Secretary Of State Defends Using Personal Account For Government Business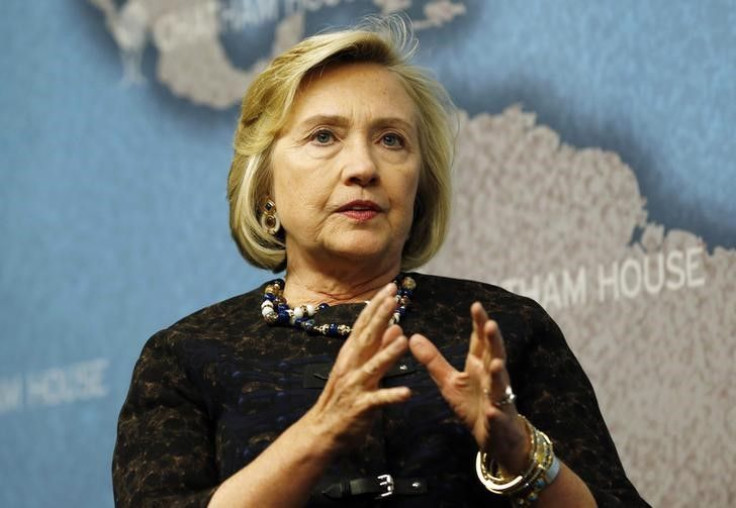 Former U.S. Secretary of State Hillary Clinton said Tuesday that her use of personal email to conduct State Department business was not unusual as she fought back against critics who raised questions about whether Clinton used personal emails so that there wouldn't be official records of her correspondence. Clinton is all but expected to run for president as a Democrat in 2016.
"Like Secretaries of State before her, she used her own email account when engaging with any [State] Department officials. For government business, she emailed them on their Department account, with every expectation that they would be retained," Clinton spokesman Nick Merrill said. "When the Department asked former Secretaries last year for help ensuring their emails were in fact retained, we immediately said 'yes.'"
Clinton's use of personal email to conduct official business as secretary of state was first reported late Monday by the New York Times. The report claimed Clinton may have been a violation of federal rules that all official correspondence be retained so Congress, historians and the media can access them. But the Wall Street Journal said it was "unclear" whether there were any violations.
The former secretary of state is not the first government official to use personal email in such a way, but the regular practice is unusual, Jason Baron, a lawyer who used to be director of litigation at the National Archives and Records Administration, told the Times. "I can recall no instance in my time at the National Archives when a high-ranking official at an executive branch agency solely used a personal email account for the transaction of government business," he said.
Republicans accused Clinton of trying to be deceitful by using personal email. "This latest development raises serious questions," the Republican National Committee said in a statement. "And it all begs the question: What was Hillary Clinton trying to hide?"
In the summer of 2013, U.S. Sen. Lamar Alexander, R-Tenn., raised concerns about "secret" email addresses being used by top Obama administration officials, including then-Health and Human Services Secretary Kathleen Sebelius. But Sebelius used a government email account that was not publicly known. Jay Carney, the White House press secretary at the time, said there was "nothing secret" about the alternative email accounts, explaining that they were used so the accounts wouldn't be deluged with messages from the public.
© Copyright IBTimes 2023. All rights reserved.
FOLLOW MORE IBT NEWS ON THE BELOW CHANNELS