Hog Market Stable Despite New PEDv Pig Virus Fears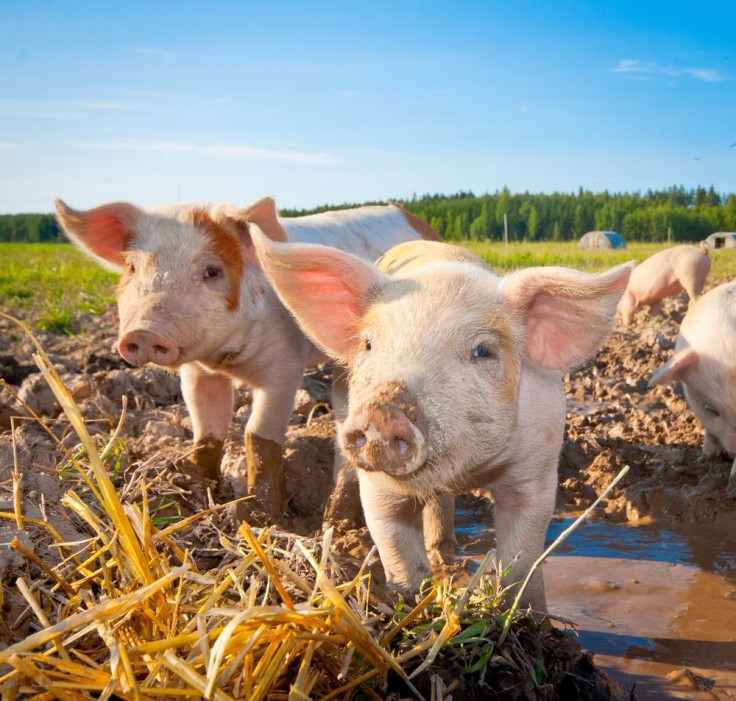 The hog market has been remarkably stable despite a recent report that a deadly pig virus believed to have been brought to the U.S. from China is more dangerous than previously thought.
Lean hog futures prices remain high, surprising many analysts who predicted market disruptions as the U.S. pork industry continues to reel from the virus, which has killed an estimated 7 million -- or 10 percent -- of the nation's pigs over the past year.
A May 28 Reuters report on an Indiana farm that was the country's first to publicly acknowledge that its hogs had been reinfected with porcine epidemic diarrhea virus (PEDv) after previously eliminating it raised fears among farmers who believed that their animals would be immune for at least a couple years after an initial outbreak.
But lean hog futures prices on the Chicago Mercantile Exchange appear to have weathered the concerns raised by that case, and are actually down slightly from a mid-May rise to just over $125, hovering this week around $120. The even keel of the market could still be buffeted, though, if coming USDA data releases on PEDv deaths contain any shocks; and over the long term prices are widely expected to fall back to more normal ranges as hog supply rebounds and scientists find a way to tackle the disease, analysts say.
The initial spike in prices came about largely as a result of a marked increase in the number of PEDv cases reported this winter in comparison to previous months, as well as its spread over that period to a series of new states as well as Canada. The disease has now been confirmed in at least 30 U.S. states.
The relative steadiness of the market following that initial jump in February from less than $95 to a high of nearly $135 in mid-March can be chalked up in part to the laws of supply and demand, according to Dave Warner, a spokesman for the National Pork Producers Council.
"Ironically, pork producers are getting a lot from the meatpackers for their pigs because the supply is low. When the supply is down you've got to pay more for the product," Warner said.
"Because the hog farmers are making more money from the packers, that would tend to make people produce more pigs, which would temper the prices, because that would increase that supply. We might even possibly see people get into the business because they're making more money."
Warner's view is not universally shared, however, as some observers, like independent hog trader Dan Norcini, have predicted that the industry is experiencing a bubble that looks ready to pop.
"The market's vertical move is evidence of the fear and greed currently at work, especially seeing that no one knows quite how severe the impact from the virus is," Norcini told Reuters in March.
Any bubble in the hog futures market has not yet burst, but analysts worry that potential developments in coming months could lead to a rapid selloff of hog futures.
And Liz Wagstrom, chief veterinarian with the National Pork Producers Council, worried in February that the disease would put pork farmers and producers out of business, according to the agricultural news outlet Pro Farmer.
No matter what happens to the pork industry going forward, how to deal with the spread of PEDv has become its most pressing issue, Warner said. The 2014 World Pork Expo begins Wednesday in Des Moines, Iowa, where U.S. Agriculture Secretary Tom Vilsack and Dr. John Clifford, the USDA's deputy administrator of veterinary services, are expected to speak mainly on the topic.
PEDv -- which researchers believe arrived in the U.S. from China in the spring of 2013 -- kills more than 90 percent of piglets born to sows that are infected with the virus for the first time, and about 30 percent of piglets born to sows that have been infected a second time.
The high death rate, combined with the fact that a preliminary vaccine being developed by Iowa's Harris Vaccines is not yet available to the general farming population, have led Harris researchers to conclude earlier this year that "PED is not going away any time soon."
One major obstacle to eliminating PEDv is a lack of knowledge about where it came from and how it spreads, Warner said.
"The strain of PEDv is the same strain that's present in China, so we're confident that it got here from China," he said. "We're not sure how it got here from China, but one theory is that it was present in a vitamin that is used in feed."
© Copyright IBTimes 2023. All rights reserved.