Homeland Security Refutes Conspiracies About 1.6 Billion Rounds Of Ammo, Pepper Ball Gun And Riot Gear Purchases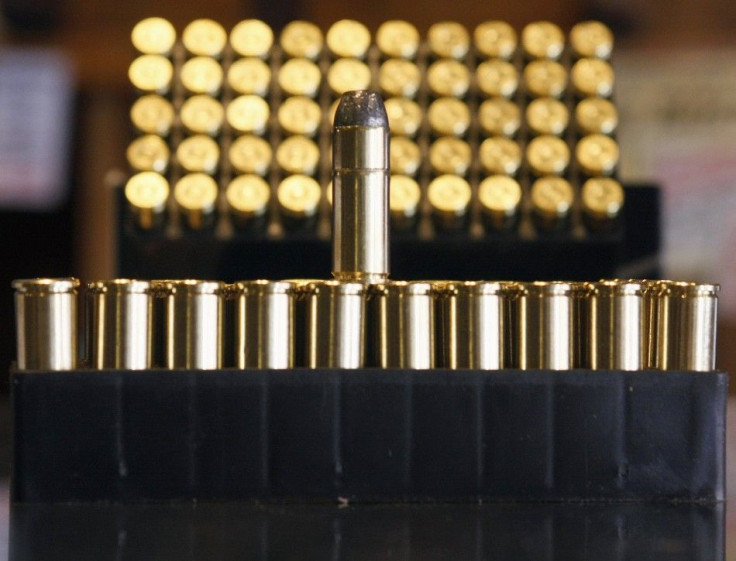 A range of conspiracy theories have arisen over the past year alleging that the Department of Homeland Security (DHS) is taking steps to hire a new squad of law enforcement officers and acquire an arsenal of riot gear, pepper spray-spewing guns and as many as 1.6 billion rounds of ammunition, as part of a specific plan to quash dissent, monitor public events, and infiltrate peaceful protest groups.
But the DHS denies such claims, saying it has indeed posted solicitations for security and gear contractors but only as part of normal operations or to augment existing programs, and that the conspiracies being floated by certain reporters and bloggers are baseless.
The department's Federal Protective Service posted an Oct. 10 solicitation on the Federal Business Opportunities website seeking a company to fulfill an $75 million to $80 million contract to provide qualified people to serve about 400,000 hours as Protective Service Officers (PSOs) in upstate New York.
The agency said the newly contracted officers would be used to guard "IRS building(s) during tax season" and other federal sites, and to provide security during "public demonstration(s)" and "civil disturbances, or other unanticipated events on an as-needed basis." PSOs have been used in the past to monitor protesters and guard federal buildings.
That language seems to suggest the department wants to maintain wide freedom to deploy such officers, which has sparked a range of fears, including that "the federal agency is preparing for food stamp riots, anti-tax demonstrations or some other form of domestic unrest," according to an article by Paul Joseph Watson at right-wing news site InfoWars.com.
Though DHS has not publicly disclosed any specific events the PSOs are needed for, it directly addressed the rumors in an emailed statement.
"These reports are false. The referenced Federal Protective Service (FPS) acquisition request for Protective Security Officers will replace an existing contract due to expire November 2014, which provides security and screening within federal facilities throughout upstate New York," DHS spokesman S.Y. Lee said in the statement. "This routine acquisition planning is not in response to, or anticipation of, any potential situation."
In perhaps the best-known recent big-ticket purchase the DHS has floated, the agency stated its intention to potentially buy more than a billion of rounds of live ammunition.
Breathless bloggers posted pieces after the ammunition solicitations appeared on the Web, alleging that the need for so many bullets represents an unprecedented effort to arm domestic law enforcement agencies.
"Another possible conclusion is that the bullets are intended to coerce and, if need be, kill us," Catholic Online opined. "This conclusion would be outrageous if taken alone. However, combined with leaked, secret Justice Department memos that authorize the killing of Americans without due process, and other unusual developments, it would seem that the government is preparing for something that we, the people, are as of yet unaware."
Reports listed the number as being as high as 1.6 billion rounds of ammo, but Lee rejected the theories that the proposed purchase was unusual, stating that the total count is lower and actually just a ceiling, and that the agency will most likely not buy or use anywhere near that many bullets.
He and the DHS have repeatedly said that these sourcing contracts help the agency secure good prices on ammunition by buying in bulk, adding that actual ammo purchases have remained fairly steady over recent years. And a document released earlier this year by the agency shows that DHS bought between 100 million and 150 million rounds of ammunition annually between 2010 and 2012, totalling between $36 million and $48 million per year, in line with the $37.3 million it budgeted for fiscal year 2013 ammunition acquisitions. It added that the department had about 264 million rounds of ammo in its inventory as of Nov. 20, 2012, the vast majority of which it expects will be used for law enforcement training.
"One solicitation under Federal Law Enforcement Training Center (FLETC) has a contract ceiling of UP TO 750 million rounds of training ammunition, a maximum quantity allowing FLETC flexibility over the next 5 years for training of over 90 federal agencies," Lee wrote. "A separate 5-year departmentwide contract allows the purchase of UP TO 450 million rounds of duty ammunition for our law enforcement officers and agents."
Online observers have also repeatedly questioned why the DHS needs the riot control equipment it has been accumulating in recent months.
Earlier this year, the department also solicited the purchase of full suits of riot gear requiring a number of protective pieces including the following, as compiled by Government Security News magazine based on an official DHS request for bids:
- 111 Centurion CPX2500 Soft Shell Riot Control System upper-body and shoulder protection, which must "effectively protect the torso and shoulders from blunt force trauma," the solicitation said.
- 123 Centurion TPX200 thigh/groin protection systems "designed for blunt trauma protection during riot control situations," said the solicitation. The gear "protects the thigh area and has an adjustable and removable groin protector."
- 110 Hatch TS70 Centurion hard-shell shin guards, which must provide "substantial protection from flying debris. Non-ballistic weapons, and blows to the leg."
- 189 MaxPro-Police riot helmets, which have a "high-impact molded half-shell helmet with integral visor and neck protector."
The agency also posted a solicitation last month on the Federal Business Opportunities website seeking 100 Tac 700 pepper-ball launchers along with tens of thousands of pepper-spray-filled projectiles.
The posting set off a firestorm among some online commenters, as concerns again arose that the federal government may be arming itself to head off domestic unrest.
"Whether the DHS is preparing for riots targeting government buildings remains to be seen, but this will do little to dampen concerns that big government is arming itself to the teeth while Americans are being lectured about relinquishing their Second Amendment rights," InfoWars wrote after the riot gear request went live.
But the agency vehemently denies such assertions as baseless fearmongering, stating that the solicitations are in line with past purchases and that they have legitimate purposes that don't represent preparations for mass-scale disturbances.
"The reports about the Department of Homeland Security preparing for any extraordinary situation or domestic unrest are unequivocally false. DHS' Federal Protective Service routinely purchases equipment for training purposes," Lee wrote. "This routine acquisition contract, through U.S. Immigration and Customs Enforcement, will provide essential training equipment for FPS federal law enforcement officers who are charged with protecting more than 9,000 federal buildings and 1.4 million federal employees and visitors who occupy them throughout the country every day."
© Copyright IBTimes 2023. All rights reserved.