Hong Kong Court Quashes Investigative Journalist's Conviction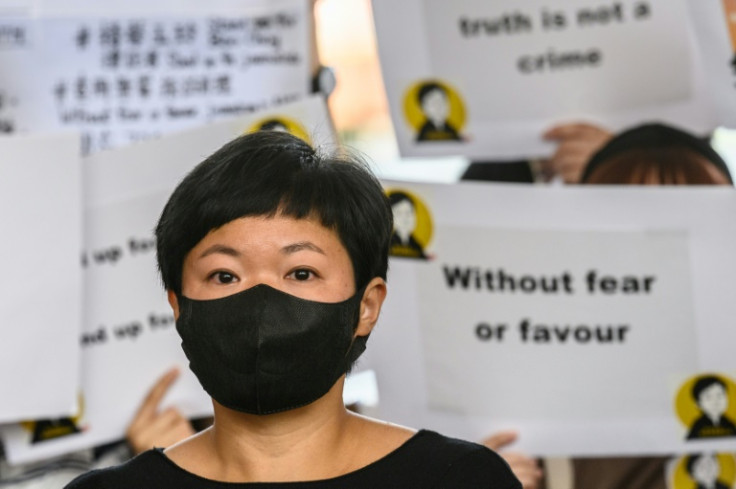 Hong Kong's top court on Monday quashed the conviction of a journalist in relation to her investigation into an attack on democracy supporters by government loyalists in 2019.
It was a rare victory for the press industry in a city where two major independent news outlets have been forced to shut down since Beijing imposed a national security law in 2020.
"Happy -- I could not think of another word that can describe my mood right now," veteran journalist Bao Choy said outside the Court of Final Appeal after the judgement was handed down.
"I think this kind of happiness belongs to everyone in society."
Choy was found guilty in 2021 and fined 6,000 Hong Kong dollars ($765) for "making a false statement" when accessing car ownership records on a public registry during her investigation into the attack, carried out by a gang of men armed with clubs and sticks.
The online form to access the information provided only three purposes for applicants -- "for legal proceedings", "for sales and purchase of vehicles", and "other traffic and transport related matters".
Choy chose the last one -- which the original trial court and a lower appeal court said did not cover her journalistic purpose.
But on Monday, a five-judge bench at the apex court decided unanimously to overturn the conviction, ruling "there is no reason... that bona fide journalism should be excluded" in the definition of the third choice.
"One might read 'other traffic and transport related matters'... in a broader way to include the serious investigative journalism undertaken here by the appellant," the judges said in their ruling.
They added that the choice to read it broadly is due to the "constitutionally protected freedom of speech and of the press".
Choy said the court's verdict emphasised the importance of these freedoms.
"I think that's the biggest significance of today's ruling," she said.
Choy's searches were made for a documentary she produced in 2020 for Hong Kong's public broadcaster RTHK.
It investigated the police's failure to respond quickly enough to the July 2019 attack, a watershed moment in the huge and often violent pro-democracy protests that year, which dealt a blow to public trust in the force.
The award-winning documentary said police failed to respond to the build-up of stick-wielding men ferried into Yuen Long district by specific vehicles on the evening of the attack.
Using the car ownership records Choy accessed, the programme uncovered new details about the alleged attackers -- some of whom have links to politically influential pro-Beijing rural committees.
© Copyright AFP 2023. All rights reserved.