How Americans Are Adapting To Rising Food Prices
For many Americans, high inflation has transformed run-of-the-mill grocery shopping into an activity to be approached with caution.
Is it time to skip fresh vegetables in favor of frozen varieties with longer shelf lives? Does the liquor cabinet need to remain empty for the time being? Are expiration dates really that set in stone?
And in the wake of the highest 12-month increase in food prices since 1980, Americans are proving they can adapt to tough conditions — even if it means making significant changes to the way they live, eat and shop.
The food and drink that we buy and consume — as well as the stores we buy these goods from — are key factors in our lifestyle. Many Americans have long-established, loyal relationships with the brands they buy, with more than one in five saying that these brands have become part of their identity. The current state of the economy, though, is putting these allegiances to the test.
Americans put cheaper brands into their baskets
The Consumer Price Index highlights that food prices have continued to increase, with a 0.7 rise recorded in July 2022. In light of this situation, Attest's research finds that more than half (50.1%) of consumers say that they switched to cheaper brands to keep their grocery bills under control.
In the survey of 2,000 working-age, nationally-representative respondents, Americans seem likelier to accept substitutes in specific categories than others. Bread brands enjoy the least loyalty, with 42.9% of consumers switching the past six months. Next on the list is toilet roll (40.1%), followed by potato chips/snacks (39.4%) and cereal (38.5%).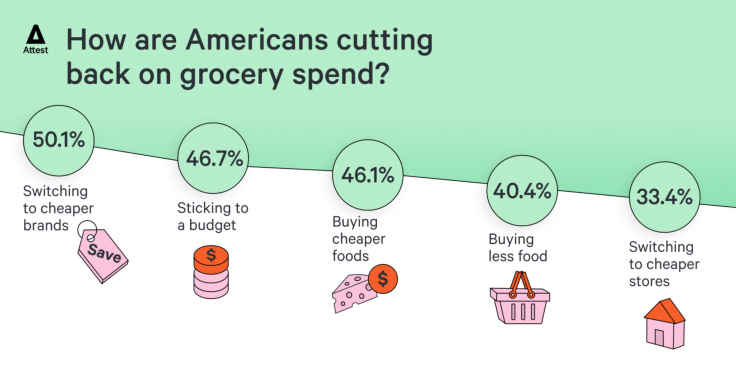 At the other end of the scale, there are several product categories where consumers aren't so quick to become brand-agnostic. 10.6% have switched their beer or spirits brand, 16.3% were prepared to find alternatives for tinned soup and beans. 20.7% have saved themselves a few bucks by switching to a different brand of pet food.
The cost-of-living crunch may also affect some brands more than others. Our research finds that established brands in the beverages category, such as Coca-Cola/Coke, Pepsi, and Dr Pepper were most likely to be named by respondents as brands they would be unwilling to give up.
Meanwhile, brands that choose to increase their prices rather than reduce their product sizes could divide opinions amongst consumers. So-called 'shrinkflation' is supported by a slim majority of consumers (55.5% vs 44.5%) who would rather buy slightly smaller items than pay more.
Consumers try to save by budgeting and dropping luxury items
While our research shows brand switching is the most popular way to save money, pragmatic Americans have adopted other approaches, too. Nearly the same proportion (46.7%) say they are now budgeting, 46.1% are buying cheaper foods and 40.4% are buying less food.
Luxury and premium foods were the number one category in which consumers are buying less; 61.3% are cutting back. Alcohol (48.9%) came second on the list, while convenience foods (36.9%) were third.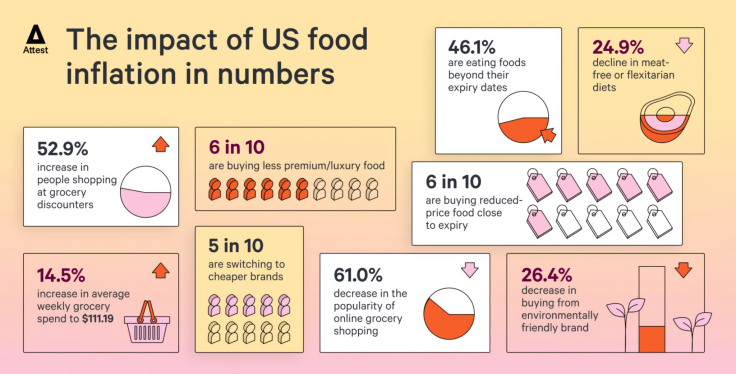 There has also been a notable shift in where Americans shop, with 33.4% saying they have switched their grocery retailer in the last six months. The number shopping at stores like Aldi, Food 4 Less/Food Co, Grocery Outlet, Price Rite, Save A Lot, and WinCo has increased from 11.9% six months ago to 16.2% today.
There has been a noticeable post-pandemic return to brick-and-mortar stores, too. In January 2021, 25.6% of Americans shopped for groceries mostly or only online; today, that figure has dropped to 9.9%. Meanwhile, the number of people who shop only in-store has almost doubled, rising from 26.4% to 50.6%.
Most consumers take a relaxed view of expiration dates
Finally, let's look at how Americans eat. Our research finds that many Americans take expiration and 'use-by' date recommendations with a grain of salt. In fact, of the 46% who say they eat food past its use-by date, only 17% were new to the habit – joining 29% who already trusted their judgment for food and beverage freshness. A further 38.1% say they will remove the 'bad bits' of food and eat it.
The food category in which Americans are least concerned by expiration dates is potato chips and snacks (56.5%), followed by cereal (50.4%) and cookies or candy (47.9%). Nearly four in 10 (38.6%) would eat bread after it had expired, but just 22.7% would consume milk past its use-by date. The items least likely to be eaten after expiry are yogurt (13.9%) and uncooked meat (17.1%).
Taken all together, this research paints a picture of American consumers trying to make calculated changes to their lifestyle to ride out the current storm caused by inflation.
(Sam Killip is the vice president of Customer Success at Attest)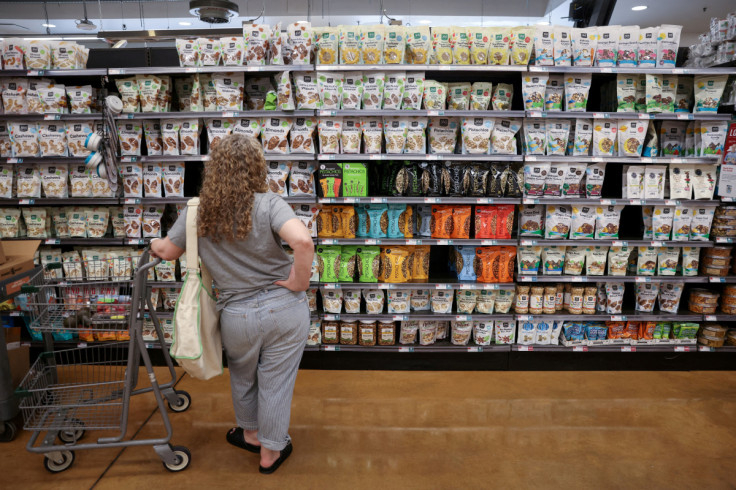 © Copyright IBTimes 2023. All rights reserved.
FOLLOW MORE IBT NEWS ON THE BELOW CHANNELS