How Are South America, Africa Doing During The Coronavirus? A Look At What Countries Are Seeing More Cases
The COVID-19 pandemic continues to spread and exact a heavy toll on countries all over the world. In particular, new reports from the World Health Organization (WHO) indicate that the virus is becoming more and more prominent in South America and Africa.
"The COVID-19 pandemic today reached a milestone in Africa, with more than 100,000 confirmed cases," read a WHO statement on Friday. "The virus has now spread to every country in the continent since the first case was confirmed in the region 14 weeks ago."
Botswana-native Dr. Matshidiso Moeti, regional WHO director for Africa, called the recent spread of the novel coronavirus on the continent as a "soft landfall," as the death toll has not reached the calamitous heights that it has in other parts of the world. In the past week, nine African nations saw 50% increases in cases.
According to Johns Hopkins University, South Africa (20,125 cases), Egypt (16,513 cases), and Algeria (8,113 cases) have been the hardest-hit countries in Africa. Other countries like Morocco, Ghana, and Nigeria have seen over 6,500 confirmed cases.
Officials have noted that Africa may be avoiding a high mortality rate due to its considerably younger population. Roughly 50% of Africans are age 18 or younger, and COVID-19 is known to be the most deadly for patients 65 and older.
South America has seen a spike in cases so overwhelming that WHO official Dr. Mike Ryan referred to the continent as a "new epicenter."
Unsurprisingly, Brazil has been the country most affected with nearly 331,000 confirmed cases – the third most of any nation behind only the U.S. and Russia – and over 21,000 deaths. Brazil has also seen a spike in self-treatment with the dangerous and unproven drug, hydroxychloroquine, which was advocated for by President Jair Bolsonaro, who has described the coronavirus as "a little flu."
"It's unbelievable what's happening in Brazil," said Natalia Pasternak, a researcher at the Institute of Biomedical Sciences at the University of Sao Paulo. "When the biggest science denier in the country is the president himself, what can we scientists do?"
Bolsonaro's dismissive response to the coronavirus outbreak has been heavily criticized by health officials. He had scoffed at his countries soaring death rate, asking "so what?" Bolsonaro also said that Brazilians "never catch anything."
Peru and Chile trail Brazil as the most heavily infected countries in South America, with 111,698 and 65,393 confirmed cases, respectively.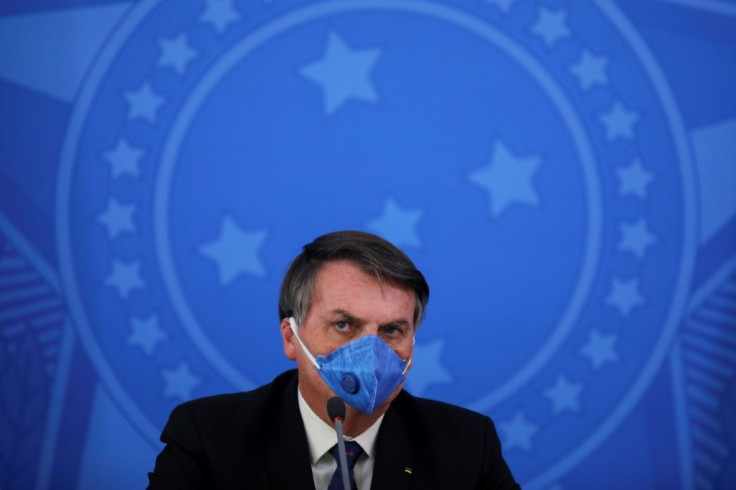 © Copyright IBTimes 2023. All rights reserved.
FOLLOW MORE IBT NEWS ON THE BELOW CHANNELS