How To Buy The Best Hoverboard 2015: A Guide To Swagway, Hovertrax, IO Hawk And More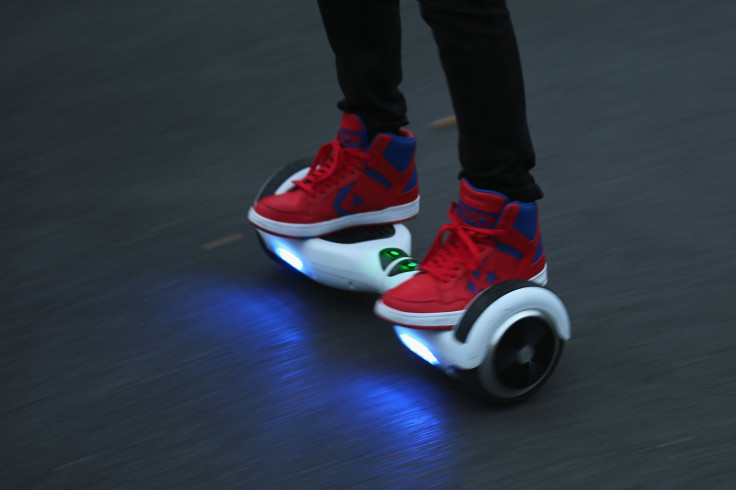 Whether you want to call it a hoverboard or -- more accurately -- a self-balancing scooter, the gizmo is all the rage in 2015. The available hoverboards are nowhere near what "Back to the Future II" promised, but that hasn't stopped people from buying the wheel-based scooters with neat lights. If you're looking to buy a hoverboard this season -- as a gift or to cruise around in style -- finding the right one could be problematic.
Even after securing a hoverboard, consumers may have to navigate local laws. Here's our hoverboard gift guide to find the perfect self-correcting scooter at the best price.
Hovertrax - Maybe The Only Legal Hoverboard Out There
The Hovertrax retails for $1,495. The hoverboard weighs 17 pounds, cruises at a speed of 5 mph and has a max load of 250 pounds. The Hovertrax includes a one-year warranty. It's also at the center of a very interesting legal battle.
While many have categorized the current hoverboard as a "Segway without a handle," the technology did have to be developed and patented. That's where Hovertrax comes in. Developed by inventor Shane Chen, along with the Solowheel, the Hovertrax is patented as a "two-wheel, self-balancing personal vehicle." Chen sued John Soibatian, president of hoverboard importer IO Hawk, to kick off the "hoverboard war," according to Buzzfeed. Mark Cuban, Dallas Mavericks owner and tech entrepreneur, purchased the American rights to Chen's patent and looks to cash in big on the craze. As such, he's willing to pitch a battle against the IO Hawk and any other competitors looking to get in stores like Walmart.
Of course, Segway Inc. is suing Chen as the inventor's Hovertrax may have infringed on its patents, Gizmodo reported.
IO Hawk - For The Discerning Hoverboard Connoisseur
If money is not an option -- or you just want the fancy things in life -- IO Hawk is the luxury hoverboard of your dreams. The IO Hawk hoverboard cost $1,799 and can reach speeds of 6 mph. The hoverboard wears around 22 pounds. The scooter can support 280 pounds with a range of 10 to 12 miles. In terms of appearances, the IO Hawk hoverboard does not look much different from other scooters on the market, but you'll get the satisfaction of knowing you spent close to $2,000 on a new piece of technology.
PhunkeeDuck Hoverboard - The Celebrity-Approved Hoverboard
There's only one hoverboard that can feature Kendall Jenner, Chris Brown, Jamie Foxx, Jimmy Fallon, Rajon Rondo, Kevin Hart, Missy Elliott, Cara Delevigne and John Legend as fans. PhunkeeDuck has the viral seal of approval, but their hoverboards don't come cheap. The PhunkeeDuck hoverboard retails for $1,499 and comes in a variety of colors. The hoverboard reaches a top speed of 12 mph, has a max load of 300 pounds and lasts 6 to 7 hours on full charge. The PhunkeeDuck hoverboard includes a one year warranty and a remote to lock and unlock your scooter.
Swagway - The "On a Budget, But Want Some Flair" Hoverboard
Swagway is the cheapest branded hoverboard of the bunch, retailing for $399.99. The website is easy to navigate and Swagway has been featured as the de facto budget hoverboard. Picking up a Swagway is much easier than looking around Amazon for a deal by comparing prices among the many generic-sounding knockoffs. Plus, Ellen DeGeneres loves it! The Swagway hoverboard is no-frills, with a top speed of 10 mph. You can choose a variety of colors along with a few decals to personalize your scooter.
Razor Hovertrax - The 'I've Heard of This Company' Hoverboard
If you're not looking to spend over $1,000 on a hoverboard, there's always Razor. You know the company for its ubiquitous scooters that had everyone kicking and gliding around town. Razor is using the Hovertrax technology and is available for purchase at Walmart beginning Dec. 16. The Razor Hovertrax hoverboard retails for the relatively cheap $599. Considering the original Hovertrax retails for $1,495, this is a pretty decent deal for hoverboards, at least. Consumers could purchase a standard Razor Hovertrax or the upscale Hovertrax DLX which features blue LED lights.
i-Fly Two Bluetooth - The 'It's A Boombox AND Scooter' Hoverboard
The one thing about hoverboards is that they are ridiculously silent. It could be terrifying to see someone just glide up to you at an accelerated. That's why there's the i-Fly Three Bluetooth hoverboard for $645.99. The i-Fly Three makes sure everyone knows you're rolling through the streets with loud speakers and a flashy LED light system.
Hoverboard 360 - The 'Name Says It All' Hoverboard
The Hoverboard 360 is a budget-friendly scooter that does its job well. The standard Hoverboard 360 Smart Balance Board is $398.99. A Bluetooth speaker version is $648.99, Hoverboard 360 also sells a Hoverdrive -- a Segway-style self-balancing scooter -- for $748.98.
ZBoard - The "It's A Skateboard" Hoverboard
ZBoard touts itself as a hoverboard, but it looks more like a skateboard. For some consumers, the ZBoard may feel more comfortable than the other hoverboard styles. The ZBoard Classic costs $599 and can reach a speed of 15 mph with regular wheels or 18 mph with urethane wheels. The company is also coming out with a ZBoard 2 at a cost of $1,099.
After you select your hoverboard, be careful about safety. In addition to falling, water and electricity don't mix, so riding in the rain may not be the best idea. The National Association of State Fire Marshals issued a warning regarding potential fire hazards. "When determining whether a scooter meets safety standards, buyers should look for indications of acceptance by recognized testing organizations, the information of which may appear on the item's packaging," the NAFM wrote.
Local and state laws could also limit hoverboard use due to classification as a motor vehicle. New York City and London are two such examples, but California will make hoverboards legal in 2016 as long as user wear a helmet.
© Copyright IBTimes 2022. All rights reserved.
FOLLOW MORE IBT NEWS ON THE BELOW CHANNELS