How GameFi Is Becoming a Part of Social Media: an Interview with Cheelee CEO Ruslan Sharov
* This is a contributed article and this content does not necessarily represent the views of IBTimes.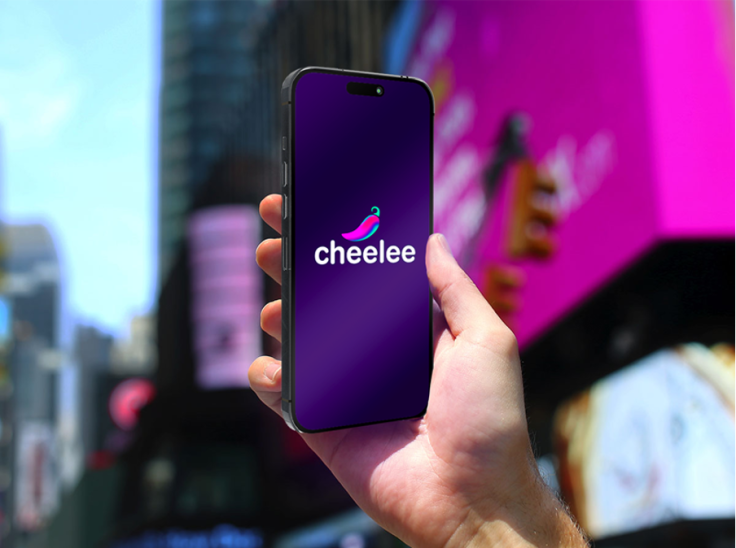 Scrolling through a social media feed might be entertaining, but it often consumes a lot of people's time. Ordinarily, social networks are built on the principle of rewarding content creators who attract an audience to the network. All the while, the audience, thanks to whom the advertisers pay the social networks their revenue, end up out of business. Unless you are an advertiser or a blogger, you are not reimbursed for the time you spent on social networks. DeFi breaks this vicious cycle. The combination of gaming and DeFi known as GameFi is a relatively new term in the social media landscape. The usage of decentralized technologies, such as blockchain, non-fungible tokens (NFTs), and smart contracts, have now allowed ordinary users to monetize the attention they divert to particular content. So, how exactly is that applied to social media?
Ruslan Sharov,named one of the International Business Times Fintech Entrepreneurs to Follow in 2023, has embraced a whole new approach to the monetization, business modeling, and blockchainization of social platforms, introducing crypto benefits to users and outlining the value of their attention.
Ruslan is a techpreneur with over 20 years of experience. He's the CEO and co-founder of Cheelee, a GameFi short video social network based on an attention economy model. The app provides opportunities to make money both by creating content as well as by watching it. The idea of rewarding not only the content creators but also the consumers is a totally new social media concept. Add to that the greater popularization of crypto and blockchain for the masses.
What do you believe is the current, global state of social networks and what will be the prevailing trends characterizing them in the near future?
The social media market is a highly competitive niche, where many positions are fairly well distributed among already existing players. This imposes additional requirements on projects that are still seeking out their user bases. They have to look for new routes to pique the interest of their audiences.
It might come as a surprise , but one such entry point is rethinking the role users play in social networks themselves. For many years, socials have accumulated their audience for the purpose of monetizing it, primarily through advertising. But in the near future, I think, the industry will have to adopt new rules. The primary trend I expect them to take is a shift from the creator economy to the attention economy, which was first proposed by Nobel Prize Winner Herbert A. Simon. The general idea of it is that attention is a valuable resource which people should be paid for devoting.
Interestingly, Simon predicted that "the wealth of information creates a poverty of attention". He said that as long as half a century ago. And now, living in the reality of the attention economy, with so many platforms to choose from, attention is becoming the most valuable, in-demand resource of our time.
Do you believe this presumption could come true and influence the modern social media landscape?
Actually, this is already happening. As people become more aware of the power of their own attention, they seek out better ways to spend their time. With GameFi mechanics, we can address this desire by developing an attention economy model that encourages users to spend more time interacting with content. Cheelee philosophy rests specifically on resolving this "wasted time" issue – why would you still watch TikTok once you can watch Cheelee and get compensated for it?
A great many internet users do not yet use Web3 applications and have not mass adopted cryptocurrencies on a global scale. Meanwhile, crypto being in every wallet, like plastic cards are today, seems to still be years away. What are the industry's key hurdles? Why are you still sticking with crypto?
The primary area of concern for many users is fear for their assets' safety and the fear of new technologies. Most decentralized applications are difficult to use and lack user-friendliness to laymen when it comes to UX. It's not surprising for such a young industry but still, that dramatically cuts back on the adoption rates.
Making the user experience enjoyable is crucial for developing a successful blockchain project, particularly in GameFi. The first things to consider are improved design, immersive gameplay, and a viable business strategy. In that respect, blockchain technology can be a beneficial tool, but it should not be the project's primary asset. The project's key benefit is the potential to grow popular among a broad audience. That's what we call real mass adoption. That's what investors all over the world are looking for.
Last year, investors became increasingly interested in GameFi as they are first drawn to the games for the fun of them, and second for the material compensation, giving it an advantage over the traditional gaming experience. That also implies, in my opinion, numerous opportunities for future advancement and innovation.
Why are GameFi projects so successful in the fight for investors' attention? Does the industry give the impression of an inflating bubble?
The fact that GameFi projects are attractive to investors, as they are generating more and more interest from users, is no surprise. The GameFi 2E mechanic is expanding into new areas, such as healthcare, entertainment, etc. And as this is all going on, the audience and the market size are growing. I wouldn't call it a bubble, but you need to conduct a sober assessment of the risks that many projects are exposed to: either they lack a well-structured economic strategy or they attempt to rely solely on decentralized economic approaches.
However, there is no need to reject the existing economic paradigms outright. Cheelee, for example, chose to go with a hybrid of a traditional and a new decentralized economic model. As a result, our economic model will be more resilient in the event of external shocks. One reason for that is Cheelee's stability fund, to which 70% of the revenue from advertising and in-app purchases, as well as 100% of revenue from NFT sales and in-app transaction fees, are allocated to ensure the sustainability of the Cheelee financial system.
Okay, we've gotten the gist of the economic component. Now what does the interaction with your product look like from the user's perspective?
First, users download the app. I'm happy to say Cheelee is available to both Android and iOS users now. After they sign up, Cheelee awards newcomers their first NFT. This is the Starter glasses. Users sort of "wear" them as they do the regular things they like to do, like watching their feeds and simultaneously receive compensation for that in tokens.
We are now actively working to ensure that as many users around the world as possible get to learn about our product. It is important for us to convey to our audience the advantages Cheelee offers over its web2 counterparts. To this end, we've just launched a major community drop with a $5 million prize pool for the purpose of introducing new audiences to Cheelee in an easy and enjoyable way.
And how much can the average user earn on the Cheelee app?
Total earnings are determined precisely by the rarity and other configurations of a user's NFT glasses. They can be customized, upgraded, exchanged, minted, etc. If you're a fan of short video apps, by taking advantage of all the game variables, you will be able to earn a substantial extra income with Cheelee.
Time will tell what exactly the maximum potential earnings figures will be. For example, by leveling up various modules of your NFT glasses, you at least double your investments at the output. This figure can easily be surpassed, but for this you need to upgrade your glasses in accordance with your UX and preferences — this, in particular, is the GameFi element we are talking about.
The most important thing here is that until now, you have been paying the apps you're using, because time is money. And also, they still made money off of you. But with Cheelee, you have become the one who gets paid, because your attention is a valuable commodity to us. Just enjoy scrolling your favorite feed and earn tokens. It's that simple.
What if those tokens suddenly depreciate one day, as cryptocurrencies often do?
That's a good question. I already mentioned that Cheelee does have a stability fund, which, actually, is where the vast majority of the application's income goes. Since Cheelee is a social network, first and foremost, it has additional sources of income not related to NFT sales. Those are from advertising, in-app purchases, and collaborations with brands. They give Cheelee about 40% of its income, while most other GameFi projects rely fully on NFT sales which account for as high as 99% of their revenue. The stability fund and additional sources of income is a fortification of sorts that protects Cheelee from market volatility.
But we have foreseen another important factor, which all too often is the ruination of many promising blockchain project. At the stage when a project is raising funds for its development, usually from VCs and other large investors, it conducts a preliminary token sale. There is a large number of tokens, which are frozen for a certain period and then gradually made available on the market. This is called unlocking. So, it is in this phase, as a rule, that the price of the young project's token falls, which can be fatal, since the project is not yet strong enough.
We've made sure that this problem won't be an issue for Cheelee. All the tokens owned by venture investors and the team are frozen for a period of two years. On top of that, both of our tokens, the CHEEL government token and the LEE utility token, operate within a deflationary model. Seeing as they are limited issue, over the two-year period, they should grow in price and become a valuable asset for their holders, an asset they won't sell off very readily.
Sounds good. It will be interesting to see how Cheelee tokens behave after trading begins.
CHEEL is already listed on BitMart and Coinsbit and has grown by almost 10 times over the course of a couple months. You can check that out on CoinMarketCap. And this is just the beginning, because first we are going to attract the vertical videos audience, and then all other social networks users after that. There are 4.6 billion of them, half of all people living on the planet today. In fact, CHEEL's audience is almost completely limitless. No other crypto project thus far has ever had such development potential. We can go on growing continuously for decades. How do you think constant growth will affect the price of such an asset whose supply is strictly limited?
Have you run into any obstacles in creating Cheelee? If so, how did you resolve them?
Overall, the difficulty in any project's launch depends on a wide variety of factors. While several social media platforms offer a similar content diversity, none of them provide substantial compensation in exchange for the amount of time they spend perusing and interacting with the content. Moreover, free consumption will allow mass adoption to be achieved soon enough.
The biggest challenge was combining entertaining apps with DeFi tools, all in the form of a sustainable model. Still, we handled it, and a superb-quality product is the result.
How do you feel about 2023 and this bearish market? How successful will GameFi projects be in light of this environment?
Despite the crypto market's current recession, the data points to a promising future for the GameFi business. Its audience's interest reinforces the premise that blockchain projects have a charm that extends far beyond monetary incentives. They appeal to our basic need for enjoyment and belonging to a community. The product is king. This is why, despite the bear market that is going on, GameFi initiatives still keep consumers interested.