How Much Would A Trump Military Parade Cost?
President Donald Trump asked top military brass to plan a parade to showcase the United States' military might, à la the display he saw on Bastille Day in France last year, according to the Washington Post.
"It was one of the greatest parades I've ever seen," Trump told reporters at the United Nations General Assembly in September. "It was two hours on the button, and it was military might, and I think a tremendous thing for France and for the spirit of France … We're going to have to try to top it."
The Post reported that in January Trump gave "marching orders" to top generals to plan a military parade.
National military parades like the one Trump saw in France are rare in the U.S. The last time it happened was in 1991. Then-President George H.W. Bush oversaw military parades in Washington D.C., like the one Trump has suggested, and New York City. The parades were in celebration of the ending of the first Persian Gulf War.
The parade in the nation's capital cost $8 million, according to CNBC, which adjusted in today's dollars would be around $13.8 million. If Trump wanted a parade of a similar scope it could cost around that much.
The U.S. paid for $3 million for the D.C. parade, while the other $5 million was raised in private donations. The parade in New York City cost around $4.7 million, according to a New York Times story at the time, which adjusted for today's dollars would be around $8.6 million. The entirety of the cost of the New York parade was raised through private donations.
For context, Defense Secretary Jim Mattis asked Congress for $700 billion for military spending for Fiscal Year 2018.
Critics of the parade have come out against the cost, even before there's a final price tag.
Democrat Sen. Jack Reed the Ranking Member of the Armed Services Committee, issued a statement to International Business Times decrying the cost.
"At a time of stress and strain on our military budget, President Trump is proposing a costly parade that would divert needed resources from our military's core missions," said Reed.
Democratic Sen. Dick Durbin echoed his sentiments.
"Take the money that the president would like to spend on this parade [and] instead, let's make sure our troops are ready for battle and survive it and come home to their families," said Durbin to MSNBC Wednesday.
Hawaii Sen. Brian Schatz also criticized the parade on Twitter.
"A military parade costs millions. Let's fix military housing, hire more VA doctors, fund telehealth, DOD schools, support the commissaries, daycare for families, or give more flight training time. Our highest defense priority must be the service members, not the politicians," tweeted Schatz.
This story was updated to include a statement from Sen. Jack Reed.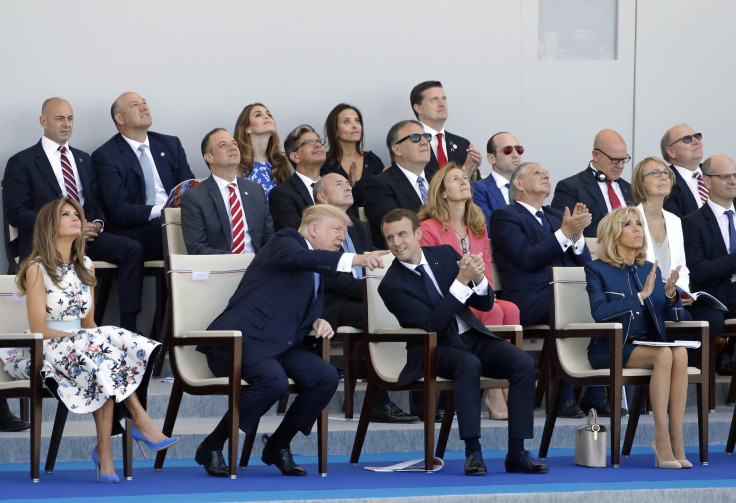 © Copyright IBTimes 2023. All rights reserved.
FOLLOW MORE IBT NEWS ON THE BELOW CHANNELS