How The Potential UPS Strike Could Affect US, World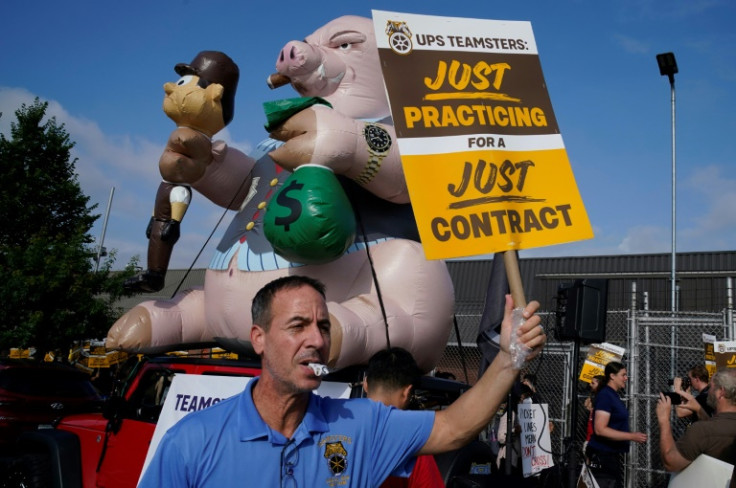 KEY POINTS
As many as 340,000 UPS workers could strike soon
UPS and its union, the International Brotherhood of Teamsters, are expected to resume negotiations on Tuesday
A 10-day strike could cause as much as $7 billion in damage to the U.S. economy
There could be a major delay on the next item delivered to the doorsteps and loading docks of homes and businesses around the world.
On Aug. 1, about 340,000 United Parcel Service Inc. (NYSE: UPS) employees represented by the International Brotherhood of Teamsters could begin a work stoppage with the potential to cause billions of dollars of damage to the U.S. and world economy. The two sides are expected to resume negotiations on Tuesday to avoid a strike.
In an interview with International Business Times, Anderson Economic Group Principal and CEO Patrick Anderson said a strike would be felt by every American as the freight handled by UPS cannot be easily transferred to other carriers.
Anderson said a 10-day strike of that scale would cause about $7 billion in damage to the U.S. economy due to lost productivity. That, he said, is a conservative estimate and the costs could actually be much higher.
"A 10 day strike ... would create as much damage in terms of lost wages and losses to businesses and consumers as any strike in the last 100 years in the United States," Anderson told IBT. "It's also a choke point in the modern economy that's never really been pinched before."
Globally, a work stoppage would harm: the automotive and manufacturing industries that rely on specialty parts shipped from around the world; the healthcare industry and patients who rely on perishable medicines and even the finance industry since many high-value contracts must still be delivered and signed by hand.
On July 31st, the Teamsters' labor agreement with the UPS is set to expire. This would mean the 340,000 full- and part-time workers represented by the trade union would stop working in demand of better pay, improved working conditions and more time off.
The union says its contract with the Atlanta-based logistics company is the largest labor agreement between a private sector employer and a union. In early July, negotiations between UPS and the Teamsters about extending their contract collapsed, according to a release from the union.
Anderson said he anticipates UPS, and businesses around the world, are already planning for what to do if a strike comes to pass. However, he said the collective capacity does not exist between all the other public and private carriers in the U.S. to replace the logistical needs currently filled by UPS. Less than a quarter of that freight could actually be handled by another service.
Larger businesses may still be able to find alternative means for moving necessary and perishable goods but smaller ones that cannot will be particularly threatened. In less than a week, small businesses that can't get the supplies they need will run the risk of being forced to close due to lack of necessary goods.
Doctors, dentists, optometrists and medical patients who rely on medicine deliveries should immediately begin exploring alternative options if they rely on UPS, Anderson said.
In a July 19th release commemorating the resumption of negotiations, the union said its looking for a "new five-year agreement that guarantees better pay for all workers, eliminates the two-tier wage 22.4 job classification, increases the number of full-time jobs, addresses safety and health concerns around heat illness, and provides stronger protections against managerial harassment."
The Teamsters did not immediately respond to a request for comment from IBT. However, in a July 21st appearance on MSNBC Teamsters General President Sean O'Brien said UPS management is profiting without doing any of the hard labor of handling and delivering packages.
"It's strictly down to money. We tried to get the deal done on July 5th ... UPS walked out and said they have no more money to give," O'Brien said in his media appearance. "It's all about economics right now."
On Monday, the Teamsters Facebook account said the union's "picket lines have been rehearsed to perfection.
"Teamsters have loudly demonstrated our readiness to strike if the company doesn't deliver for our members," the post said.
UPS did not immediately respond to a request for comment from IBT. In a blog on the issue, UPS released a statement dated July 21, 2023, saying the two groups need to work quickly to "finalize a fair deal that provides certainty for our customers, our employees and businesses across the country."
"We started these negotiations prepared to increase the already industry-leading pay and benefits we provide our full and part-time union employees and are committed to reaching an agreement that will do just that," the UPS statement said.
A strike would create a strange scenario for consumers who've become used to getting anything and everything delivered to their doorstep in short order. Most shoppers, Anderson said, would likely delay their purchases until they become fed up enough to buy something from a retailer.
Both sides are likely to receive repetitional harm, Anderson said. UPS will not be seen as reliable as it once was and may lose business in the long term. Americans may perceive UPS' Teamster employees, some making more than $90,000 a year, as greedy and selfish.
Communities where Teamsters live will likely miss out on the economic impact of those workers as they forgo paychecks for an indefinite period. For example, Anderson said the six-week-long United Auto Workers strike against General Motors Co. (NYSE: GM) in 2019 caused so much damage it pushed the entire state of Michigan into a recession during the quarter it took place.
Right now, Anderson said the wise thing to do is to prepare for a strike. Less than a week remains before a serious logistic challenge.
"Consider this your unofficial warning," Anderson said. "Anyone out there who's relying on getting some goods shipped should be ordering them right now."
© Copyright IBTimes 2023. All rights reserved.