How Extreme Heat And Weather Affect US Business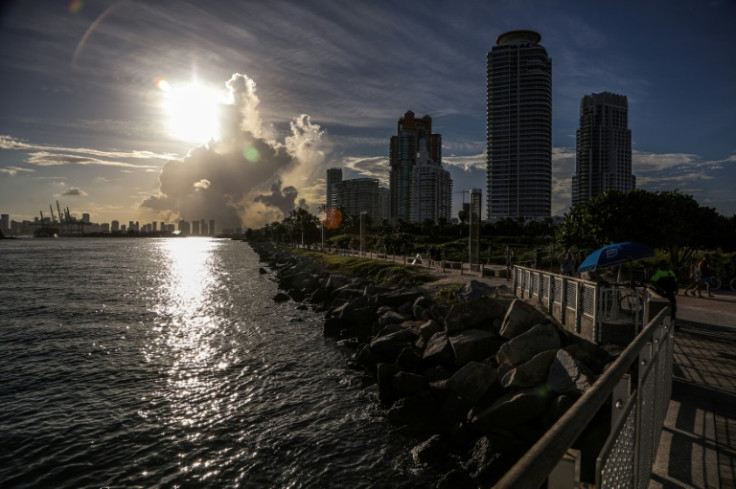 KEY POINTS
World meteorological associations say July 2023 is setting temperature records
Extreme heat challenges energy infrastructure, famers, business owners and employees
Insurers are shying away from California and Florida due to climate risks
The past climate is no longer a predictor for the businesses of the future.
In July, heatwaves and extreme weather around the northern hemisphere made headlines as workers wilted and infrastructures strained to keep up with increased demand for energy to cool homes. On Monday, the World Meteorological Organization said it was tracking potentially world record breaking heat in both the U.S. and Europe.
Climate observers in the U.S. said these heatwaves are a sign that the dire climate predictions made by scientists are coming to pass sooner than expected. They anticipate a hotter climate will affect the world of business by making it harder to work outdoors, raising the cost of electricity, affecting the reliability of the food supply and making it harder to insure homes and businesses in certain areas.
In an interview with the International Business Times, Rachel Cleetus, policy director for the Union of Concerned Scientists' climate and energy program, said the extreme heat currently facing the U.S. significantly damages the domestic economy.
According to data from the National Oceanic and Atmospheric Association's National Centers for Environmental Information, 18 "weather and climate disasters" in 2022 caused $176.9 billion worth of damage and were blamed for 474 deaths.
So far in 2023, NOAA accounted for 12 weather or climate disasters causing more than $1 billion per event. Through a little more than half of 2023, this far exceeds the 1980 through 2022 average of 8 events per year.
Cleetus said NOAA doesn't account for extreme heatwaves, but high heat nevertheless causes cascading effects. The heat hurts overall worker productivity, harms farmers their livestock and the crops they harvest and strains physical infrastructure by causing roads, bridges and rails to buckle.
In an interview, Sarah Doughtery, director of the Natural Resource Defense Council's Green Finance Center, said businesses should consider climate change as representing two risks: physical risk and transition risk.
Physical risk, Doughtery said, is the actual risk presented by extreme heat or other weather harming workers or destroying business-critical infrastructure. Transition risk is the cost of moving to more energy or fuel-efficient systems. Businesses may have to adjust now by asking for different working hours or working shorter days to avoid high heat.
Right now, as temperatures rise, businesses face a physical risk of seeing workers unable to work either due to heat, or problems at home caused by the heat, and machinery breaking down more often due to heat and other stresses.
Doughtery pointed to the potential strike of members of the International Brotherhood of Teamsters working for United Parcel Service Inc. (NYSE: UPS). In June, according to a release, union members voted to strike if the employer did not meet their demands for — among other things — "protection from heat." A strike could begin as soon as August 1, according to the Teamsters.
Increased demand for electricity to cool homes in the warmer climates of the U.S. is already causing the price of electricity to skyrocket which, Cleetus said, ultimately hits business and consumers alike with unexpectedly high prices.
The electric grid, Cleetus said, is not resilient and cannot handle extreme weather well. Already in U.S., and abroad, electricity suppliers are asking for voluntary energy usage reduction to reduce the strain on the grid.
Drought and high heat also drag down agriculture. According to NOAA's National Integrated Drought Information System, much of the Midwest, Texas and Pacific Northwest are under abnormally dry or drought conditions. Parts of Kansas, Missouri, Nebraska and Texas are facing what the agency calls exceptional drought.
Cleetus said farmers and ranchers can survive one season of extreme drought but when it keeps occurring year after year it causes serious drops in productivity. Less productive livestock and crops ultimately lead to higher prices for consumers.
More extreme weather at a higher rate of occurrence can and will lead to crop failures, Doughtery said as unusual weather that occurred once every 30 years may occur as often as once every three years.
In a troubling sign, Cleetus said some insurers are balking at even offering insurance plans for danger prone areas. In May, State Farm General Insurance Co. announced in a release it would "cease accepting new applications including all businesses and personal lines property and casualty insurance" in California starting May 27, 2023. The company cited "rapidly growing catastrophe exposure" and other factors.
Cleetus said this is a real warning sign that regions of the country are reaching a climate tipping point.
"Individual market actors start to move and then a sudden rush to the door and we are seeing that," Cleetus told IBT. "Many of these companies ... are recognizing that the past is no longer a good predictor of the future."
In January 2023, Moody's issued a report on the insurance industry detailing the risk climate change poses to insurance companies.
"Global insured natural catastrophe losses have averaged about $100 billion over the past five years. Reinsurers in particular are feeling the heat as they accumulate loses from primary companies," the Moody's report said. "To counter this, many are raising prices, limiting coverage and even exiting some markets to improve returns."
The Moody's report said insurers will continue to hike rates, change their catastrophe modeling and reconsider doing business in both California and Florida. The Sunshine State's recent, recurring damage from storms like 2022's Hurricane Ian "has seen several Florida-only insurers driven into insolvency by catastrophe losses," the report said.
"Florida has an estimated 2.9 million homes and over $580 billion at risk for a potential hit by a Category 5 hurricane," the Moodys report said.
When private insurers move out of the market, publicly backed insurers of last resort — either at a state of national level — often move in. When this happens, taxpayers ultimately pay, Cleetus said.
Despite the growing risks, beachfront development continues in Florida and elsewhere. That, Cleetus and Doughtery said, happens because those developers — and the banks that finance their operations — are still working with a shorter view of the future and don't necessarily include climate risks as part of their calculus.
Going forward, Doughtery said, business owners will need to plan for more unpredictable weather in order to future proof their businesses. Cutting emissions, she said, will be key as regulators and financiers are steadily adding more emissions disclosures and standards to their routine business arrangements.
"Starting sooner is a key part," Doughtery said. "The longer you wait, the more expensive it's going to be, the more damage you may have, the more customers you might lose."
This article was corrected at 5:30 p.m Eastern Daylight Time on Aug. 11, 2023.
© Copyright IBTimes 2023. All rights reserved.