How To Use Your iPad As A Second Screen For A Windows PC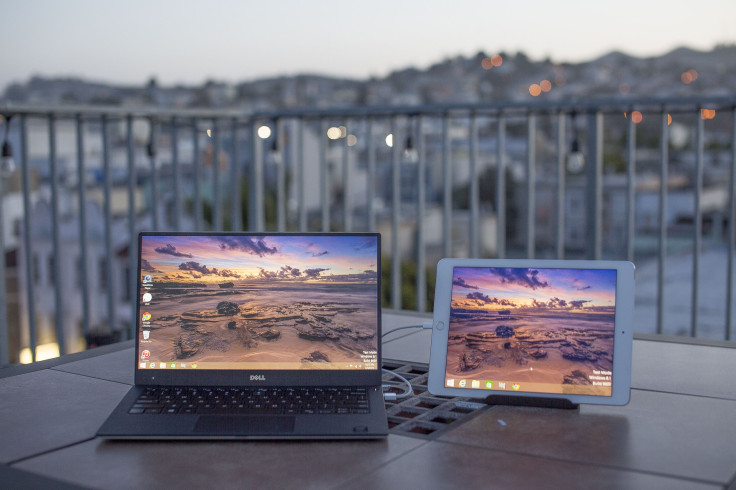 Sometimes you simply need a second monitor to get some real work done. But if you're on the go and away from your workstation, often it's not an option. Never fear -- there actually are a bunch of apps and programs that allow your computer to use an iPad to extend your screen real estate.
One of the best such apps, Duet Display, is receiving an update on Tuesday that will allow Windows computers to use an iPad as a second monitor. Previously, Duet Display only worked with machines running Mac OS X.
There are other apps that can extend your desktop onto an iPad, but what makes Duet Display different is that it works over a standard charging cable -- either the old-style 30-pin connector or the newer Apple Lightning cable. Older apps made the connection through Wi-Fi. The wired connection leads to less lag, which means your iPad really feels like a second monitor, not a superfluous accessory.
"I knew tricks on how to communicate with an iPad over USB," Duet Display creator Rahul Dewan said. "Otherwise you'd have to write USB drivers."
Your iPad might even be a better screen than your laptop monitor. Duet Display can access your iPad's full resolution, so if you've got a newer tablet, it could end up having more pixels than your first screen. In addition, Duet Display supports touch, so you can control your computer by poking at your iPad.
Using it is simple: Open up the Duet Display app on your iPad and plug it into a computer with the companion app installed. It should plug and play.
One thing you'll want to do is make sure the frame rate stays high. Duet Display runs at 30 frames per second or 60 frames per second. Keep that number to be as high as possible for the smoothest performance, especially for fast-moving video or smooth scrolling.
In fact, Duet Display might be better on Windows than on the Mac. On Windows, it installs a little app in the system tray on the bottom right corner of the desktop that offers an easy settings menu to control resolution and frame rate.
"The Windows version is much better than the Mac version, actually," Dewan said. "It's got better touch support, and on Mac you're limited to two resolutions. Windows adds in-between resolutions."
Windows support will open up a new market for Duet Display. Most Mac users own their own PCs, but Windows users are often assigned one from their office. Duet Display on Windows opens up a second-screen option for Excel-addicted road warriors, but you'll still need administrator privileges to install it, at first. After that, it can be updated automatically without your tech guy's permission.
Although Duet Display has logged more than 1 million hours in use, Dewan doesn't see the software as his ticket to Silicon Valley fame and fortune. He said he has refused venture capital offers to expand his team beyond himself and a few friends because he doesn't like to call Duet Display a startup -- instead, he refers to it as "a high-quality product we love."
Duet Display costs $15.99 from the App Store. The companion app for your Windows or Mac computer is free.
© Copyright IBTimes 2023. All rights reserved.