How Women Are Building The Future And Promoting Diversity With Blockchain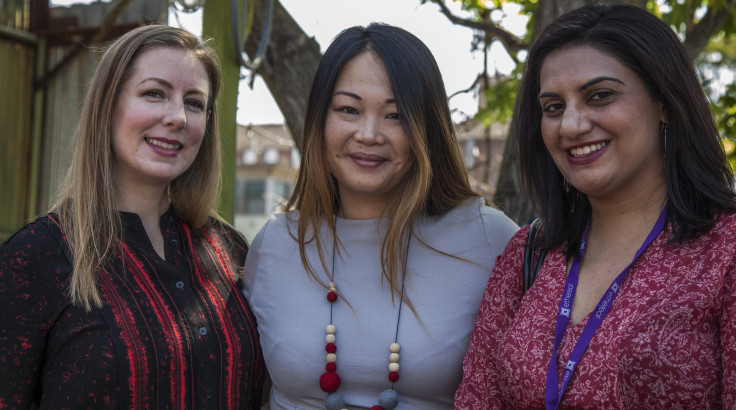 Many tech experts believe we are living during the dawn of a new era, a blockchain revolution.
"It's the wild west out there," venture capitalist Tracy Chadwell told International Business Times at the Ethereal Summit in New York on Friday, where around 458 tech professionals gathered to talk about how to shape the future.
Most people still associate blockchain with bitcoin and other like minded cryptocurrencies. That market is definitely developing, but the same distributed ledger technology that fuels bitcoin can also be used for international development tools, healthcare data and consumer tech, just to name a few sectors. From Dubai to Nairobi, women are leading the way.
Read: How Blockchain Could Rebuild The Healthcare Industry
Rahilla Zafar, who directs Consensus Systems' Middle East and North Africa programming, said she's sure blockchain digital infrastructures will be widely adopted and mainstream within just two to three years. "One thousand percent," she nodded. Zafar is currently working with the Dr. Aisha Bin Bishr on the Smart Dubai initiative, which will turn the Emirati metropolis into the world's first city to run on blockchain.
"It's being led by a woman [Bin Bishr] and she has incredible women on her team," Zafar said. "We are working with the ministries of education and health, the police, really every single government entity. We're thinking about blockchain from the perspective of citizens and visitors." According to BlockchainEmirates.com, $1.4 billion dollars were invested in blockchain in 2016. Bin Bishr reportedly told the Wall Street Journal they plan to have the world's first blockchain government by 2020. So what is this new DLT system and how is it different than cryptocurrencies like bitcoin?
"Bitcoin has the function of just transferring money. Ethereum is the next generation of the internet, creating direct peer-to-peer interactions," Zafar explained. "It isn't just a currency. It can be a land title or a song." The concept of Ethereum is less than a decade old. And just a few months ago in Eastern Europe, Georgia decided to start using blockchain for nationwide land registry. While Estonia is busy integrating blockchain into their healthcare system, blockchain startups are fundamentally reshaping the way businesses operate in the private sector.
"Bitpesa is a great example," Chadwell added. "I really think one of the great things about blockchain, is there are a lot of really interesting companies in this space and also a lot of companies in the financial services area that are making things more inclusive for everyone."
The fintech platform Bitpesa in Nairobi, Kenya, founded by Elizabeth Rossiello, helps businesses do cross-border transactions without currency conversion. Blockchain has advantages for both small businesses and giant corporations like Goldman Sachs. That's exactly what excites Zafar the most, the way blockchain technologies make the tech industry accessible to more diverse entrepreneurs.
A new blockchain fundraising system called Initial Coin Offerings, which Forbes magazine called a "$380 million phenomenon," is helping startups raise capital without limiting their search to traditional investors or firms. "Whether you're in the Middle East or sitting in Illinois, there's opportunities for average people to raise money," Zafar said.
Chadwell agreed blockchain has the potential to equalize global industries in ways we've never seen before. "Blockchain is fundamentally better to do that [equalizing] than any other technology," Chadwell said. She sat outside the Ethereal Summit on an open patio, next to Zafar, along with fellow venture capitalist and blockchain expert Alyse Killeen and Rosanna Chan, the economist who founded the World Bank Blockchain Working Group.
They all agreed there's still a long way to go for women in tech. But they smiled as they said it. Because right now all around the world, female blockchain innovators are hustling to break the proverbial glass ceiling wide open.
Read: UN Using Blockchain Technology To Help Refugees, Fight World Hunger
© Copyright IBTimes 2023. All rights reserved.
FOLLOW MORE IBT NEWS ON THE BELOW CHANNELS