UN Using Blockchain Technology To Help Refugees, Fight World Hunger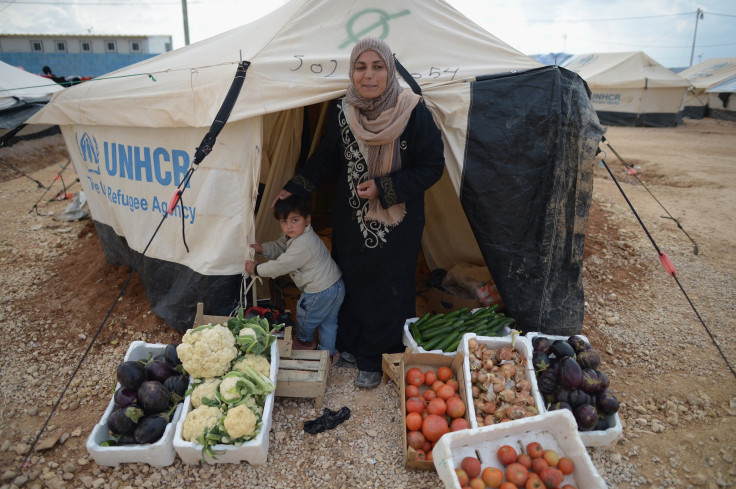 For most people, the word blockchain conjures images of bitcoin and hackers. But there are so many uses for blockchain technology beyond cryptocurrency, from fact-checking Facebook's News Feeds to tracking diamonds from war zones so consumers can make ethical shopping choices. Now the United Nations is piloting blockchain programs to curb world hunger and researching other ways the technology could help disenfranchised populations.
The U.N. launched it's first large-scale ethereum test this week in Jordan, CoinDesk reported, where cryptographic coupons representing Jordanian dinars will be distributed across five refugee camps. Jordan is a small country with around 8 million people and a huge refugee crisis on its hands.
Read: What Is Blockchain? Lawmakers Create Caucus To Promote Technology Behind Bitcoin
The United Nations High Commissioner for Refugees estimated there were around 630,000 Syrian refugees in Jordan by 2016, in addition to 2 million Palestinian refugees and a growing number of asylum-seekers fleeing conflicts in Yemen, Somalia and Iraq. Distributing food and resources to these communities is an ongoing challenge for both local and international authorities.
World Food Program financial officer Houman Haddad told CoinDesk the coupon project will distribute funds to 10,000 people, with hope of expanding the program and making its enrollment available to the entire refugee population by next year. Cashiers at Jordanian shops will be able to redeem the high-tech coupons at checkout, sometimes with the help of an eye-scanning device made by London hardware company IrisGuard.
"The iris scan payment system has been extremely successful, and we are thrilled that WFP and its partners are now able to serve Syrian refugees living in Jordan's largest camp through this innovative system," WFP country director Mageed Yahia told the U.N. News Center.
This U.N. project in Jordan combines technologies like the eye-scanner with software from several fintech startups, including the ethereum development startup Parity Technologies and the blockchain big data firm Datarella. "The economic benefits of harnessing Blockchain technology can amount to several million U.S. dollars for the Jordanian refugee camp population, alone," the Datarella blog said.
Datarella was also involved with the U.N.'s blockchain pilot project last year in Pakistan, called Building Blocks. "Blockchain can revolutionize the way WFP delivers assistance to vulnerable families across the globe," Farman Ali, from the WFP Karachi provincial office, said in a press release. "It can bring us closer to the people we serve and allow us to respond much faster."
These programs in Jordan and Pakistan are just the beginning. The U.N. request for information in April states the goal is to use distributed ledger technology "as part of a multiagency effort to ... increase efficiency, accountability and transparency" throughout worldwide programming.
Accountability is a huge issue for international aid infrastructures. The Guardian reported experts generally estimate 1 percent to 5 percent of a humanitarian organization's income is lost due to mismanagement or fraud. It's even harder for global networks to keep tabs on resources destined for remote populations. Blockchain technology could be the solution.
Read: Userfeeds Wants To Use Blockchain To Combat Fake News On Facebook
© Copyright IBTimes 2022. All rights reserved.
FOLLOW MORE IBT NEWS ON THE BELOW CHANNELS