HTC One Max Rumors: Super-Sized Device To Compete With Samsung Galaxy Note 3, Sony Xperia Z Ultra On The Way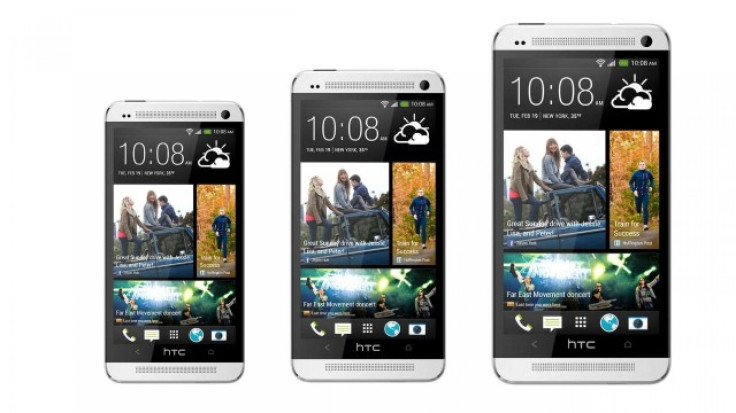 Fresh off the success of the HTC One, rumors indicate HTC is working on bigger and smaller editions of its flagship phone. There have been rumors of an HTC One Mini on the way, but now HTC will reportedly round out the 2013 "One" family with the HTC One Max.
Despite reports following the April unveiling of the HTC One that suggested the flagship device would be the only "One" of 2013, rumors have long believed that the Taiwanese manufacturer had plans to continue the HTC One line. According to Mobile Geeks, the HTC One Max will be a super-size version of its popular cousin, featuring specs that will directly compete with Samsung's upcoming Galaxy Note 3 "phablet."
Tipsters told the German tech blog that the HTC One Max will feature a 6-inch Full HD Display, a Qualcomm Snapdragon 800 processor clocking in a 2.3GHz, 2GB of RAM, 32GB and 64GB internal storage options and a 3,200mAh battery, among many updated specs. There doesn't appear to be an operating system currently connected to the device, but Android 4.2.2 and the rumored Android 4.3 will likely be the prime options.
The HTC One Max will reportedly be unveiled in September, which falls in step with it being competition for the Samsung Galaxy Note 3. Samsung's super-size device is expected to launch Sept. 4 during the preview days of the IFA Expo in Berlin. With both a mini and max device to compete with Samsung's already released Galaxy S4 mini and its Galaxy Note 3, the end of 2013 will likely be an interesting time for both companies.
HTC has always made its rivalry with Samsung clearly known. During the unveiling of the Samsung Galaxy S4 in March, HTC representatives handed out HTC One paraphernalia to guests and press waiting outside Radio City Music Hall to see the device for the first time, while the company also took to Twitter calling the Galaxy S4 the "Next Big Flop." The HTC One and the Samsung Galaxy S4 are also heavily compared with one another.
The HTC One Max will also likely be competition for the already unveiled Sony Xperia Z Ultra, which will feature similar specs and is expected to release in early fall.
It is not yet known whether the HTC One Max will include stylus functionality. The Xperia Z Ultra will include a stylus, while the Galaxy Note 3 is expected to at least be compatible with sold-separately S-Pens.
Are you excited that the HTC One Max is likely on the way? Let us know in the comments below.
Follow me on Twitter @FionnaatIBT.
© Copyright IBTimes 2022. All rights reserved.
FOLLOW MORE IBT NEWS ON THE BELOW CHANNELS