Hulu Launches Live TV Streaming: Channel List Includes HGTV, Food Network, More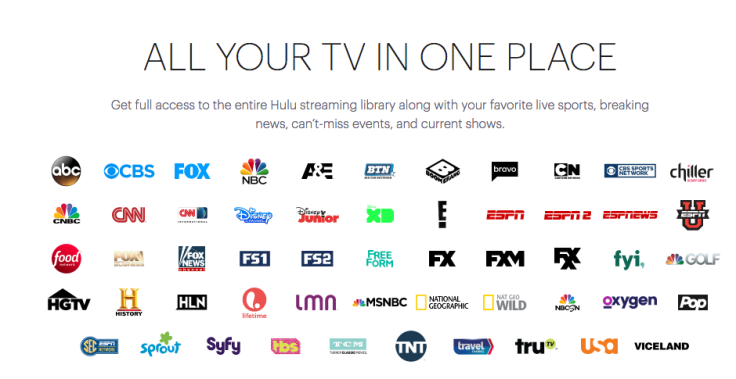 Hulu launched its live under $40 TV service that includes more 50 channels Wednesday, the company announced. Hulu's live TV beta service is now available to the public via iOS and Android devices, the Apple TV, Xbox One, and Chromecast.
Hulu Live TV Channel List
Hulu made deals with 21st Century Fox, ABC, NBC, CBS, Turner Networks, A+E Networks and Scripps Networks for its new service. Channels included in the package are: CBS Sports, ESPN, Fox Sports, NBC Sports and TNT, other regional sports networks, CNN, CNBC, Fox News, Fox Business and MSNBC, Bravo, E!, Food Network, HGTV, Travel Channel, A&E, Cartoon Network/Adult Swim, Disney Channel, Freeform, FX, HISTORY, Lifetime, National Geographic, TBS, USA Network, Viceland and more.
Read: How To Use YouTube TV: 5 Things To Know About YouTube's Online TV Streaming Service
Hulu's live TV service will be priced at $39.99 and will include those channels and others, as well as Hulu's premium streaming service, original series and films.
"Nearly a decade ago, Hulu forever redefined the way people watch TV. Today, as we add live sports, news and entertainment and introduce a more intuitive Hulu, we want to redefine the way people experience TV," said Hulu CEO Mike Hopkins in a statement. "By bringing together thousands of live, on-demand and library shows and movies — and serving them up in a uniquely personalized way – Hulu can now be a viewer's primary source of television. It's a natural extension of our business, and an exciting new chapter for Hulu."
Hulu's live TV service includes 50 hours of recording storage and allows for the creation of six individual profiles, as well as two simultaneous streams per account. Hulu also offers an upgrade for unlimited in-home screens and a Cloud DVR storage. Those who want to watch Hulu Original, movies and library content without commercials can subscribe to the company's on-demand No Commercials plan for an extra $4.00 per month fee.
Hulu previously announced deals for the service before it launched, including agreements with ABC, CBS, NBC and Turner. The company announced a new deal, with Scripps Networks Interactive, as it launched its live TV service Wednesday. That deal brought in channels including HGTV, Travel Channel and Food Network.
The launch comes just as previous rumors suggested. A couple of weeks ago, a report said the company was telling staff internally that Hulu's live TV service would launch on the first week of May, although it was also suggested the release would be delayed a few weeks into the month.
Read: Streaming vs. Live TV: Teens Spend Significantly More Time On YouTube, Netflix Than Traditional Media
Hulu's live TV service will compete with other streaming plans in the market, including Sling TV. The new plan also goes head-to-head with Google's YouTube TV, which launched last month in select U.S. cities starting at $35. YouTube TV channels include, Fox, NBC, ABC, CBS and FXX, as well as ESPN, SEC Network, the Big Ten Network and other networks. HBO and Starz are not included, but Showtime is available as an add-on.
Meanwhile, Apple is also looking to get into TV streaming. The iPhone company is reportedly looking to sell a premium TV bundle which would include Showtime, HBO and Starz.
© Copyright IBTimes 2023. All rights reserved.
FOLLOW MORE IBT NEWS ON THE BELOW CHANNELS