Apple TV Bundle Could Include HBO, Showtime, Starz Via iOS And Apple TV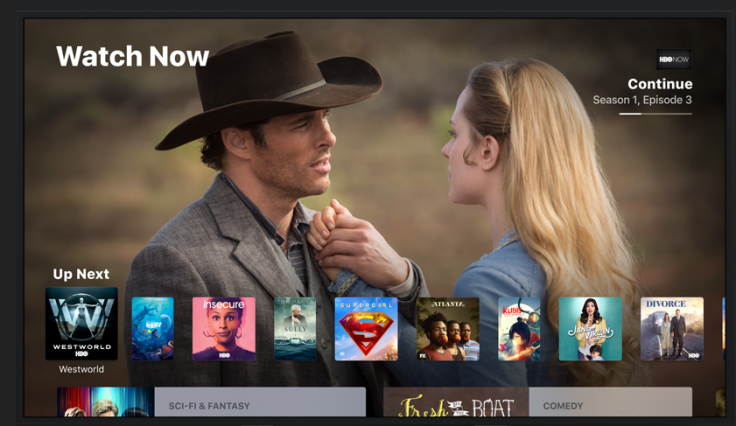 Apple is reportedly looking into selling a "premium TV bundle" which would include HBO, Showtime and Starz, Recode reported Sunday.
There is no deal on the bundle yet, but Apple has reportedly approached the networks about the idea already. Apple's premium bundle would be available via iOS devices and the Apple TV, according to Recode.
Read: Hulu Adds CBS To Its Live TV Channel List, To Be Priced Under $40
Apple's bundle would be similar to TV operators. However, traditional pay operators like Charter usually require users to pay for a basic channel package before offering a premium bundle. Apple would change that and allow consumers to directly pay for the bundle without having customers pay for other packages.
Apple currently sells three networks individually, with HBO priced at $14.99 a month, Showtime $10.99 a month and Starz $8.99 a month. The price for the premium bundle is not know as of yet, but there may be a discount for the package of all three channels.
Read: YouTube Streaming TV Service Announced, Channel List Includes ESPN, ABC, FXX, More
Apple's Premium Bundle Vs. Google Vs. Hulu Channel List
Apple rivals Hulu and Google have announced their own plans.
In February it was revealed Google will launch YouTube TV this spring, a streaming TV service that offers a bundle of cable and network channels for $35 per month. Channels which will make up the bundle include, Fox, NBC, ABC, CBS and FXX, ESPN, SEC Network, the Big Ten Network and other networks. HBO and Starz are not included, but Showtime will be available as an add-on for YouTube TV.
Meanwhile Hulu announced a TV streaming bundle which will cost less than $40. Hulu made deals with Disney, CBS and Fox. Hulu's live TV streaming service will feature live feeds from networks like Fox, ABC, ESPN, FX and more. The deals with Disney and Fox include 35 networks.
© Copyright IBTimes 2023. All rights reserved.
FOLLOW MORE IBT NEWS ON THE BELOW CHANNELS