Streaming vs. Live TV: Teens Spend Significantly More Time On YouTube, Netflix Than Traditional Media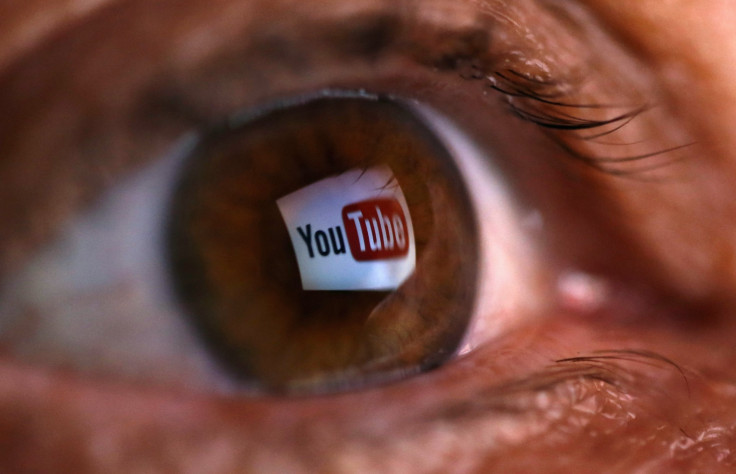 YouTube has huge power over teens, with young people spending more time on the platform than regular TV, a recent study indicates.
The study was released by Awesomeness TV, which produces video for 31 platforms, and was conducted in collaboration with Trendera, a trend forecasting and research firm. The study focuses on what Gen Z, those born 1996-2011.
Read: How To Use YouTube TV: 5 Things To Know About YouTube's Online TV Streaming Service
Millennials were the ones seen as "digital natives" as they went on to create Facebook, Snapchat and other apps we use daily. However, Gen Z is way more immersed in the digital world.
The Power of YouTube
Among teens, YouTube leads when it comes to social media accounts. The study found 79 percent of teens have a YouTube account, higher than Facebook, 78 percent; Instagram, 69 percent; Snapchat, 68 percent; Twitter, 49 percent; Kik, 38 percent; Pinterest, 35 percent, and Tumblr, 29 percent.
Of all social media platforms, teens use YouTube (25 percent) more than Facebook (24 percent) and Snapchat (16 percent). The group doesn't think YouTube's popularity will decrease anytime soon as 68 percent of teens say YouTube is getting more popular among those in their age group.
The report indicates teens choose YouTube over playing video games when they have free time. Additionally, 61 percent of teens would rather watch 10 hours of YouTube videos than 10 hours of regular TV.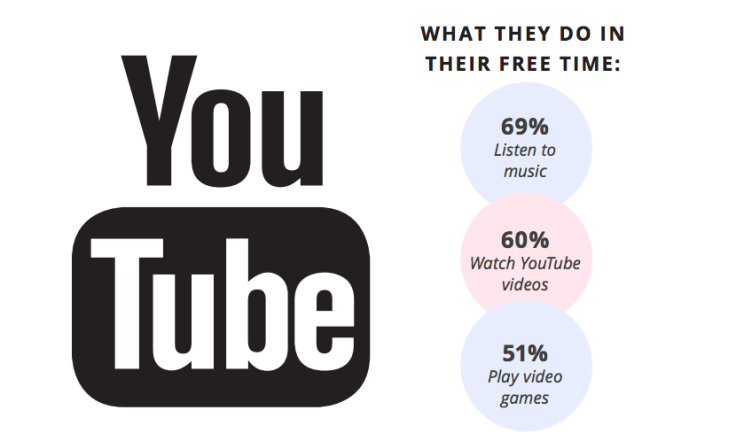 Teens prefer shorter online video to traditional television shows, which might explain why YouTube is so popular. Young adults say they decide what video is worth watching based on interest in the topic (63 percent), followed by whether the content was created by someone they like (49 percent), if the video is on a channel they like (47 percent), the title of the clip (42 percent) or by suggested video (34 percent).
The decision of watching videos based on whether it was created by someone they like could be why YouTube personalities, like Casey Neistat and beauty vlogger Dulce Candy are so popular.
Read: YouTube TV Launches In Select Cities, Just $35 A Month
When asked to pit actors, actresses, musicians, bloggers and Instagrammers against each other, teens voted YouTubers as funniest (47 percent), relatable (32 percent) and positive (31 percent).
Most importantly, Gen Z respondents said YouTube bloggers were 33 percent more likely to make them buy a product compared to other popular figures. The study also indicates teens are more likely to turn to YouTube for product recommendations, more than Facebook (30 percent) or Instagram (27 percent). Overall, 59 percent of teens, especially young females, said they have purchased an item they discovered through social media. Sixty-three percent of teens said social media content is becoming more influential in their buying decisions.
When it comes to the future, being a YouTuber is among top career choices. Other professions included being a doctor, engineer, gamer or athlete. The study found 68 percent of teens would rather be an entrepreneur than work at a large corporation.
YouTube Over Netflix
Among young adults, 71 percent of their entertainment consumption is via streaming, the report indicates. Thirty-four percent of the content is viewed through smartphones, 26 percent on computers, 24 percent on TV, 10 percent on tablets and 6 percent via other methods.
YouTube beats out all other streaming methods at 34 percent while Netflix trails at 27 percent, live TV at 14 percent, catch up or on demand at 8 percent, premium TV at 5 percent, Hulu at 4 percent, Amazon Prime at 3 percent, Twitch at 3 percent and other at 2 percent.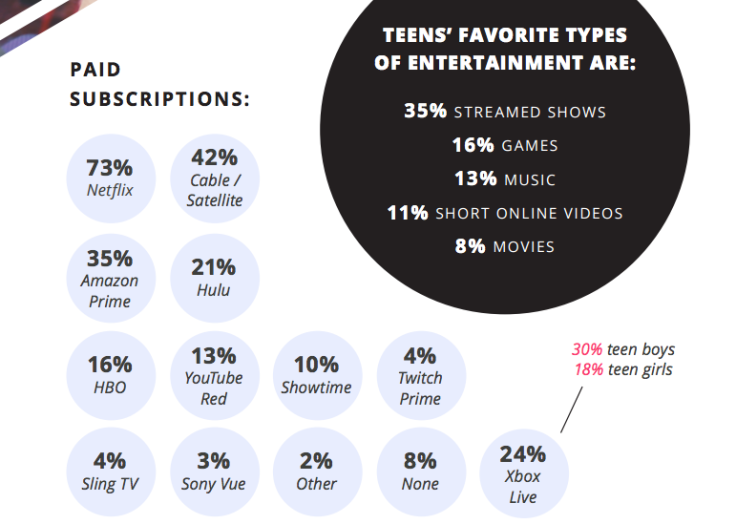 However, Netflix leads among teens when it comes to paid subscriptions, beating out Amazon Prime, HBO, Showtime, Sling TV, Hulu and YouTube Red.
More than 1,500 teens nationwide, with the average age of 17, were interviewed for the survey March 2017.
© Copyright IBTimes 2023. All rights reserved.
FOLLOW MORE IBT NEWS ON THE BELOW CHANNELS