The Hunger Epidemic: 300 Children Die Every Hour From Malnutrition as World's Poor Cut Back on Food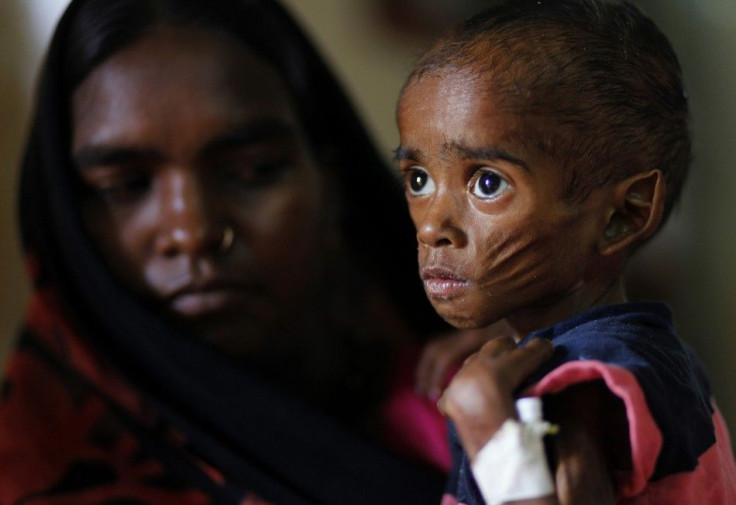 Amid soaring food prices, a quarter of a billion parents are forced to cut back on food and stop sending their children to school, aid agency Save the Children said in a report.
The charity based its conclusions on a survey, which looked into thousands of families living in India, Bangladesh, Peru, Pakistan and Nigeria. These countries, which are home to half the world's stunted children, saw nearly a third of parents taking their children out of school and sending them out to work instead to help pay for food.
The report, A Life Free from Hunger: Tackling Child Malnutrition also found that a third of those parents surveyed had their children complaining about not having enough to eat.
As a consequence these children are not getting enough nutrients, which makes them vulnerable to a range of development problems. Another startling revelation is the increasing number of malnutrition cases in children, with nearly 300 of them dying of hunger every hour.
Malnutrition is a condition that occurs not because of inadequate supply of food, but the lack of dietary protein in vegetables, milk or meat.
Over 170 million children aged under five in these nations suffer from stunted growth due to malnutrition. The agency said that unless the situation is tackled on time, half a billion children would be physically and mentally stunted over the next 15 years.
The agency estimates that one in four of the world's children are stunted. Half of all the children in India are stunted, accounting for nearly 60.5 million, followed by Pakistan (42 percent), Bangladesh (43 percent), Nigeria (43 percent) and Peru (24 percent).
The situation is escalating rapidly as more and more families are pushed into poverty due to soaring prices in food provisions. Severe weather conditions, financial crisis and political unrest have all contributed to lifting food prices to a very high point. The report stated that climate change could lead to as many as 24 million malnourished children by 2050.
The report also said: Malnutrition is undermining economic growth and reducing the productivity of people trying to work their way out of poverty in the world's poorest countries. It's estimated that 2-3% of the national income of a country can be lost to malnutrition. In 2010 alone malnutrition cost the world nearly £77 billion.
Families in the developing world who spend the bulk of their income on food are affected the most.
In order to address these growing concerns, Save the Children has urged UK Prime Minister David Cameron to call a world hunger summit when world leaders will gather in London for the Olympics this year.
We want the biggest push ever on world hunger, said Chief Executive of Save the Children, Justin Forsyth, in the report. By acting on hunger and malnutrition, world leaders have the chance to change this for millions of children across the world.
Significant progress has already been made in saving children's lives. The number of children not making it to their fifth birthday has fallen from 12 million in 1990 to 7.6 million in 2011, the report said. At the same time we must accelerate efforts to improve nutrition, which holds the key to further progress.
The World Bank estimates that it cost a little more than $10 billion a year to provide nutrition interventions to prevent the deaths of two million young lives and save another 60 million children from malnutrition. There's also the requirement for food supplements, trained health workers, social protection schemes and political commitment, and awareness on hygiene and breast feeding benefits.
© Copyright IBTimes 2023. All rights reserved.