Hurricane Michael Weakens To Category 2; No Warnings In Effect, National Weather Service Says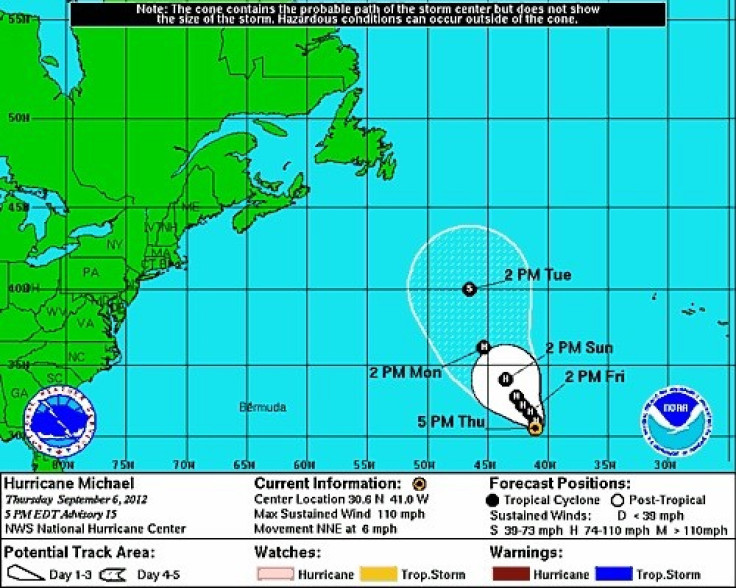 Hurricane Michael is losing strength in the middle of the Atlantic Ocean as it was downgraded to a Category 2 storm Thursday night.
According to the National Weather Service's National Hurricane Center, Michael is here, or about 945 miles west-southwest of the Azores.
Michael became the first Category 3 storm of the hurricane season earlier Thursday, according to NBC News, although that strength was short-lived.
Michael is not causing any trouble as it churns in the Atlantic.
"There are no coastal watches or warnings in effect" due to the hurricane, the National Weather Service said in its 5 p.m. EDT update on Michael.
As the southern United States moves forward with the cleanup effort following Hurricane Isaac and Bermuda prepares for Hurricane Leslie to hit the island, it appears Michael is not a threat to land for the time being.
In its 48-hour outlook on Michael, the National Weather Service expects the hurricane to keep fading.
The storm's center is here. Michael is moving to the north-northeast at 6 miles an hour, with winds nearing 110 miles an hour and gusts above that speed, according to the NWS.
You can find the next update on Michael here, with the information scheduled to be released at 11 p.m. EDT.
© Copyright IBTimes 2023. All rights reserved.