Hurricane Newton Update: In Mexico, Los Cabos, Baja California And Other Vacation Spots Hit By Storm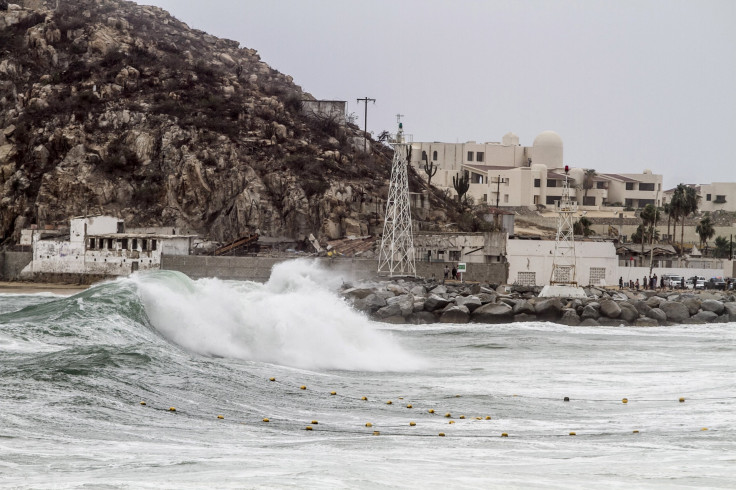 Hurricane Newton made landfall on Mexico's western coast Tuesday morning, causing damage to several luxury resorts in Los Cabos.
According to the National Hurricane Center, the Category-1 storm made its way over the Baja California Peninsula around 2 a.m. local time with winds speeds up to 90 miles per hour generating just 40 miles from the hurricane's center, NBC News reported.
Hurricane warnings were in effect for twin resort towns Cabo San Lucas and San José del Cabo while tropical storm warnings have been issued for areas further north up the coast.
More than 14,000 tourist vacationing in Los Cabos have been warned not to leave their hotels as Hurricane Newton's heavy rainfall is expected to accumulate up to 10 inches of rain through Wednesday, which could trigger "life threatening flash floods and mudslides" in coastal areas of Mexico, including Michoacan, Colima, Jalisco, Nayarit and Sinaloa, as well as Baja California Sur, the Weather Channel reported. More than a third of all flights arriving and departing at Los Cabos airport were canceled as of 3 a.m. local time Tuesday.
Fatalities From Tropical Storms and Hurricanes vs. All Other Natural Hazards | WeatherDB
Officials urged tourists and locals to stay indoors and have opened up 18 shelters across the two resorts, as well as 38 others across other parts of Baja California Sur state, offering dry places to keep safe during the storm. Los Cabos Mayor Arturo de la Rosa Escalante told the Associated Press that resident's didn't need to worry about mass buying as there is "enough food and fuel" to go around for the next 20 days.
Newton's strong winds are predicted to spread through the southern Baja Peninsula and head toward northwest Mexico as of early Wednesday. There is also a chance that the storm system -- which is slated to become a tropical depression over the next few days -- will hit the Southwest U.S., later in the week with areas of Arizona and Western New Mexico picking up one to three inches of rain starting Wednesday night through Thursday night.
© Copyright IBTimes 2023. All rights reserved.