Hurricane Hermine Photos: Florida Residents Share Pictures Of Damage, Flooding Caused By Now-Tropical Storm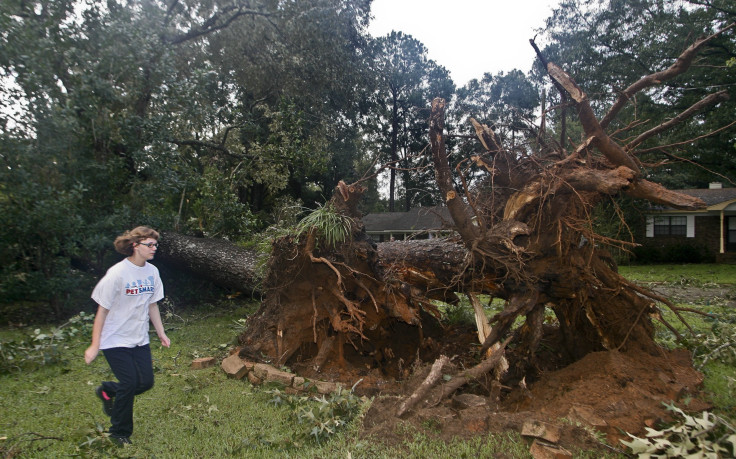 Hurricane Hermine — Hermeen? Hermyne? Hermione? — finally made landfall in Florida early Friday morning, bringing with it tons of rain and strong winds. The first hurricane to hit the Sunshine State in more than a decade, the storm system came ashore at about 1:30 a.m. EDT.
Cities along the Florida's Gulf coast experienced storm surge and flooding Thursday as the storm approached, dropping up to 22 inches of rain in one location. Though Hermine was quickly downgraded to a tropical storm from its Category 1 status, it continued to pose a threat to Georgia, North Carolina and the Northeast, according to the Weather Channel.
As of 11 a.m. EDT, Hermine was located about 55 miles west-southwest of Savannah, Georgia, moving at about 18 mph, according to the National Hurricane Center.
"Tropical storm conditions are expected to continue near the center of Hermine this afternoon and will spread northward within the warning area along the Atlantic coast today through Saturday," the center wrote in a public advisory. It added that "rains may cause life-threatening floods and flash floods."
More than 250,000 Floridians were left without power Friday, and at least one death had been blamed on the storm, NBC News reported. Hundreds of people had to evacuate their homes.
"About 10 o'clock, watching TV. I said, 'Oh, it's going to blow over.' I can hear the rain and, you know, twigs falling. I went to get up to get a drink of water, I put my foot down, my foot got all wet and I said 'uh oh,' and I looked down, my floor was flooded," Cedar Key resident Tom Rafferty told the Tallahassee Democrat. "It's nature. We build on the earth. This is nature doing its thing."
Media outlets and users on social media posted photos of the damage Hermine left behind. See some of the best shots below:
© Copyright IBTimes 2023. All rights reserved.