Hurricane Sandy Damage Could Hit $20B; Economic Hit To Be 'Noticeable But Temporary'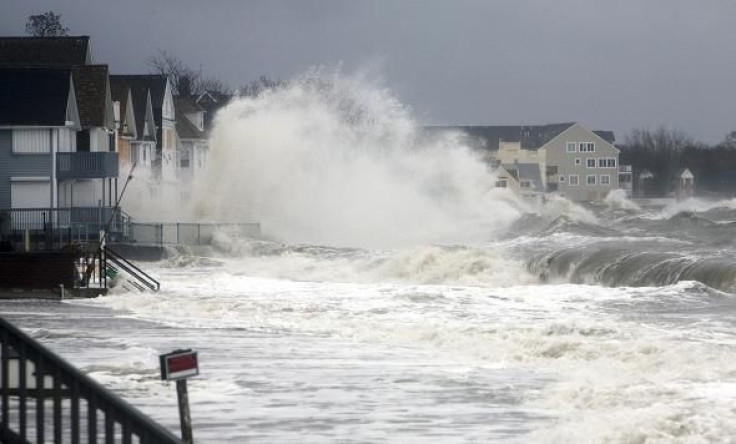 Hours before Hurricane Sandy made landfall, it had already left more than 100,000 homes without power and had turned New York and much of the Eastern Seaboard into a coast full of ghost towns.
While it may be somewhat premature to estimate what the total cost will be of the so-called Frankenstorm, which weather historians say has little precedent along the East Coast, economists and financial strategists have come up with some preliminary figures.
Damage from the massive storm is likely to cause insured losses of $5 billion to $10 billion and economic losses of $10 billion to $20 billion, disaster modeling company Eqecat said Monday.
"Sandy is a large storm, impacting 20 percent of the U.S. population," Tom Larsen, senior vice president, said in a statement.
Hurricane Sandy is causing disruptions for companies, travelers and consumers. At least 12,000 flights have been cancelled on the East Coast.
Meanwhile, U.S. markets for stocks, options and other exchange-based derivatives will remain closed for a second-straight session Tuesday -- the first two-day weather-related shutdown of the markets since 1888. Equities and option exchanges will likely lose about $1 million per day in transaction fees when they are closed. Markets are expected to reopen on Wednesday, conditions permitting.
Even at the low end of the Eqecat projection, Sandy would rank as one of the worst hurricanes in history by insured losses. Last year's Hurricane Irene, by comparison, caused about $4.3 billion in insured losses.
But for the overall economy, damage from the storm will likely be limited. Moreover, much of the economic growth lost to the storm in the short run will likely be restored once reconstruction begins.
"While natural disasters take a large initial toll on the economy, they usually generate some extra activity afterward," Ryan Sweet, senior economist with Moody's Analytics, said on the company's website. "We expect any lost output this week from Hurricane Sandy will be made up in subsequent weeks, minimizing the effect on fourth quarter GDP."
The region in Sandy's path along the East Coast has a GDP of about $10 billion per day. According to Moody's, Sandy's impact on the U.S. economy will be "noticeable but temporary."
"The hurricane could increase volatility in U.S. retail sales, initial jobless claims, vehicle sales and housing starts. The Northeast accounts for 20 percent of total U.S vehicle sales and 10 percent of housing starts," Moody's said.
Oliver Chen, an analyst at Citigroup, notes that Sandy may cut November same-store sales by as much as 3 percent. Traffic may fall 40 percent in affected areas in November's first week, which accounts for about 22 percent of the month's sales.
Even though Hurricane Sandy is shaping up to be a costly storm, 2012 still has a long way to go for it to be comparable to the worst year ever for storm damage: 2005. Eight storms made landfall in the U.S. that year, including Hurricane Katrina, and caused an inflation-adjusted $129.5 billion in combined damage.
So far this year, the U.S. has already dealt with Hurricane Isaac, which was estimated by Eqecat to have caused about $1 billion to $2.5 billion in damage.
The average cost of a year's worth of hurricanes on the U.S. economy is 0.062 percent, or just under $10 billion in today's dollars, according to "The Economics of Hurricanes in the United States," which looked at property damage between 1933 and 2005.
William D. Nordhaus, an economics professor at Yale University and the paper's author, gathered data on the storm characteristics and economic damages for 142 hurricanes that have made landfall in the U.S. These include all storms since 1933 and 14 storms before 1933.
The chart shows the trend in normalized hurricane damages since 1950. 2005 was an economic outlier primarily because Hurricane Katrina was by a wide margin the most costly hurricane in recent history.
"Katrina was so costly not because of its intensity but because it hit the most economically vulnerable region in the U.S.," Nordhaus noted.
© Copyright IBTimes 2023. All rights reserved.