Hyperloop Could Cover Distances Up To 10,000 Kilometers By 2020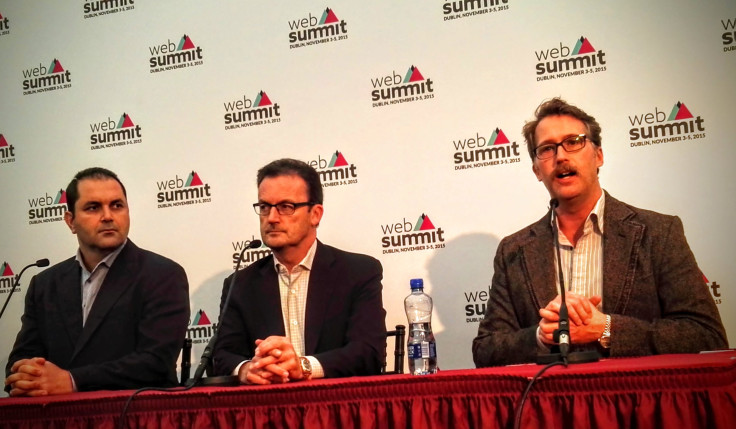 DUBLIN -- Just as data is transported around the globe at superfast speeds, the folk behind one of the startups building a Hyperloop believe that cargo and people also will soon seamlessly zip across the face of the planet, covering distances as great as 10,000 kilometers (6,214 miles) faster than commercial jets.
Newly appointed Hyperloop Technologies CEO Rob Lloyd was joined by company co-founders Brogan BamBrogan and Shervin Pishevar at the Web Summit in Dublin Wednesday to detail the firm's plans for the next four years and how by 2020 the economic and environmental advantages of this so-called fifth mode of transportation -- originally proposed by Elon Musk, founder of SpaceX and Tesla Motors Inc. -- will be immediately obvious to everyone.
Two years ago, Musk produced a widely publicized white paper that called for the building of a Hyperloop, a superfast vessel that runs inside a vacuum-sealed tube. Or, as BamBrogan, Hyperloop Tech's chief technology officer and a former SpaceX engineer, put it: "We build a tube, full scale, that is going to be point-to-point. So if you can imagine two cities are your destinations that you want to connect to physically, build a large tube between those two locations and you control the environment within that tube."
BamBrogan said Hyperloop Tech is already building a lot of hardware with the aim of getting a working prototype up and running before the end of 2016. That prototype will feature a 3-meter-diameter tube that will extend to more than 3 kilometers, which will have pods traveling through it at over 700 mph.
That is just the starting point. Lloyd, who recently joined the company from Cisco Systems Inc., said the next step is to pick three projects from around the world to "demonstrate the power of the transformational nature of Hyperloop." These three projects will be built and operational by 2020, and the firm is already getting requests from multiple governments, with a lot of interest in Europe, the Middle East and Asia, as well as a couple of opportunities in the U.S.
10,000 Kilometers
Lloyd said the Hyperloop concept will work over a wide range of distances, from 40 km to 10,000 km, and that Hyperloop Tech is investigating one project calling for a 9,300-km track. Pishevar indicated he has high hopes about what this new technology could achieve: "With a network like that, with a grid that is built around the world, you can truly move goods and packages and people like packets of data and route them so efficiently."
To put that distance in context, it would allow you travel from the eastern tip of Russia to the other side of Europe with some room to spare. Meanwhile, the longest nonstop commercial flight has clocked in at a little more than 13,800 km.
While most of the focus on Hyperloop has centered on replacing planes and trains, the most truly revolutionary aspect of the new system could be its role in the movement of cargo. Pishevar contended the 15 biggest cargo ships globally pollute the world more than all the cars on the planet, adding that the highly energy-efficient Hyperloop technology could have a huge impact on the environment as well as the economics of moving cargo around the world.
Pishevar said the launch of the prototype by the end of 2016 is the project's "Kitty Hawk moment," a reference to the North Carolina town where the Wright brothers made the first powered airplane flights. "Getting to the Kitty Hawk moment is absolutely critical," he said. "That is a tipping point where many governments -- both regional and national -- will look at that as a proof point."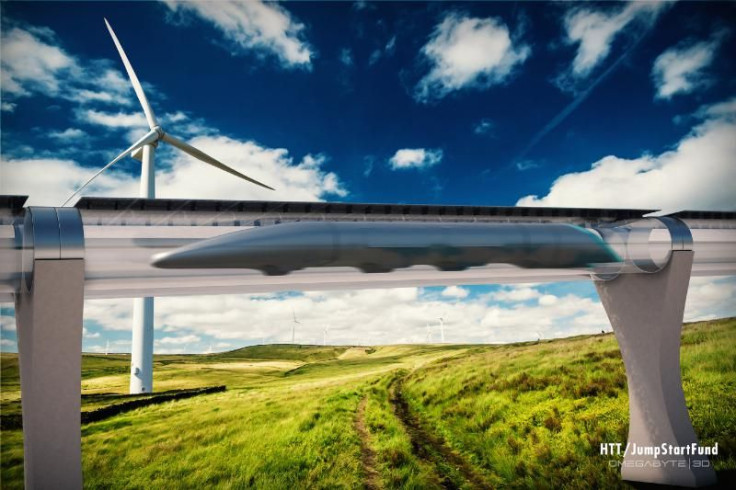 The plans the Hyperloop Tech chairman spoke about include the proposed $70 billion California high-speed rail link that inspired Musk to come up with the idea.
'There Is PowerPoint, And Then There Is Steel'
Hyperloop Technologies has raised a lot of money and is backed by Sherpa Ventures, the venture-capital fund of early Uber investor Pishevar. It is seen as a credible and legitimate face of the Hyperloop revolution -- but it is not the only company looking to build on Musk's idea. The similarly named Hyperloop Transportation Technology (HTT) is also planning to build a version of Hyperloop, but it is taking a much different approach to developing this revolutionary technology.
Headed by German entrepreneur Dirk Ahlborn, HTT is looking to build Hyperloop with a crowdfunding and open-source approach that will see engineers, scientists and developers around the world collaborate in return for stock options rather than salaries. When International Business Times asked Lloyd's opinion of the competition, the former Cisco executive was pretty dismissive of what Ahlborn and HTT are doing.
"I think the construct of an open-sourced, crowdfunded idea is interesting, but we are talking about hundreds of millions, and then billions of dollars, of capital that will be building critical infrastructure that a country will rely on," Lloyd said. He then added: "I don't believe [building Hyperloop] can be done in an open-source community that can't build anything. There is PowerPoint, and then there is steel, and our company is buying steel and building technology today, and I think that is what is going to allow us prove this concept within the next year."
However, one point on which the two companies almost agree is that building a Hyperloop infrastructure outside the U.S. is much more likely than constructing one inside the U.S., although Lloyd said Hyperloop Technologies is still open to the possibility: "If we can find a right-of-way and a supportive regime, state governor, city, we would love to see an infrastructure demonstrating our capabilities in the United States. Outside the United States, we see a different view as to the value of public infrastructure and there are projects [such as high-speed rail projects] going on around the world that are actually stopping to pause and saying, 'Should we look at Hyperloop?'"
© Copyright IBTimes 2022. All rights reserved.
FOLLOW MORE IBT NEWS ON THE BELOW CHANNELS