'I Would Not Have Kidneys Left': Ukrainian Village Deputy Speaks About Russian Torture, Threat
KEY POINTS
Olexander Guz shared images of the torture he faced at the hands of Russian troops
He said that they threatened him and "tied a rope around my neck"
Some people are also "psychologically pressured" by the Russians
The war in Ukraine has been ongoing for four months now and several people have faced immense torture at the hands of Russian troops. However, just a few have been able to come out and talk about their distressing stories.
One such person, who managed to reach out to BBC and share what he went through in the city of Kherson, is Olexander Guz. From Bilozerka, a small village in the Kherson region, Guz is one of the deputies of the village.
Guz shared pictures of his bruised body on his phone and said that he was tortured by Russian soldiers.
"They put a bag on my head," Olexander told the BBC. "The Russians threatened that I would not have kidneys left."
The BBC gathered several testimonies of residents in Kherson who say they were tortured. Some of the tortures these people faces are too graphic in nature to be shared.
Guz and his wife have been public critics of Russia. They both have been part of pro-Ukrainian rallies and have tried to stop Russian troops from entering their village. Not long after Russia took over their village, soldiers came looking for him. Kherson, in southern Ukraine, was taken under Russian control early in the war.
"They tied a rope around my neck and another around my wrists," he recalls. He says they told him to stand with his legs wide apart while they questioned him." Guz said that he was beaten mercilessly.
People trying to flee the war were frightened to speak out about the tortures. They also deleted photos or videos which might cause trouble for them if detained at Russian checkpoints. Guz managed to send the photos of him brutally beaten up to his son, who was abroad. He then wiped his phone clean to avoid any problems. He knew he has to someday tell the public about the horrors of the war and these pictures would help him do so.
Meanwhile, Guz is not the only one who documented the brutality of Russian troops. Oleh Baturin, who was a journalist for an independent newspaper in the Kherson region, said he was kidnapped within days of Russia's invasion
"They shouted, 'On your knees'," he says. "They covered my face... and put my hands behind my back. They beat me on the back, ribs and legs... and hit me with the butt of a machine gun."
Baturin was taken to a doctor, who told him that he had broken four of his ribs. He was imprisoned for eight days and during his time in prison, he heard others being tortured and also witnessed a mock execution.
Both Olexander and Oleh are now in Ukrainian-held territory. They said that the torture of several Ukrainians doesn't stop with being beaten up. Some people showed "abrasions, cut marks, signs of electrocution, traces of binding on the hands and strangulation marks on the neck."
Some people are also "psychologically pressured" by the Russians. "They threaten that their families will be killed, and they intimidate them in every possible way."
As to why the people were picked by Russians, Guz was told: "They were tortured if they did not want to go over to the Russian side, for being at rallies, for being in the territorial defense, for the fact that one of the family members fought against the separatists, some got there randomly."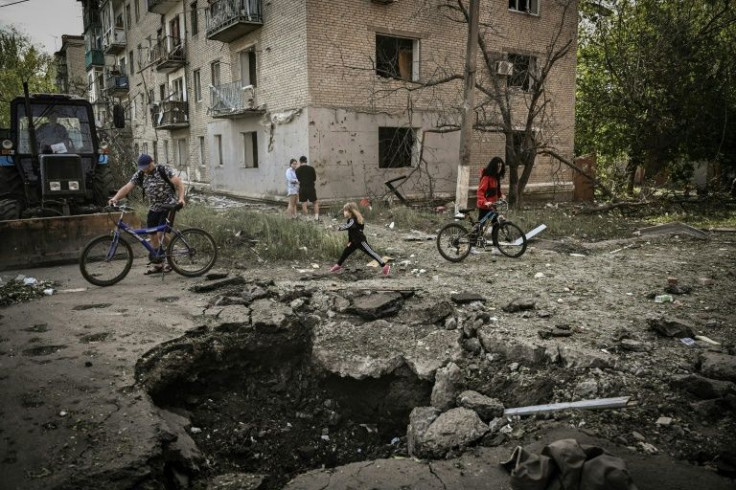 © Copyright IBTimes 2023. All rights reserved.