Images From A Stolen Camera Reveal Life Of Russian Soldiers Inside War-Torn Ukraine
KEY POINTS
The digital camera was retrieved by Ukraine's 24th Mechanized Brigade
The Ukrainians have released only one photo of the original owner
The camera held 11 images and three videos of the Russians who stole it
A digital camera, allegedly stolen by Russian soldiers from a home in Kyiv, has revealed the life of Vladimir Putin's men inside Ukraine. The device also has thousands of images of its original owner, a Ukrainian family.
The digital camera was retrieved by Ukraine's 24th Mechanized Brigade, which posted the images on its Facebook page. According to them, the Russians took the loot all the way from Kyiv to Luhansk before losing it during a fight in the eastern region. The Ukrainians claimed they retrieved the camera from a Russian armored vehicle sometime around mid-May.
The Sony device reportedly held nearly 1,000 photos of the Ukrainian family, including their vacations and images of their children, all before the Russian invasion, reported Radio Liberty.
There are also 11 photos of Russian troops, who seem to be merry-making, smoking and cooking in Ukraine. One of these photos shows a couple of soldiers gathered around a clearing. A wooden stock of a PK machine gun is visible on their right. One of them is seen sporting a white armband, usually worn by pro-Russian fighters in Ukraine, proving that the image was clicked post-invasion.
Another picture shows a topless soldier enjoying the break from fighting, while another near him flashes a V sign. The second man is then pictured in another image holding a lens, possibly from the same camera. A fourth image has a Russian soldier cooking his meal. The Russians have also shot three videos using the camera.
According to Nazar Ilnytsky, a press officer with the Ukrainian military, the camera is believed to be stolen by Russian fighters during their attempt to advance on Kyiv, possibly from a home in the northern suburb of Hostomel. "The invading soldiers were then redeployed to eastern Ukraine, taking the camera with them," Ilnytsky told the news outlet.
He added that the soldiers in the photos are from the 31st Airborne Brigade, based in the Russian city of Ulyanovsk. The fate of the Russian servicemen in the photos is unclear.
The Ukrainians have only released one picture of the original owners, a couple whose whereabouts are unknown. "We sincerely hope that everything is fine with the owners of the camera, whose shots the Russians have not even started to delete from the memory card. Soon we will be able to return their camera, which has come such a long way," the Ukrainians wrote on the Facebook page.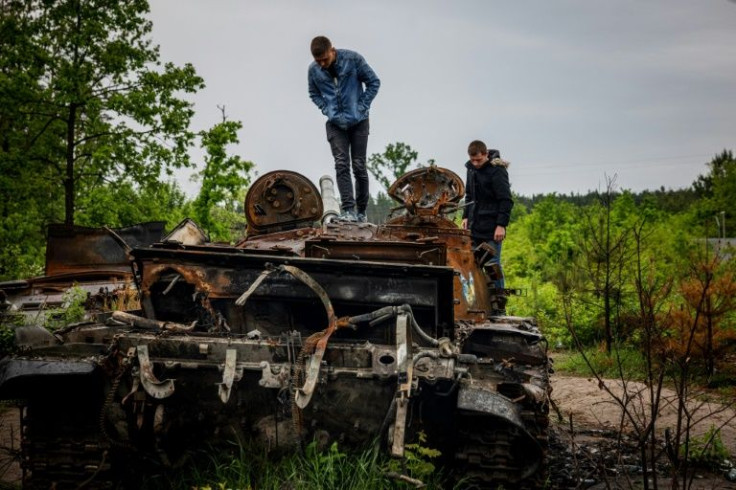 © Copyright IBTimes 2022. All rights reserved.
FOLLOW MORE IBT NEWS ON THE BELOW CHANNELS