Stunning Footage Shows Russian Attack Helicopter Nearly Crashing While Pulling A Daring Stunt (Watch)
KEY POINTS
Two Ka-52s attack helos were spotted flying in from a distance
The first helo flies sideways and descends dangerous low
The pilot loses the control and the chopper is seen moving violently
A video has emerged showing a Russian Kamov Ka-52 "Alligator" attack helicopter nearly crashing while pulling a dangerous stunt over a reservoir in Ukraine. The incident reportedly happened in the Luhansk Oblast.
The footage, doing rounds on social media, shows two Ka-52s flying into the frame from a distance. The Ka-52 is an all-weather attack helicopter operated by the Russian Air Force, designed for the destruction of tanks, armored and non-armored vehicles.
Recent reports have mentioned how they fly at very low altitudes in war zones to evade Ukrainian MANPADS, including Javelins and other surface-to-air missiles. This also prompted Russia to arm Ka-52 helicopters with the Igla-V, a short-range air-to-air missile that can attack attacking drones.
The video shows the first chopper descending slowly before maneuvering sideways, parallel to the reservoir. It swoops down dangerously close to the water level before attempting to pull a dangerous stunt.
The pilots may have decided to put on a show for the people standing nearby the reservoir, according to The Drive. The helo then moves closer to the shore, almost a foot above the water level before suddenly losing control and maneuvering violently. The chopper's tail almost touches the water, sending ripples in the water.
However, luckily the pilot regains control quickly. He then stabilizes the Ka-52 and gains altitude. Though the second Ka-52 flies by at a higher altitude, its distinctive "V" marking could be seen.
Though it is unclear where the reservoir is in Luhansk, the report claims it is in the city of Alchevsk in Luhansk Oblast. The original video was first posted on Telegram on May 30, by an unidentified person.
Another video from the same spot appeared on social media on May 29. This also showed a Ka-52 helicopter flying across the same stretch of water on May 29. The video mentioned the reservoir in Alchevsk, and this was later geo-located by a Twitter user. He suggested the area was somewhere on the banks of the Isakivs'ke Reservoir.
A third video showing two Ka-52s putting up shows, including flare releases, also went viral on Twitter on Tuesday.
Recently, Ukraine claimed that Russian troops were keeping a Ka-52 helicopter squadron ready to provide aviation support to their units in the area north of Izium in the Kharkiv region.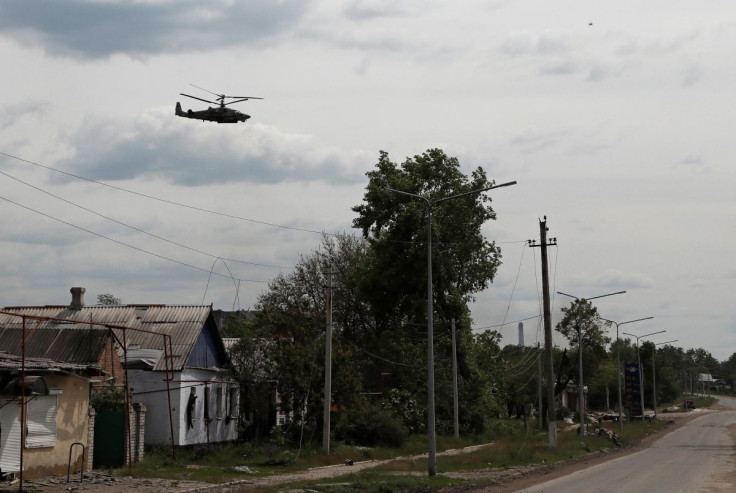 © Copyright IBTimes 2022. All rights reserved.
FOLLOW MORE IBT NEWS ON THE BELOW CHANNELS