ICC Trial For Kenyan President Uhuru Kenyatta Postponed One More Time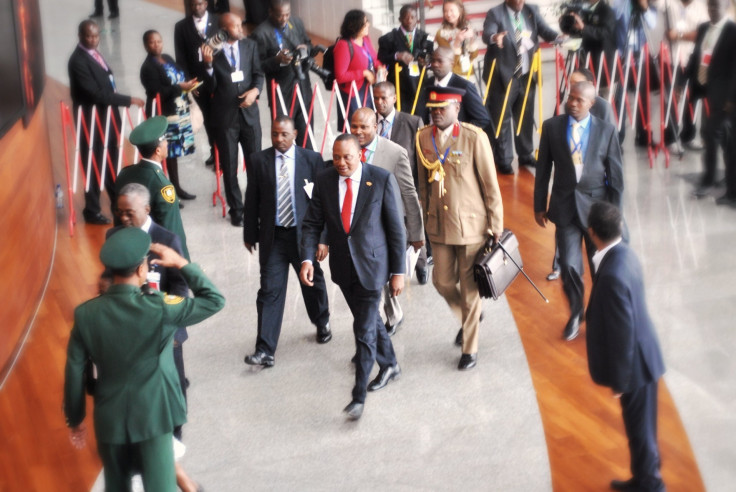 ADDIS ABABA, Ethiopia -- Kenyan President Uhuru Kenyatta will not have to attend trial at the International Criminal Court in The Hague this month due to procedural issues, the court said this week. His trial has been postponed until February.
Kenyatta has been accused of backing militant groups in the aftermath of Kenya's disputed 2007 elections, when ethnically motivated violence killed about 1,200 people. His court appearance in The Hague, most recently scheduled for Nov. 12, has already been delayed twice due to the withdrawal of prosecution witnesses.
Last month, the African Union held a special summit to discuss its relationship with the ICC, since the tribunal's eight current investigations are all focused on African countries. Some leaders accused the court of focusing specifically on Africa and floated the idea of a mass withdrawal from the ICC during a summit on Oct. 11-12. That motion failed, but summit attendees unanimously decided that no head of state should be tried for crimes while in office.
Kenyatta's deputy, Vice President William Ruto, began trial at the ICC last month. Like the president, he was indicted in 2011 on charges of backing militant violence in 2008. Both he and Kenyatta, who were elected to office in March of this year, claim innocence and argue that their new duties should take precedence over court proceedings.
On Oct. 18, Kenyatta was excused from continuous presence during the case, meaning he will only be expected to be at The Hague during key moments at the beginning and end of the trial so that he can perform his presidential duties at home. Both Kenyatta and Ruto have argued that an obligation to travel for the tribunal will impede their abilities to govern their country, especially in the aftermath of a terrorist attack that killed at least 67 people at a popular mall in the capital city of Nairobi last month.
ICC Chief Prosecutor Fatou Bensouda said Thursday that the new court date -- she recommended the tribunal reschedule for Feb. 3, according to Voice of America -- would help to ensure the participation of key witnesses.
Those who suffered in the violence in 2007 and 2008 will be disappointed by the decision, Fergal Gaynor, an attorney representing victims, told Reuters.
"We owe it to the many women who were raped, to the families of those killed with such shocking and senseless brutality, and to the children who suffer until this day (...) to redouble our commitment to justice," he said.
© Copyright IBTimes 2023. All rights reserved.