Ice Bucket Challenge 2015: Watch Renee Zellweger, Satya Nadella And Gov. Charlie Baker Take The Plunge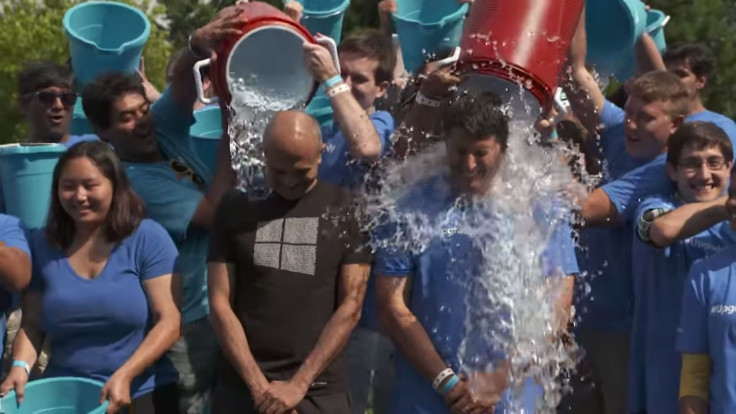 The Ice Bucket Challenge is back. A year after the social sensation took the Internet by storm, the ALS Association has introduced the hashtag #EveryAugustUntilACure, encouraging people to once again take the icy plunge, and keep it going every August till there's a cure for Amyotrophic Lateral Sclerosis, also known as Lou Gehrig's Disease.
Last year's ALS challenge, leveraging the power of social media to spread the word, was a great success. According to the D.C.-based nonprofit, over 17 million videos were posted to Facebook, clocking 10 billion views. By comparison, the most-watched video on YouTube, Psy's Gangnam Style, has less than 2.5 billion views. The challenge raised $220 million, with $115 million going to the ALS association.
This year's challenge is off to a strong start. The association has announced that every Major League Baseball team has pledged to take the challenge throughout the month, following the Boston Red Sox doing it on July 31 and live-streaming their event through the MLB website.
This year, the social media landscape looks a lot different. Apps like Meerkat and Periscope have brought live-streaming to a wider, mainstream audience, allowing the public to imitate the Red Sox easier than ever. Facebook has also jumped into the live-streaming arena, but with a twist: The service will let only celebrities and other public figures initiate streams. While the Red Sox live stream shows there is an appetite for trying out streaming, for now public figures seem to be getting this year's challenge started through traditional, pre-recorded means.
Massachusetts Gov. Charlie Baker took the challenge on Monday, wearing a "Free Brady" T-shirt in reference to the New England Patriots quarterback embroiled in the "deflategate" scandal. "Last summer, Pete Frates [a former captain of the Boston College baseball team, who was diagnosed with ALS] inspired millions of people around the country and the world — including Lauren and me — to participate in the Ice Bucket Challenge to raise awareness and critical ALS research funding," Baker said to Boston.com. "It is our pleasure to host Pete and his family at the State House on Monday as we continue to fight for a cure."
On Tuesday, Microsoft CEO Satya Nadella took the plunge along with vice president of Windows and devices Terry Myerson. Nadella went on to challenge all 6 million Windows Insider beta testers, who provided feedback before the launch of Windows 10 to ensure the software launched with as few bugs as possible.
Actress Renée Zellweger joined the challenge on Tuesday, standing in a trough so that her horse could drink the water afterwards. The association is suggesting a number of ways to complete the challenge in a drought-conscious way, such as using an existing body of water or using an alternative substance.
Barb Newhouse, president and CEO of the ALS Association, said in a statement: "Thank you to MLB and to everyone who is making it possible to transform a moment into a movement, establishing the ALS Ice Bucket Challenge as an annual event to find treatments and a cure for ALS. We have to finish what started last summer: every August until there's a cure."
© Copyright IBTimes 2022. All rights reserved.
FOLLOW MORE IBT NEWS ON THE BELOW CHANNELS