Periscope And Meerkat Are Becoming The New Tip Sheets For TV News
Newsrooms have been mining Twitter for years for tips, sources and photos. Now, they've got a new tip sheet: live video streamers Periscope and Meerkat, which have created a whole new world of user-generated content to pull from.
With the apps' integrated live comment feed, producers can quickly correspond with these creators to check validity, ask for more context and even direct the scene sooner than they ever would have hoped with video sites like YouTube.
"When there's video or another opportunity out there, and broadcasters don't have the bandwidth to be there, here are the amazing moments," said Jon Erlichman, who uses Periscope to host a daily show called #TechTrivia between his correspondence gigs at ABC and The Wrap.
Video recorded by Meerkat and Periscope have been used widely by the media, covering incidents like the protests in Baltimore and around the country. But TV newsrooms are starting to experiment with picking up live broadcasts as they happen, a risky proposition given there's not much time to verify what appears to be in the frame or who's holding the smartphone.
Both apps allow producers to chat with the shooter while the live feed is underway, which allowed a local CBS affiliate in New York City used it to catch an historic moment live: "Late Night Show with David Letterman" marquee at the Ed Sullivan Theater coming down. Here's how it happened:
At about 3 a.m. last Thursday, May 28, digital marketing consultant Geoff Golberg was using Meerkat to stream the activity in Times Square and saw a comment tipping him off that the iconic sign was being removed. So he headed over to the theater and recorded the historic moment.
Meanwhile, Patty Barrett, an assignment editor for WCBS-TV, the flagship station of CBS in New York, was searching Twitter for news related to Letterman. After a few seconds, she came across Golberg's tweet linking to his Meerkat broadcast:
Golberg noticed a comment from @pbarrett2, requesting permission to use the video on air at CBS.
"PBarrett, you're welcome to use the video so long as you give me credit on air. Absolutely. More than welcome to do that," he said.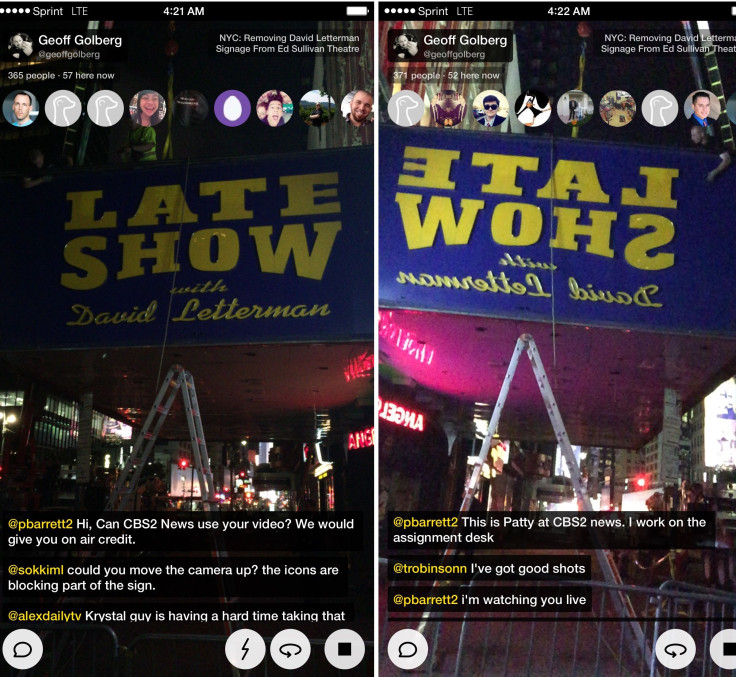 With permission granted and proper credit secured, the CBS newsroom recorded the stream via software on a desktop computer and added the video to their server. Soon afterward, on the overnight broadcast of CBS News, Golberg's footage aired.
While the CBS studio is only a few blocks away from the theater, the network did not have someone on the ground. Instead, Golberg's video not only helped notify the producers of the event but provided an engaging visual.
Risky Shots
The legitimacy of user-generated content can come into question, however, and each of the networks works to verify the information. Indeed, CNN's iReport, an initiative launched in 2006, has drawn attention to citizen journalists spreading fake reports such as a hoax about an asteroid collision. On the iReport page, however, the information is not all vetted by CNN. When it comes to using them for on-air broadcasts, it is up to the producers to make editorial judgments.
Content produced on Twitter, Periscope and Meerkat is subject to fair use in that reporters have the right to use brief excerpts without the permission of the copyright holder. While producers will do their best to reach out to the user, sometimes editors make the call to use the content, even if there is no direct contact made with the person who captured the video.
"You have to make a judgment based around the urgency of the broadcast," said Julian March, senior vice president of innovation and digital strategy at NBC. "If it's the top story and you don't have a good picture, you're going to take a different point of view."
Adapting the footage to live television is also one element that is currently under testing phase. Periscope and Meerkat record video vertically, as when showing Golberg's video. CBS chose to have a faded picture of the Letterman sign in the background. How much information to disclose and where to credit is also up for editorial judgment.
"I was a little bit irritated when I saw the footage after the fact," Golberg said. "They didn't mention who I am or that I was using Meerkat. I'm not a cameraman. I just happened to be the right person at the right time. And they spelled my last name wrong."
CBS had included Golberg's name in the upper right-hand corner but spelled it "Geoff Goldberg."
More Citizen Video Coming
ABC, CNN and NBC have yet to integrate citizen footage from Periscope or Meerkat into on-air coverage. Since the introduction of the apps, reporters from these networks have been experimenting with them, and they have become a part of the behind-the-scenes news coverage.
For example, CNN's Max Foster reported with Periscope to provide minute-by-minute coverage during the birth of the second royal baby, CNN wrote in a piece about correspondents using with the app worldwide.
As for citizens doing the streaming, "This is something we're looking into," said Matt Dornic, CNN Worldwide vice president of communications. CNN does already have its own citizen reporting site called iReport. In 2013, NBC acquired the live video service Stringwire, which allows verified contributors to send their content to the network at no charge.
NBC has incorporated Meerkat and Periscope on air but has not yet drawn from citizen feeds. For example, NBC used Periscope on air during a segment of the Mayweather-Pacquiao fight and streamed some content from the app to describe how it works.
Anchor Savannah Guthrie and Mitt Romney set up and streamed from the former Republican presidential nominee's Meerkat account during a "Today" show segment. Al Roker will frequently use Periscope to talk with fans during breaks.
It looks like the citizens using Meerkat and Periscope will continue to fill TV's 24/7 need for video of breaking news as it happens. In fact, Golberg had another engagement with a reporter last week shortly after a bus-size air-conditioning unit bounced off a high-rise and crashed onto Madison Avenue in New York City. Once again, he had been in the right place at right time.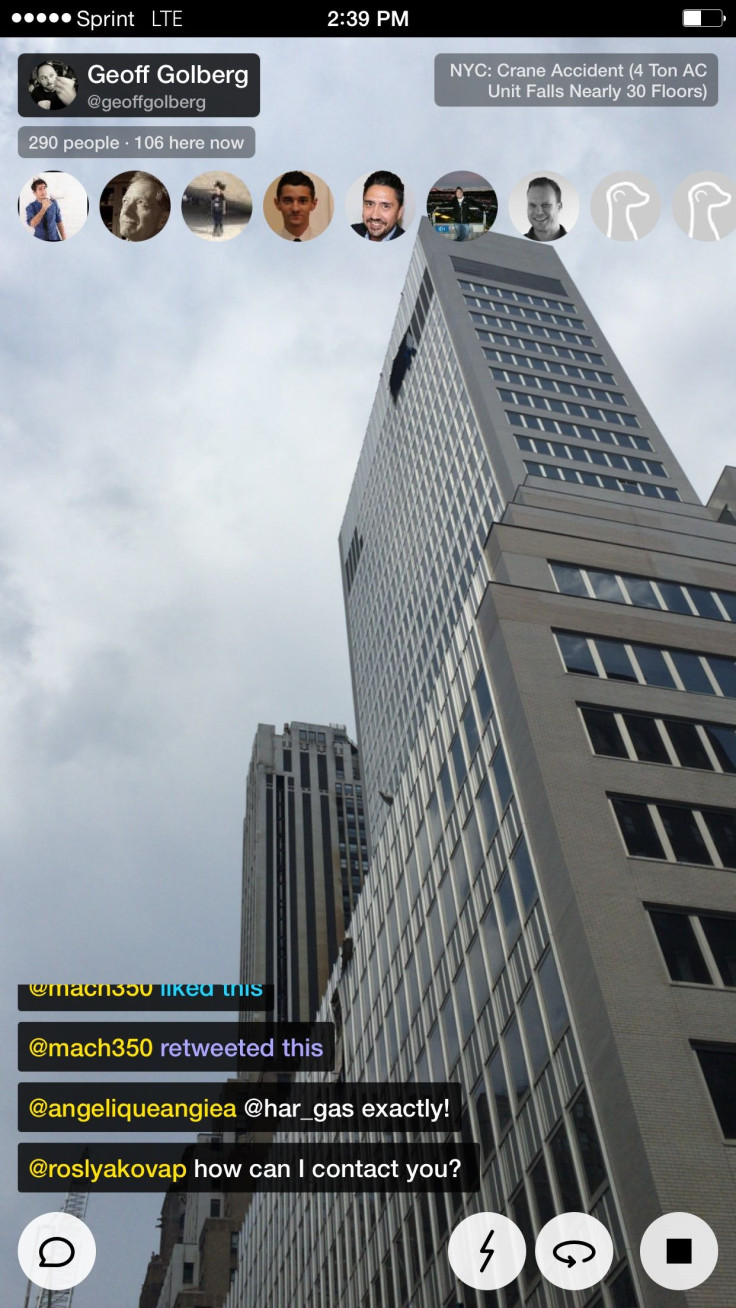 Shortly into the feed, Alexander Roslyakov, a video journalist from the Associated Press, asked: how can I contact you?
© Copyright IBTimes 2023. All rights reserved.