Iceland: Gender Politics Not An Issue In Presidential Elections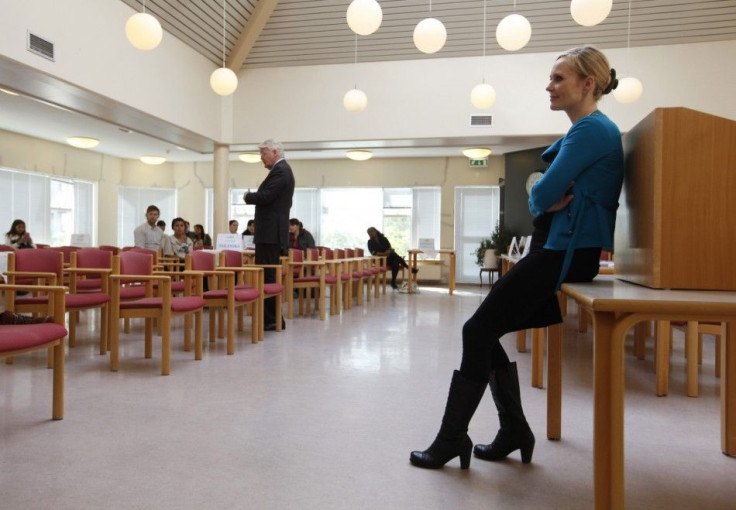 For the first time in over a decade, Iceland's 15-year incumbent President Olafur Ragnar Grimsson has a viable candidate facing him in the election this Saturday -- a former television reporter who recently gave birth to a baby girl.
Thora Arnorsdottir, a well-known and established journalist, received wide public support and announced her candidacy two months ago while still pregnant.
The 37-year mother of three did not consider it at all unusual for her to run for office while still nursing a newborn.
It's the most natural thing in the world to have a baby, she said.
Icelandic women have always worked no matter how many children they have and that won't change. It doesn't matter what the job is or if they're called 'president.'
Arnorsdottir, while unmarried, is not raising her children alone while she pursues the presidency. The father of her three children, Svavar Halldorsson, has been her partner for eight years. The couple said they intend to marry in this summer.
Halldorsson, 42 and also a television journalist, will put his career on hold to be a full-time stay-at-home father.
They tell me I'm a role model, Halldorsson said.
I'm happy with that. It doesn't make me a lesser man. I can change diapers and still watch the football, cook and fix the car.
Arnorsdottir's domestic situation, while perhaps considered unconventional for a presidential candidate by some, is not something that seems to concern the majority of the Icelandic electorate very much, which has been known for breaking social barriers.
For example, Arnorsdottir would not be the first woman in Iceland to become president if elected. That glass ceiling has already been shattered by Vigdís Finnbogadóttir, 82, who served four terms as president from 1980 to 1996 and was the first democratically-elected female head of state in the world.
Iceland's Prime Minister Johanna Sigurdardottir is an openly gay woman with children from a previous marriage to man.
Beyond The Glass Ceiling
The main factor facing Arnorsdottir in Saturday's elections will be her lack of political experience, though the presidency is primarily meant to serve as a figurehead role, while the Prime Minister serves as the head of government.
Arnorsdottir has received public support specifically for the set of values she will bring to the presidency and the strong yet feminine force of personality she will bring to the office.
I watch my children and I just think I want to do what I can to influence the society they're growing up in, Arnorsdottir said. Which values we are building, what kind of atmosphere there is.
Her opponent, Grimsson, at 69, is a seasoned veteran of Icelandic politics and has run largely unopposed in the last three elections.
Grimsson's reputation had been tarnished by his support for the banking deregulation policies that caused Iceland's economy to crash in 2008, though he was able to recover by vetoing legislation in parliament that would have locked the country into repaying nearly $5 billion to Britain and the Netherlands in debts incurred from bailout packages.
Olafur Ragnar is simply the pride of this nation, Elinborg Anna Arnadottir, 44, a beautician from Selfoss in southwest Iceland told Reuters.
It's more than enough to have a dysfunctional government. We know that our man will not do their bidding without question, but do his duty and meet the democratic needs of the people.
But Iceland's economy is still in recovery, not in the least helped by the currently volatile debt crisis in the Euro Zone -- which Iceland is considering joining, though public sentiment has been against it -- and public dissatisfaction with the government could see a change in the presidency.
The election will be more about whether Arnorsdottir can present a more compelling philosophy on the role of the president and Iceland's role in the world, and less about the fact that she is woman.
It might sound [like] big news in other countries, Grimsson himself said in a veiled reference to his opponent.
But so far, we've achieved a state in Iceland where it's not particularly remarkable that a woman holds high office.
© Copyright IBTimes 2023. All rights reserved.