If Supreme Court Won't Stop Arizona's Immigration Law, Congress Will: Sen. Chuck Schumer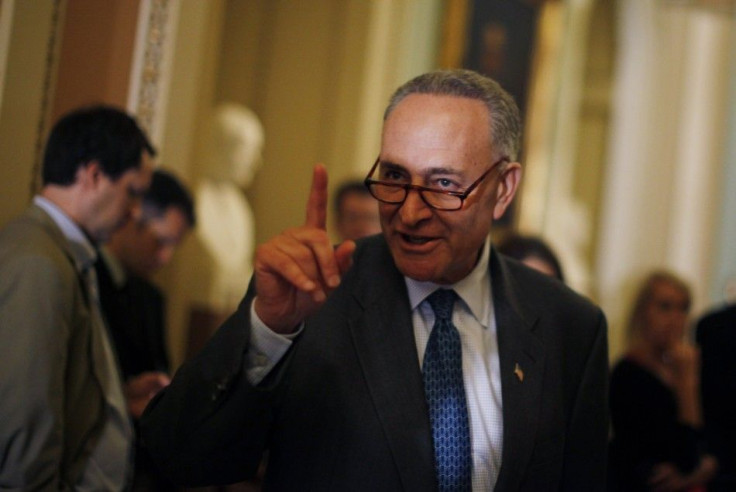 If the U.S. Supreme Court upholds Arizona's immigration enforcement regime, Senate Democrats will force a vote on a law to let the federal government block states from enacting these laws.
At a Senate hearing on Arizona's immigration law Tuesday, Sen. Chuck Schumer, D-N.Y., said he would introduce legislation requiring states to get federal clearance for laws controlling immigration, an area traditionally left to the federal government.
He said a Supreme Court ruling upholding Arizona's law, known as S.B. 1070, would ignore the plain and unambiguous intention and goals of lawmakers who crafted federal immigration policy.
The Supreme Court should find the Arizona law unconstitutional, but if it doesn't, Congress will be ready, Schumer, the Senate's No. 3 Democrat, said in a statement. States should be barred from taking immigration enforcement matters into their own hands and imposing penalties as they see fit. This has always been a role of the federal government.
Such legislation would have next to no chance of becoming law, as Democrats who control the Senate with a slim margin would be unable to break the inevitable Republican-led filibuster.
Still, putting Schumer's bill to a vote will force Republicans to take a vote in support of an Arizona law deeply unpopular with Hispanics, a demographic both major parties are courting ahead of November's general election.
President Barack Obama's administration has challenged four key provisions of the Arizona law, as well as filed lawsuits against other states that adopted similar immigration enforcement laws.
The president's likely GOP rival, Mitt Romney, supported the Arizona law and has called it a model for the nation; his campaign has maintained that Romney was referring specifically to a requirement that Arizona employers check potential hires with the federal government's E-Verify system.
With the law playing an outsized role in the presidential and congressional elections, the Supreme Court again finds itself mired in a politically explosive case on par with the March hearings on the health care law.
On Wednesday, the Supreme Court, minus Justice Elena Kagan who recused herself, will consider the Obama administration's challenge to four major provisions of the Arizona law that requires local law enforcement to detain suspected undocumented immigrants and residents to carry immigration documents, and also prohibits undocumented immigrants from working or soliciting employment.
These provisions were blocked by the Ninth Circuit Court of Appeals, based in California; a split 4-4 decision from the Supreme Court would leave in place the lower appellate court ruling. Meanwhile, striking down the challenged provisions will have repercussions in other states that adopted immigration crackdown laws, such as Alabama, Georgia, Indiana, Utah and South Carolina.
© Copyright IBTimes 2023. All rights reserved.
FOLLOW MORE IBT NEWS ON THE BELOW CHANNELS