East Coast Storm: 12 Inches Of Snow Expected In New York, Pennsylvania [VIDEO]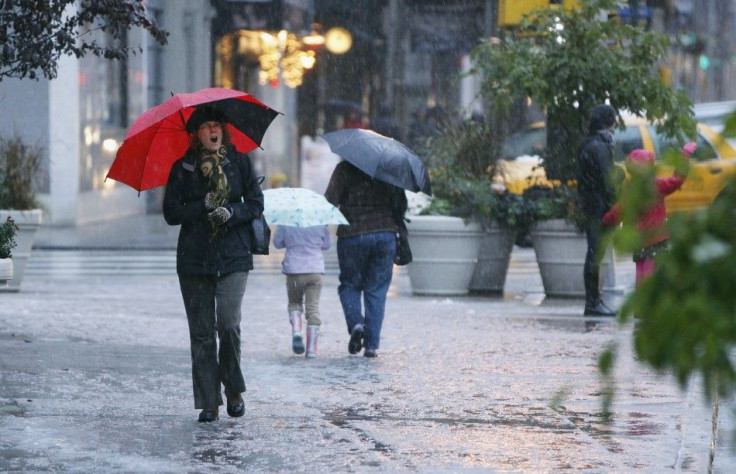 Shovels will be coming out before the rakes on the East coast, as some residents brace for a spring nor'easter that is expected to dump up to 12 inches of snow on parts of Pennsylvania and New York at higher elevations inland.
Jonathan Erdman, senior meteorologist at weather.com, reported that another Snowtober-type of destructive snowstorm will cause havoc in parts of the Northeast this week.
The areas of concern are western New York, western Pennsylvania, extreme eastern Ohio, parts of northern West Virginia and extreme western Maryland, Erdman wrote. Snowfall rates of up to an inch per hour are possible along with isolated areas of thunder and lightning.
A winter storm warning was also issued for parts of northeastern Ohio. Three to seven inches of snow was forecast.
Some 10 inches of snow was reported in western New York on Monday morning near the town of Newfield, Erdman said. Up to 5 inches was reported in Boswell, Pennsylvania.
The coastal storm was expected to bring up to 4 inches of rain, with the heaviest early Monday, from the New Jersey shore north through New York City and into southern New England, according to MSNBC.
It's unusual, but not unheard of, Kevin Fitzgerald, a National Weather Service meteorologist in State College, Pa., told MSNBC.
Schools Closed
The doors to some schools in western Pennsylvania closed on Monday morning ahead of the storm. MSNBC reported that the districts in the state's Allegheny Mountains started announcing such closures Sunday night.
© Copyright IBTimes 2023. All rights reserved.