Illegal Immigration 2015: Lifelong Undocumented Immigrants Hopeful Despite Setback In Obama Deferred Action Program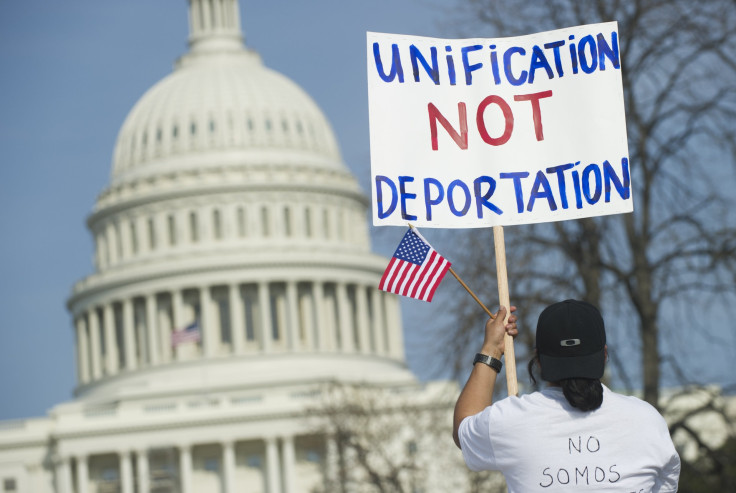 Jong-Min You wants to become a judge in a United States federal court, or perhaps one day a justice on the Supreme Court. Now 35 years old, way past the age when most aspiring legal minds would have begun pursuing such a dream, Jong-Min instead works seven days a week at his parents' grocery store in Brooklyn, ringing up purchases, stocking shelves and closing up at night. It is his only option, he says, until he is able to sort out his immigration status: Though he has lived in the United States for more than three decades, Jong-Min lacks proper documents, a condition that puts him in the company of some 11 million people.
But earlier this week, two days before he and many others were set to begin filling out applications for the new federal program on Wednesday, a federal judge in Texas temporarily blocked President Barack Obama's executive orders that would defer deportation and extend certain privileges to the undocumented. "This just adds to the fear and confusion experienced by being undocumented," said Jong-Min, who arrived in the U.S. from South Korea in 1981 with his parents at the age of 1. He has been considered undocumented since age 5, when his parents' student visas expired. Exasperated, he often wonders: "What else is there that can temporarily stop me from having quasi-status?"
As national leaders continue to debate how to legally integrate an estimated 11 million undocumented immigrants into American society, or decide how to handle potential deportation, the federal program known as Deferred Action for Childhood Arrivals, or DACA, could be one option for moving the undocumented toward citizenship and all the related rights and responsibilities that come with it.
Jong-Min, however, wasn't eligible for the program before Obama announced its expansion in November. Under DACA's original 2012 version, Jong-Min was just a few months older than the cutoff age of 31. He found out about his undocumented status a little more than 17 years ago while applying for an internship at the end of his senior year of high school. After searching in vain for a "mythical, magical green card" to prove he was authorized to work in the U.S., it was his mother who finally told him he didn't have one and advised him against ever discussing the topic with anyone. He obeyed.
While he was attending college out of state, his friends would occasionally ask why he didn't drive. On Election Day, they would ask whom he was voting for. Jong-Min could only respond by saying that as a New Yorker, he didn't need a driver's license. But his inability to vote, especially for the politicians who appoint federal judges, made those unintentional reminders of his undocumented status sting all the more, he said. Monday night's ruling in Texas also brought fresh feelings of frustration over the economic effects of waiting for immigration relief and an eventual pathway to citizenship.
"I wish I could travel [abroad], and go back to law school," said Jong-Min, who earned a bachelor's degree in sociology from the University of Tennessee in 2003 but never actually attended law school. "I don't knock the grocery store, but I just think the chance to get a work permit and even work at McDonald's would be a welcome change. My work schedule wouldn't be so crazy. I could spend money on a ticket to a baseball game. My life really isn't about that right now."
On Tuesday, several groups advocating for undocumented immigrants expressed disappointment in the federal ruling. Many of them blasted U.S. District Court Judge Andrew Hanen's ruling in Texas that temporarily blocks DACA's implementation and dismissed the lawsuit filed in December by Republican leaders in 26 states as being politically motivated. Conservatives had promised to challenge the constitutionality of Obama's administrative immigration relief that flouts Congress' role in reforming the nation's immigration laws. Hanen, a conservative judge who has a record of opposing lax immigration enforcement, was appointed by former President George W. Bush in 2002.
"While we expected these legal attacks to happen, we are confident that the President's executive action on immigration will be upheld and put into motion shortly," Steven Choi, executive director of the New York Immigration Coalition, said in a statement. The group also said it would continue helping the undocumented immigration population prepare to apply for DACA.
Jong-Min is far from alone, as there are about 300,000 people in New York who are eligible for the expanded DACA program, according to the NYIC. More than 787,000 undocumented immigrants had been approved for the first wave of DACA through December, according to the latest figures from the Department of Homeland Security. In May, the undocumented parents of children born in the U.S. will be eligible to apply for deferred action, bringing the number of people shielded by the programs to 5 million. Many undocumented immigrants have learned to adapt to life in the shadows, achieving educational goals and starting their own families. But the threat of deportation is their biggest worry as, in some cases, it could mean being separated from their children who were born in the U.S.
"It's about families being united rather than separated," Vargas Cesar, a 36-year-old undocumented immigrant from Mexico, said at a recent DACA information session hosted at Baruch College in New York City. Claudia Medina, 31, who came to the U.S. from Ecuador nine years ago on a tourist visa, was previously not eligible for deferred action because of her age. But now she has a renewed hope to become legally authorized through her U.S.-born son. "If I have this chance," she said, "of course I am not going to let it go."
Jong-Min, who thinks deferred action should be common sense for his fellow undocumented immigrants, said he has always felt American. He just wants the chance to contribute as someone on the right side of the immigration law, and eventually as a full citizen through DACA. "This would open doors for me," he said.
© Copyright IBTimes 2023. All rights reserved.