Immigration Reform 2015: NYC Mayor Advocates For Immigrants In 'State Of Our City' Speech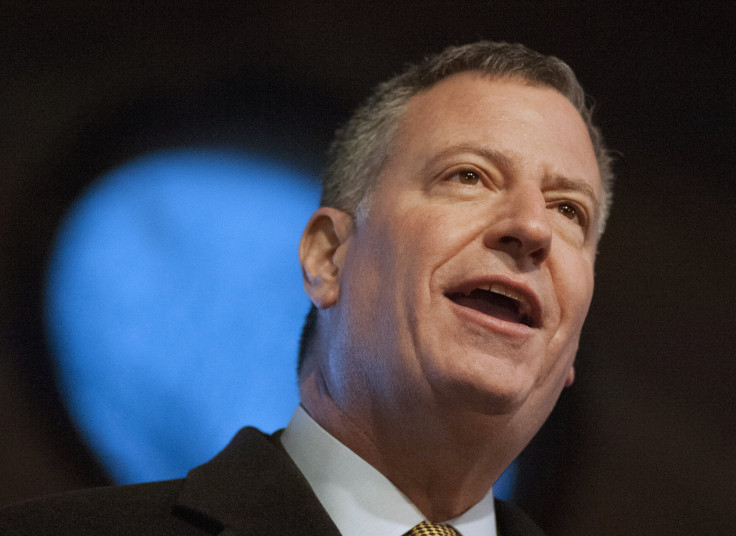 Mayor Bill de Blasio heralded New York City as a strong community of immigrants in his annual address about the state of the nation's most populous municipality Tuesday. He opened his address with a story about his grandmother immigrating from Italy more than 100 years ago and finding success as an entrepreneur and business owner. He also reached out to the city's many Hispanic residents in Spanish and championed economic reforms, including a proposed increase in the city's minimum wage and an expansion of affordable housing.
De Blasio said that growing economic inequality risks changing New York from an immigrant-friendly city of opportunity to a gated community.
"For generations, New York has been a city that unleashed human potential -- a place offering opportunity for everyone, no matter how your life's story began, opportunity for innovators and visionaries to write new chapters in our history, and for parents and grandparents to write brighter ones for the next generation," de Blasio said in the opening of his "State of Our City" speech.
In a city where more than 37 percent of residents are immigrants, de Blasio has made policies that help to integrate new arrivals and immigrants a central focus of his administration. He also publicly supported Obama administration efforts to push federal immigration reforms that stalled in Congress.
Last month, the mayor launched one of the nation's most ambitious municipal identification card programs, IDNYC, offering the card to city residents regardless of their immigration status. On Tuesday, de Blasio said more than 180,000 people had booked appointments to obtain the ID card, which offers access to basic services and cultural institutions.
Critics of IDNYC blasted the program and others like it, dismissing it as a reward for illegal immigration. But de Blasio and other proponents contend the program can improve safety in immigrant communities, providing valid ID for residents' interactions with the NYPD and security personnel in city buildings. "Let's be clear: Relegating any New Yorker to life in the shadows is not who we are as a city," de Blasio said in his speech.
De Blasio has joined other Democratic mayors in the U.S. to oppose a lawsuit filed in Texas by Republican governors who claim President Barack Obama's executive actions on immigration are illegal because the GOP-controlled Congress did not approve the measures. In November, Obama offered to defer deportation actions and grant work permits to an estimated 5 million immigrants who are currently living in the U.S. without legal permission. The president had previously deferred deportation for immigrants who were brought to the country illegally as children.
De Blasio also outlined plans to battle economic inequality in the city of more than 8 million residents by seeking an expansion of affordable housing citywide and raising the minimum wage. The mayor said a proposal by state lawmakers -- New York's minimum wage will increase to $9 in 2016 -- wasn't enough to impact city residents. "That's why we will fight to raise New York City's minimum wage to more than $13 per hour next year," de Blasio said, adding that wages would be indexed to bring a projected $15 per hour in four years. "Nothing does more to address income equality than actually raising people's incomes," de Blasio said in his speech.
De Blasio did not directly address his seemingly fractured relationship with the city's police force after months of protests over the police killings of unarmed black men in New York and Missouri. The mayor had only praise for the "courageous men and women in uniform," whom he said helped reduce the rates of murder, robbery and burglary in the city to "an all-time low."
© Copyright IBTimes 2022. All rights reserved.
FOLLOW MORE IBT NEWS ON THE BELOW CHANNELS