India Wants Russian Sukhoi Fighter Jets To Upgrade Fleet For $8 Billion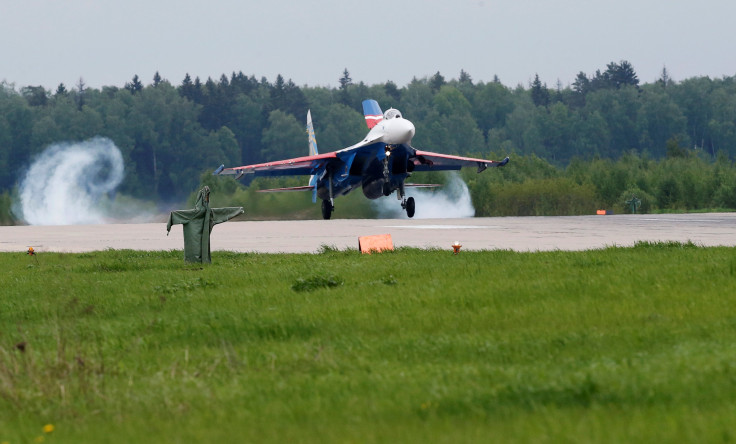 India is planning an overhaul to its fleet of fighter jets with a little help from their Russian friends. Negotiations between the two nations have ramped up, with India planning to upgrade 194 Sukhoi aircraft to become near fifth-generation level Sukhoi fighter jets at a cost of more than $8 billion, Defense News reported this week.
The news service quoted an anonymous senior Ministry of Defense official who said, "A Russian team was in New Delhi earlier this month to discuss [the] upgrade plan with India, which will be finalized in the next four to six months."
The new new planes would be renamed "Super Sukhoi" jets. The upgraded planes will feature improved stealth abilities, longer range missiles and radars, a supersonic cruise missile and an advanced suite of avionics.
"[A] major part of the upgrade involves avionics and sensors. These are completely new with new systems and new software. Hence it has no relation to old problems with software. Engine issues will have to be dealt with," Muthumanikam Matheswaran, a retired Indian Air Force air marshal, told Defense News.
An anonymous Russian diplomat told the news service the plan was to develop the prototype of the plane in Russia. The actual upgrades would be done at India's state-owned Hindustan Aeronautics Limited.
Under Prime Minister Narendra Modi, India has worked toward modernizing its military. It was also reported this week that the country would purchase four P-8I maritime surveillance aircraft from the U.S.-based company Boeing. The deal was an option tacked on to a 2009 purchase that India chose to exercise. It's reportedly worth more than $1 billion.
"The latest acquisition of the P-8I is a milestone in India's strategy to replace its aging equipment, much of which was bought from Russia during the Soviet era," wrote the Wall Street Journal about the deal. The country reportedly also has further plans to purchase howitzers, warships, submarines and fighter jets.
© Copyright IBTimes 2023. All rights reserved.