Indian Rupee Continues Its Upward Surge To $54.81 Against Dollar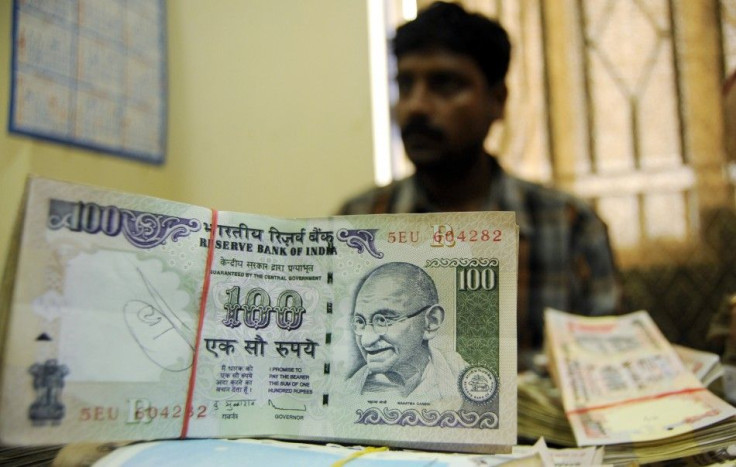 The Indian rupee continued its forward rally for the fourth consecutive session, reaching a 1-month high of 54.81 against the dollar in the morning trading session Tuesday.
The rupee opened stronger and touched 54.81 against the dollar at 11.44 am, local time, recording an appreciation of 1.12 percent or 62 paise as against Monday's close of 55.43/44.
The improved investor sentiments on the Indian economy and the upward trend in the stock markets aided the rupee surge as it rose on increased dollar sales from foreign financial institutions.
The rupee hit an all-time low of 57.33 Friday last. The slow economic growth due to the euro zone crisis and widening trade deficits have weighed heavily on the domestic currency.
Apart from this, the lack of clarity on certain provisions on taxing and apprehensions over the delay in India's policy reforms along with sluggish global growth had propelled risk aversion among the Foreign Institutional Investors (FII), resulting in outflow of funds from Indian markets.
Though the Reserve Bank of India (RBI) had intervened in the markets earlier to halt the rupee freefall, its initiatives failed as there was no backing from the government on the policy front.
However, the taking over of the finance ministry by the Prime Minister, a former RBI governor and pro-reform advocate, has also buoyed investors' hopes on positive government action on the policy front. Both, the equity markets and the rupee, reacted positively to the Prime Minister's initiatives to speed up economic growth.
The recent clarifications from the finance ministry on General Anti-tax Avoidance Rule (GAAR) and the assurance that the deal will not be taxed retrospectively have allayed the concerns of the portfolio investors further. This along with positive cues of a possible solution to the euro zone crisis has encouraged capital flow in to Indian markets.
I think after the clarification on GAAR and P-notes (participatory notes) there have been some inflows. Foreign banks were the major sellers today. I think the near-term outlook is positive for the rupee and the unit can rise up to 54.50 in the near-term. The range for the week is expected to be 54.50 to 56, Uday Bhatt, a dealer with UCO Bank, told NDTV.
Rating agency CRISIL also said that it expected the rupee to appreciate to 50 a dollar by the end of March 2013, reported the Business Standard.
© Copyright IBTimes 2023. All rights reserved.