India's 4G Sales Double As Chinese Upstarts Xiaomi, Lenovo Arrive With Sub-$150 Handsets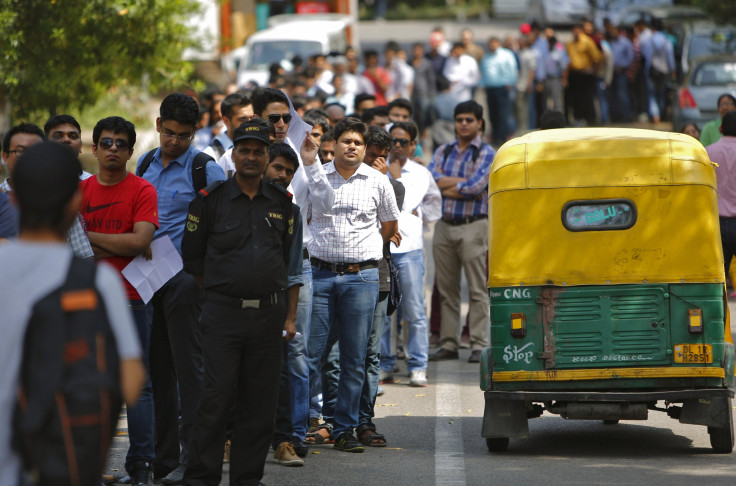 India's 4G market is seeing explosive growth in handset sales, with Samsung Electronics Co. Ltd., China's Xiaomi Inc. and Apple Inc. taking an early lead. Shipments of 4G handsets in India more than doubled in the first quarter.
Until recently, only a very small number of handsets, such as the iPhone 5S and Samsung Note 3, were equipped with the hardware needed for the frequency band used in India for the service. Google's Nexus was another model, but all of these were costly premium phones, with Apple taking the top spot.
In the last few quarters, however, Chinese companies such as Xiaomi and Lenovo Group Ltd. have introduced 4G smartphones at prices as low as $110, contributing to the sales jump. Some 2.1 million 4G smartphones were sold in the first quarter of 2015, a 111 percent increase over the previous three months, according to data from CyberMedia Research.
"The ecosystem is coming together to enable 4G growth," Faisal Kawoosa, lead telecom analyst at the research firm, said in a phone interview. "The ecosystem is very active. All the device makers are looking at bringing in handsets and people are buying them even though service is limited."
Cheap handsets from the Chinese vendors, as well as a multitude of "own now, pay later" plans from Apple and Samsung for their flagships have made 4G handsets attractive across the spectrum in India, the world's third-biggest smartphone market.
Overall smartphone sales, however, actually fell for the six months through March.
Of India's 1 billion wireless subscribers, only about 150 million own smartphones. The rest use so-called feature phones that are incapable of running third-party apps. That supports the case for more bullish growth in the coming quarters, as handset prices continue to fall and companies push sales into smaller towns and villages. In the three months ended March 31, close to 20 million smartphones were sold, including the 4G handsets. Smartphones comprised one in three mobile phones sold, the rest being feature phones.
The number of vendors shipping 4G/LTE devices rose to 19 in the first quarter this year from 12 in the December quarter. The term shipping typically refers to products leaving the factory warehouses of the vendors or their contract manufacturers. Most analysts track this number, while some also monitor "sell through" which refers to retail sales.
The 19 vendors -- Including Huawei Technology Co., ZTE Corp. Meizu Telecom Equipment Co. and Blackberry Ltd. -- sold 55 different models of 4G handsets in India. Lenovo's A6000 was the most shipped model, the research firm CMR said in a press release on Monday.
"Every vendor wants to be in this space" and judging by the way smartphone makers are adding new models to their India plans, it's not inconceivable that by the end of this year, shipments of 4G smartphones will jump to 5 million units a quarter, CyberMedia's Kawoosa said.
For the first quarter, Samsung, the overall leader in mobile handset shipments as well as smartphone shipments in the country, established its leadership in the 4G/LTE device segment too, according to CyberMedia. Samsung recorded 27 percent market share in 4G units shipped, displacing Apple from the top slot. Xiaomi garnered 17 percent and Apple had 15 percent.
An important factor that could propel sales of 4G smartphones in the country even further is the impending launch of services by billionaire Mukesh Ambani's Reliance Industries Ltd. The service from the conglomerate's telecom unit, Reliance Jio Infocomm Ltd., is widely expected to be launched before the year is out. Reliance Jio holds spectrum licenses to offer 4G services across the country.
© Copyright IBTimes 2023. All rights reserved.
FOLLOW MORE IBT NEWS ON THE BELOW CHANNELS