India's Rooftop Solar Capacity Rising Sharply, Can Be 'Game Changer' In Greening Energy
KEY POINTS
India's rooftop solar market is set to see a personal best with the addition of 4GW in FY2024
This will be the largest number of annual solar capacity additions for India
2GW has already been installed in the country between April and July 2023
India's solar story is shining with the country's rooftop solar capacity seeing sharp growth. It could potentially be a "game changer" in meeting the country's green energy targets.
Despite major roadblocks, more rooftops across the country are set to be twinkling with solar panels as India is poised to see the largest number of annual solar capacity additions in the fiscal year (FY) 2024, according to a report by the Institute for Energy Economics and Financial Analysis (IEEFA) and JMK Research & Analytics.
India's rooftop solar market will see a new personal best in FY2024 with installations of a record 4 Gigawatt (GW) of capacity, out of which 2GW has already been installed in the first few months of the fiscal year. The total capacity addition of 4GW will be the largest number of annual installations in the country to date.
"The report finds that the capacity addition between April and July 2023 was nearly 2GW, slightly less than the amount added in FY2023. Falling solar module costs will likely help sustain the growth momentum in the near-to-medium term," IEEFA-JMK Research said in a statement to International Business Times.
The lackluster rooftop solar market in India has made a turnaround in recent years. Rooftop solar installations in India were a "meager" 1.8GW until FY2019, according to the report. However, over the past four years, the market has grown by around 1.9-2.2 GW annually and continues to expand.
Talking about the total rooftop solar installations by the end of FY2023, commercial and industrial (C&I) consumers were responsible for 66% of rooftop solar capacity while residential and government buildings accounted for the remaining 34%.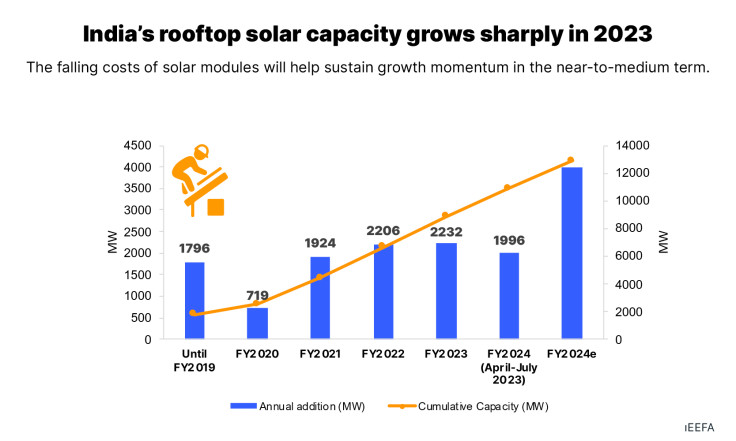 The upward trajectory comes as energy demands expand with India's growing population and extreme weather conditions. India's solar capacity will also play a key role in helping the country meet its clean energy targets.
"For India to attain its target of 500GW of renewable energy by 2030, solar and its verticals (including utility-scale, rooftop solar and open access) will all have to play a crucial role," Vibhuti Garg, Director, South Asia, IEEFA, also the report's co-author, said in the statement. "As countries like Germany and Australia demonstrate, with the right policy and regulatory environment, rooftop solar can be a game changer for greening the overall national energy mix."
Even as India has seen exponential growth in the rooftop solar market in recent years, there are still some noteworthy roadblocks, according to the report.
Regulatory issues such as inconsistent net metering policies across the country pose a major challenge. The regulations have also undergone frequent changes, which has impacted the perception of investors about the market. Investors still see rooftop solar as a risky investment, consequently making financing a concern for market growth.
Policy restrictions, imposition of grid charges and administrative delays in receiving approvals are also cited in the report as roadblocks to the market's expansion.
"Regulatory uncertainties and lack of support from local electricity distribution companies (DISCOMs) have forced prominent developers to either focus on other segments or exit the rooftop solar business altogether," said Jyoti Gulia, co-author of the report and Founder of JMK Research.
© Copyright IBTimes 2023. All rights reserved.