Infosys Posts Stronger-Than-Expected Profits Aided By Weak Rupee, Retains Guidance For US Revenues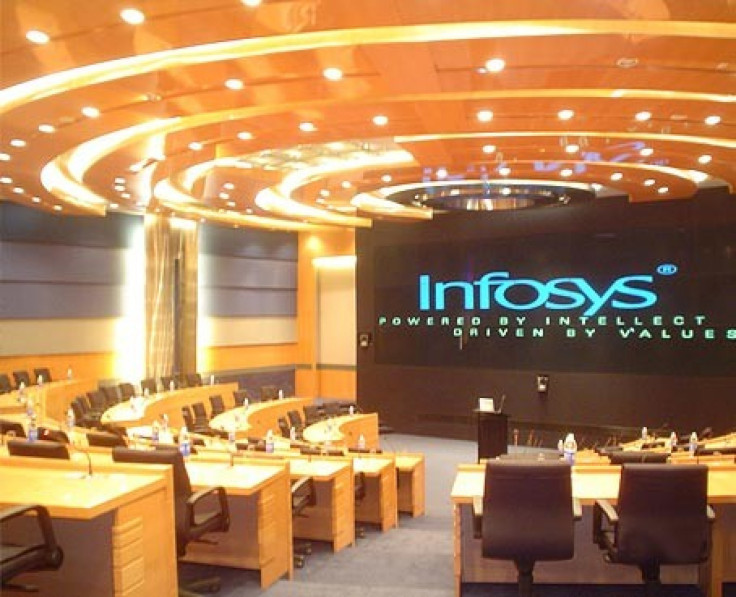 First quarter earnings at Infosys, India's second-largest IT services exporter that generates a bulk of its revenues from North America, exceeded market expectations aided by a depreciating rupee and an expansion in the U.S. economy, even as the company attempts regain its position as India's IT bellwether under fresh leadership.
Infosys' consolidated net profit for the fiscal first quarter ended June 30 rose 3.7 percent to 23.74 billion rupees ($396 million) from 22.89 billion rupees recorded in the year-ago period, and surpassing the 23.3 billion rupees predicted by analysts polled by Reuters.
"This is far better than what some people in the market were expecting. The earnings have been pretty volatile in the last few quarters and this time around the expectations were muted given what has happened in the company recently. I think the stock should now go for re-rating," Tarun Sisodia, director at Chanakya Niti Pvt Ltd, told Reuters.
In dollar terms, Infosys's net profit registered an annual growth of 0.5 percent to $418 million for the quarter, while its net profit witnessed a sequential decline of 5.9 percent. The company's total revenues for the first quarter stood at $2 billion, registering an annual growth of 13.6 percent and a sequential growth of 2.7 percent. Infosys also kept its dollar revenue outlook unchanged at 6 percent to 10 percent for the fiscal year, and revised its rupee revenue outlook upwards to 13 percent to 17 percent.
"Despite facing an uncertain macro environment, changing regulatory regime and a volatile currency environment, we have done well in Q1 and are cautiously optimistic about rest of the year," Infosys CEO and Managing Director S.D. Shibulal said.
The Bangalore, India-based IT giant's better-than-expected earnings for the June quarter, which followed a series of disappointing performances in past quarters, sent its shares soaring more than 15 percent in morning trade on the benchmark BSE Sensex index. Last quarter, Infosys' projections for its full-year revenue growth was half of what was expected by analysts, leading to a 20 percent fall in its stock price at the time.
Higher demand from US and Weak Rupee Boosts Profit Margins
Indian IT services companies such as Infosys and Tata Consultancy Services are set to benefit from growing demand for IT services from the U.S. as the world's largest economy recovers from the financial crisis.
According to a forecast by Forrester, a consulting firm, demand for information and communication technology from U.S. businesses and government bodies are set to post the steepest gain in 2014 since the 2008 financial crisis, Reuters reported. Forrester predicted IT purchases from the U.S. to increase by 6.1 percent, a four-year high, in 2014.
The strong growth outlook is expected to significantly benefit Infosys, which makes 62 percent of its revenues from North America. In the current quarter, the company recorded a sequential growth of 4.9 percent in its North American market, while its growth in Europe declined by 3 percent sequentially.
At the same time, continuing weakness in the Indian rupee, which depreciated by almost 10 percent against the dollar in the April-June quarter, helped the company's performance.
Leadership Change
Infosys, which once was deemed as India's IT bellwether has lost significant market share in the last two years, as the company struggled with leadership issues, after its key co-founders and top leaders either retired or left the firm.
Now, the company in an attempt to regain its lost glory has brought back co-founder and ex-chairman N.R. Narayana Murthy to head the company. Murthy took office as the company's executive chairman on June 1 and analysts believe that Murthy's experience and charisma could help the company win back its position as an industry leader.
"You can ascribe it to Murthy magic. If they have deviated from their Infosys 3.0 strategy to focus on more mundane work at a lower price to bump up volume that would be a good strategy and you can expect that kind of pragmatism from Murthy," Phani Sekhar, a fund manager at Angel Broking, told Reuters.
Another major challenge for Murthy, Infosys and its Indian peers would be the proposed changes to U.S. visa policies -- including raising processing fees to double the current amount and capping the number of work visas -- that could severely constrain its operations in one of its biggest markets and hurt the company's future profitability.
© Copyright IBTimes 2023. All rights reserved.