Inside the Apple Watch, Shazam Hopes To Always Be Listening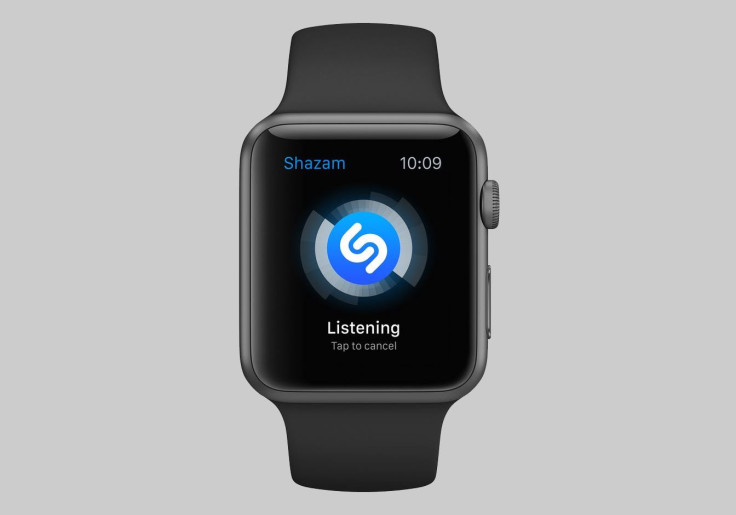 While you're busy daydreaming of the ways your Apple Watch will make your life better, add this hypothetical scenario to the list: You walk into your local coffee shop, and a glance at your watch shows that Shazam, which has been running all day, is telling you cappuccinos are half off their regular price.
When Apple Watches begin to arrive on doorsteps Friday, Shazam Entertainment Ltd.'s flagship app will be one of 3,000-odd offerings available for the hotly anticipated device. With it, Shazam will look to use its always-on feature, Auto Shazam, to move beyond song identification and music sales into a new dimension of retail and mobile marketing.
Although Shazam representatives said music is the company's focus as the Apple Watch launches, a number of deals the firm has recently closed indicate its app is angling to become an ever-present shopper's companion that is always listening as Apple Watch users go about their daily lives.
As a smartphone app users mostly kept in their pockets, Shazam was limited in its ability to detect the audio signals that crop up in retail environments. But as an app that will live on customers' wrists, it has a much bigger opportunity. "It's all part of a vision into the future, which is that Shazaming will become seamless, simpler, and an integrated part of your life," said Shazam Chief Product Officer Daniel Danker. "We keep saying, 'What could be easier than touching a button?' Well, not touching a button."
Always Listening
Since its founding in 1999, Shazam has become a vital ally of the music industry. In addition to being a good hit predictor, its app drives about 7 percent of all music purchases worldwide. The product team continues to make improvements to that side of the company's business: Danker told International Business Times new features that "reinforce the relationship between users and the artists they're discovering" would be rolled out in coming months, although he declined to give details.
The app's also proven itself quite capable of adding value in other industries. It first launched in television commercials in 2011, and advertisers embraced the chance to add another layer of insight and engagement to their TV campaigns: In 2012, one-half the ads shown during the Super Bowl were Shazam-able.
And while Shazam is still getting its feet wet in retail -- "People often ask, 'Why would I want to Shazam in a retail outlet?'" Danker said -- it's spent the past year wading deeper into that space. In November, it partnered with a firm called the Mood Media Corp. on Shazam In-Store, a product that allows Shazam to pick up on Mood Presence, a kind of ultrasonic signal that is inaudible to humans but can trigger phones and apps to take actions when they detect them. Mood Presence signals are being transmitted in more than 175,000 locations across the U.S., and Shazam In-Store is already active in OfficeMax and Office Depot outlets across the country.
In January, Shazam went beyond ultrasonic when it partnered with Bluetooth beacon manufacturer Gimbal Inc., a company that made headlines thanks to a BuzzFeed story about its placement of beacons inside phone booths, park benches and display advertisements in major cities such as New York, Los Angeles and Chicago.
Retail Presence
Danker and his colleagues expect the Bluetooth beacons and ultrasonic signals, combined with Shazam's tremendous base of 100 million users, will make it an attractive partner for retailers. "Smaller retailers don't have a chance of getting customers to download an app," Danker told ClickZ at the South by Southwest exposition last month. "Now they don't have to. Shazam has user permissions and location. We're already on phones."
Shazam's maneuvers also come at a time when interest is exploding in location-based marketing, which taps into a customer's mobile phone at specific sites and stores. A Forrester Research survey of executives responsible for mobile strategies at their companies found 30 percent intend to start using beacon technology in 2015, up from just 4 percent in 2014. While these technologies may still sound like science fiction, some feel confident they will become another layer of information and insight in everyday life.
"We're bullish on beacons," said Chris Redlitz, a partner at the venture-capital firm Transmedia Capital, which has investments in several startups that leverage beacon technology. "Once it becomes ubiquitous, it's just going to become another expected data source."
Until that day comes, however, Shazam may face stiff winds in its quest to turn itself into the magical layer of context at the retail level. "There are massive barriers for companies like Shazam to actually begin to add value for customers in the store," said Adam Silverman, an analyst at Forrester Research who co-authored the firm's recent report on beacons.
Beyond Music
Right now, Shazam can deliver extra content and information about songs regardless of users' locations. Building an app experience allowing it to do the same in retail would require signing deals with a huge number of partners, not all of whom would be keen to hand over an element of their in-store experience to a third party. "Using location context in meaningful ways will be a massive opportunity for retailers," Silverman said. "They are not going to turn that experience over to someone else until they figure it out."
Consumer privacy further complicates the issue. Although most Americans have more or less resigned themselves to the fact their every move is tracked online, they are far less comfortable with a similar level of surveillance in the real world. "Customers are concerned about privacy in the store more so than they are online," Silverman said. "And without a clear value exchange, customers will not participate."
Shazam may have to wait a while before it can jump into retail with both feet. But with an enormous user base and early presence in a device that will live on customers' wrists rather than inside their pockets, Danker is confident Shazam will be able to bring the same magic of song discovery to our shopping experiences, too. "When we think of our company vision and mission statement, it's to connect with the world," Danker said. "We're going to simplify the process of connecting."
FOR FREE to continue reading
✔️ Unlock the full content of International Business Times UK for free
offer available for a limited time only
✔️ Easily manage your Newsletters subscriptions and save your favourite articles
✔️ No payment method required
Already have an account? Log in
© Copyright IBTimes 2023. All rights reserved.