An Introduction To Arweave (AR) And Why It Is Rising
Arweave (AR) is a decentralized storage network that is capable of indefinite data storage and describes itself as "a collectively owned hard drive that never forgets."
AR, the native token of the network, has outperformed multiple cryptocurrencies recently, and in the last seven days, the crypto coin has jumped 38.23%, reaching a market capitalization of almost $480 million, as per CoinMarketCap.
Ranked as the 83rd biggest cryptocurrency in the space, AR performed quite well in October as well. The crypto coin initiated the October monthly candle at $9.34 and reached a daily high of $11.35.
Moreover, the November monthly candle began at $10.39 and rose to a height of $17.80, marking a gain of more than 71%. However, it was priced at $14.45 as of 7:17 p.m. ET.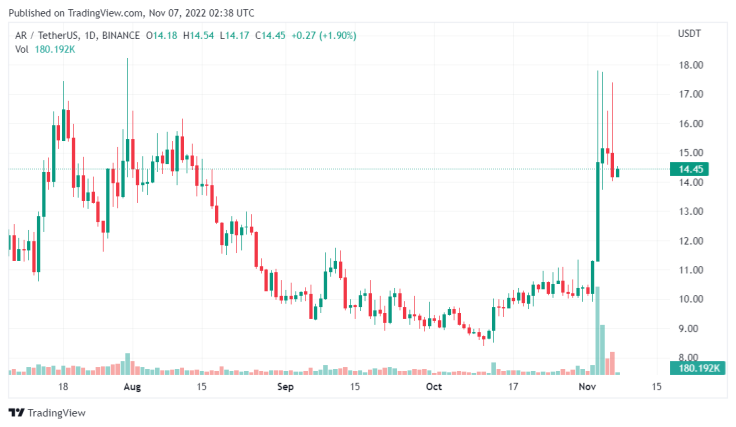 A major reason for the bullish performance shown by the AR token is Meta's announcement, in which Stephane Kasriel, the social media giant's fintech and Web3 head, revealed that they would use Arweave to archive their creators' digital collectibles.
According to Sam Williams, chief executive officer and co-founder of Arweave, Instagram users will be able to issue digital collectibles for their posts stored on the blockchain network.
"Arweave was born ~5 years ago to serve as the permanent memory layer for humanity. Our community works to connect people over time, providing a right to be remembered. Meta's mission is to bring the world closer together," Williams said.
While Meta's integration has been the major driving force for the price action of the AR token, the network rose to popularity during the crypto market bull run in 2021. Pat Toomey, U.S. Senator for Pennsylvania, praised the applications of crypto beyond a form of currency and mentioned Arweave in his speech last year. The price of the AR token rose by more than 4.5 times in August 2021.
Williams founded Arweave five years ago alongside William Jones. They were both Ph.D. candidates at the University of Kent. According to Williams, he came up with the idea while walking up a mountain in Scotland and later talked about it with Jones.
The two then developed a platform capable of retaining data forever, so once entered, any piece of information could not be altered or deleted.
In a world where data storage is controlled by centralized entities, Arweave is an attempt to decentralize the service and open it for everyone.
The Arweave network consists of a blockchain-like structure called blockweave, which underpins what's called the "permaweb." Blockweave is then made up of a collection of blocks.
Permaweb is "a collection of data, websites and decentralized applications (dApps) that form a permanent, decentralized information network that's accessible through regular internet browsers, and which motivates users to participate," as per Gemini's blog.
The foundation of it all is the AR token, which is used to incentivize miners to maintain copies of the data that have been entered and also for paying transaction fees.
Meanwhile, it is crucial to note that the permaweb is quite different from the conventional web. Users can expect reliable, immutable access to its content, and once published, Arweave will retain the data forever. As the Arweave protocol is in operation, applications and websites will be displayed.
Moreover, users do not have to worry about the spread of misinformation, as information stored on the blockweave is signed by a wallet, which could be pseudonymous. Therefore, it becomes quite easy to trace the source of the misinformation.
"We have designed and implemented a blockchain network where permanent, low-cost storage is a reality," according to an Arweave lightpaper.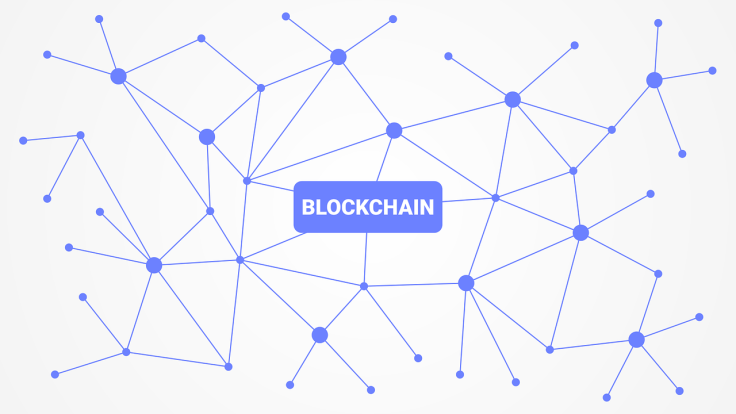 © Copyright IBTimes 2023. All rights reserved.