IO Interactive Announces New August Content For 'Hitman'

Developer IO Interactive has announced new content for "Hitman," and it's arriving this month. The August update for "Hitman" will include new Featured Contracts and a new Challenge Pack.
IO Interactive announced the August content for "Hitman" through its official website. The new content will be available for players on the PlayStation 4, Xbox One and the PC. The first batch of new content is scheduled to arrive on Aug. 11.
The first batch of new content for "Hitman" will include 10 new Featured Contracts. IO Interactive says that these new Featured Contracts will have a variety of locations, varying number of targets and inventive storytelling.
READ: IO Interactive Becomes An Independent Studio, Keeps Ownership Of 'Hitman' Franchise​
On the same date, IO Interactive will also release a new Challenge Pack that's called "The Art of Revenge." This Pack will have five new challenges. Like with the previous Challenge Pack, IOI says that players will earn higher location mastery by completing all of the challenges.
The game developer also teased that completing the new Challenge Pack will unlock a "unique item," which IO will reveal next week. The five new challenges will be added under the Hokkaido Challenges. "The Art of Revenge" will be the sixth Challenge Pack that IO Interactive will release so far.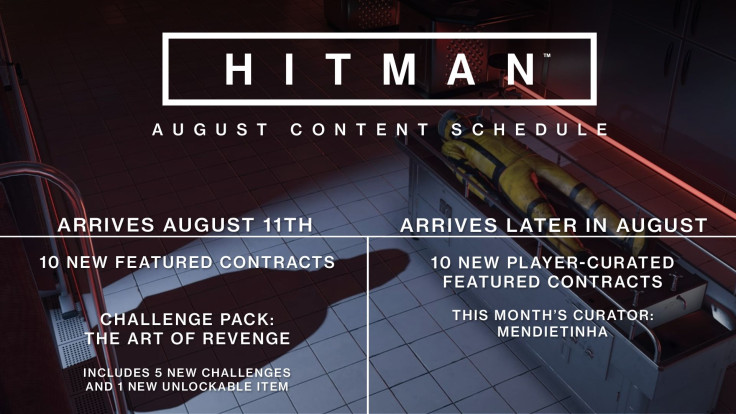 IO Interactive also teased that it will release its very first player-curated Featured Contracts for "Hitman" later this month. Unfortunately, the developer didn't give out a specific date when it will be available to players. IOI says that these will function like regular Featured Contracts, the only difference is it has been curated by a "Hitman" player. The first player-curated Featured Contracts will be made by Mendietinha, a Brazilian Twitch streamer.
"These player-curated contracts will offer a fresh twist to the style of contracts that will be featured in the game and give all players a chance to get an insight into how some of the prominent members of the Hitman community play the game," IO Interactive said on its website. "You'll get to know him [Mendieitnha] better later in the month when his curated contracts go live in the game and we publish a blog post right here with some insights into his choices."
READ: Square Enix And 'Hitman' Developer IO Interactive Part Ways​
"Hitman's" developer also confirmed that there will be no update for the game in the pipeline for August, but fans should expect updates in the future. IO Interactive also stated that the September Content Schedule for "Hitman" will be similar to the August content, with focus on Contracts and Challenges. Lastly, the developer said that the new content should give them time to prepare for "some exciting announcements."
Although some might be disappointed that there's no Elusive Target content this month, it's encouraging to see that IOI appears to be continuing content support for "Hitman." The 2016 game is the first in the series to adopt an episodic style of gameplay, which relies on additional content. The final Elusive Target for "Hitman" Season One was released just last month, according to GameSpot.
Many were worried about the future of "Hitman" when video game publisher Square Enix decided to let go of IO Interactive back in May. Fortunately, IO Interactive announced in June that it's now an independent studio and that it still owns the "Hitman" franchise.
© Copyright IBTimes 2023. All rights reserved.