iPad 3 Release Date Approaches: Will Windows 8 Rival Apple's New Tablet?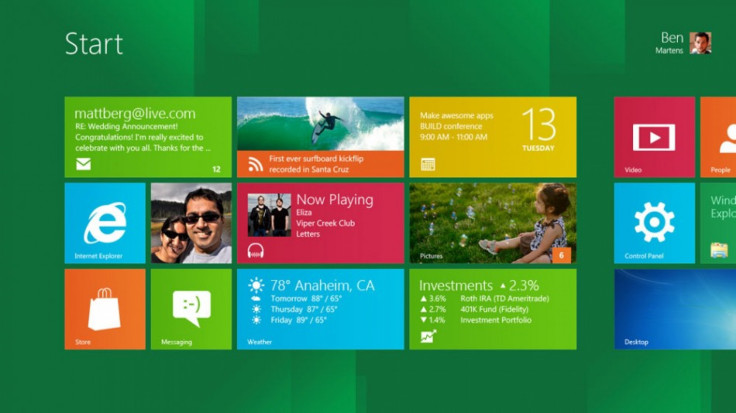 Two of the biggest names in the technology world, Apple and Microsoft, are cluttering the Internet with hype surrounding their upcoming releases. Apple's iPad 3 is said to be available on March 7th, and Microsoft's new operating system Windows 8 just launched their consumer preview yesterday. Although the two manufacturers' operating systems usually cater to a different crowd, their target audiences may be intertwining.
Apple's line of Mac operating systems has been known to benefit those with media editing expertise, including graphic designers, video editors, and photographers. Adobe Photoshop was originally designed to run on Apple's software, even though the program is now available for PC users. Mac computers come complete with programs such as iMovie and iPhoto, which are optimal for creating videos and uploading photos. Final Cut Pro, one of the premiere video-editing software names in the field, is only available for Mac computers.
However, the Microsoft-based operating system truly shines when it comes to office suite packages and gaming. Microsoft Office is still the most widely-used word processing and data organizing suite, with its Mac version just as efficient. And then there's the undeniable fact that PCs are just plain better for gaming. Mega titles such as Counter Strike, Skyrim, and Saints Row are just as popular on PCs as they are on console devices. Let's not forget that Microsoft is the manufacturer behind one of the biggest console names in the video game world, the Xbox.
It's clear that these competitors were originally developed for different demographics. However, the two computer gurus may finally be crossing each other's paths. With the increase in tablet use and the emergence of the two-screen experience, making a presence in the mobile field is important for any competitor in the computer business wishing to stay afloat.
And Microsoft is quick to realize this shift. The upcoming Windows 8 interface will feature a Metro-style display. This means that the layout will resemble those of mobile devices, with an app screen replacing the traditional Start button staple. Although the home screen format is an aesthetic feature, the new system will also feature Cloud storage.
With modernized Internet-bases storage capabilities and a contemporary appearance, Windows 8 might prove to be a competitor for the much anticipated iPad 3. Even though nearly one million units were sold during the iPad 2's first weekend, Microsoft's release may just appeal to users that enjoy the familiarity Windows offers. The Microsoft operating system isn't ripping off of its rivals characteristics; it's just updating its features to keep up with the ever changing market.
© Copyright IBTimes 2023. All rights reserved.