iPhone 5 Rumors: iOS 5.1 Strings Confirms 4G LTE for Next iPhone; New Concept Designs Showcase The Same
Speculations on Apple's next-generation products had never stopped and never will, despite the fact that sniffing the Cupertino tech giant's track has always been quite a task. Apple enthusiasts tend to imagine a lot prior to the launch of an Apple product, but when the wraps are finally off, very few presumptions prove spot on with new products bringing more surprises to leave us awestruck.
However, that doesn't seem to be the case with the growing rumors that the next iPhone may be a 4G LTE-compliant device. There could be two main reasons to believe that the upcoming iPhone would indeed feature high-speed 4G networks. First, the inclusion of 4G LTE support in the new iPad that launched last week. After Apple confirmed 4G LTE in its device, a number of sources have stated that the upcoming model of the Apple iPhone will be launched later this year, featuring the same technology.
Second, other smartphones from Apple's rival manufacturers have already boasted the much-improved cellular connection. That certainly makes 4G LTE a must have feature in the next iPhone allowing Apple to strengthen its position on the so-called smartphone battlefield.
Although an official confirmation of a 4G-ready iPhone is yet to land, evidence of the same has been spotted within the inwards of iOS 5.1 that has made the folks at iDownloadBlog feel 99.999% sure that the new iPhone will feature 4G capability.
A tipster has provided iDB with screenshots and detailed information from iOS 5.1, which he managed to get using iFile on a jailbroken iPhone 4 running iOS 5.1. After repeating the process and grabbing the same information on another iPhone 4 and iPod Touch, iDB said that all these strings likely exist on all 5.1 IPSW's. They even confirmed that the particular strings are new to iOS 5.1; they don't exist in iOS 5.0.1.
According to the report, the text strings read like this:
FOUR_G_GROUP_FOOTER_TEXT = Using LTE loads data faster.;
FOUR_G_SWITCH = Enable LTE;
The screenshots we received indicate 4G connectivity. Needless to say we were initially skeptical, because after all, the new iPad has 4G LTE, which would explain the presence of text strings like this, the iDB report said.
But they went on and said that the tipster provided them with further, more convincing evidence of an upcoming 4G capable phone device. He pinpointed to some more text strings contained within iOS 5.1:
4G_ON_CALL_CANCEL = Cancel;
4G_ON_CALL_OK_DISABLE = Disable;
4G_ON_CALL_OK_ENABLE = Enable;
4G_ON_CALL_WARNING_DISABLE = Disabling 4G will end your phone call. Are you sure you want to disable 4G?;
4G_ON_CALL_WARNING_ENABLE = Enabling 4G will end your phone call. Are you sure you want to enable 4G?;
4G_ON_FACETIME_4G_WARNING_DISABLE = Disabling 4G will end FaceTime. Are you sure you want to disable 4G?;
4G_ON_FACETIME_WIFI_WARNING_DISABLE = Disabling 4G may end FaceTime. Are you sure you want to disable 4G?;
4G_TEXT = Using 4G loads data faster, but may decrease battery life.;
These strings are definitely indicative of 4G presence on a phone device, said the iDB report.
FaceTime Over 4G?
As seen in the strings above, there's also a possibility that Apple could finally make FaceTime available over cellular connections - something which is still not approved officially, not even on the new iPad.
If you want to check out the strings for yourself, you first need a a jailbroken iPhone 4 or iPod touch running iOS 5.1. After that you are required to download iFile from the BigBoss repo in Cydia and install it on your device. After you run it, browse to:
var/stash/Applications/Preferences.app/English.lproj/Network.strings
For more insights, check out the iDownloadBlog video below.
iPhone 5: Most Talked About Rumors
The next iPhone is expected to come with a 3.7- to 4-inch Quantum Dot LED curved glass edge-to-edge display. Some earlier reports even said that a high resolution (1280x720) HD screen with a pixel density of 367ppi is also on the cards.
Rumors are also kicking in full swing that the device will feature a 4.6-inch display. Reuters cited South Korean Maeil Business Newspaper, Wednesday, as saying that Apple's new iPhone will have a sharper and bigger 4.6-inch retina display and will be launched around the second quarter of 2012. The report also stated that the company has already started placing orders to its suppliers.
Rumors also suggest that an A6 processor will eventually power the next iPhone. It will be a superfast 1.2 to 1.5 GHz processor with 1GB or more of RAM to offer amazing processing capabilities to the smartphone.
According to analysts at UBS, the next iPhone will get a complete revamp that includes new innovations that will be significant enough to drive above average excitement and buzz, Fox Business reported. The Swiss banking giant thinks the next generation iPad will be Apple's biggest launch ever, driven by a boost in the number of carriers it's available on and the countries it is available in, the report added.
Rumors are rife that the iPhone 5 may feature an 8 megapixel camera or even higher. Some reports even bet on a 3D camera. Apple had been granted a new patent for a new iDevice self-timer that allows the iPhone camera to wait till the photographer himself comes to the frame. Once the photographer is in the picture, the camera will detect his face and take the picture.
According to many reports, the Near Field Communication (NFC) technology will also be included in the upcoming Apple phone. The New York Times reported even before the launch of the iPhone 4S that a forthcoming iPhone would feature NFC. Since it did not turn out to be the iPhone 4S, it could well be the one on the cards.
A Stunning New Concept of the Next iPhone
Antonio De Rosa of the ADR Studio has come up with yet another set of stunning concept designs of the next-generation Apple iPhone.
Every Apple concept is a new challenge. The cool thing is you can use your own imagination to create some features don't exist on the market, focusing on design aspect and futuristic approaches, De Rosa said.
Among the features that De Rosa mentioned along with the designs was 4G LTE.
Start the slideshow to take a look at what De Rosa thinks the new iPhone should look like.
Must Read Articles: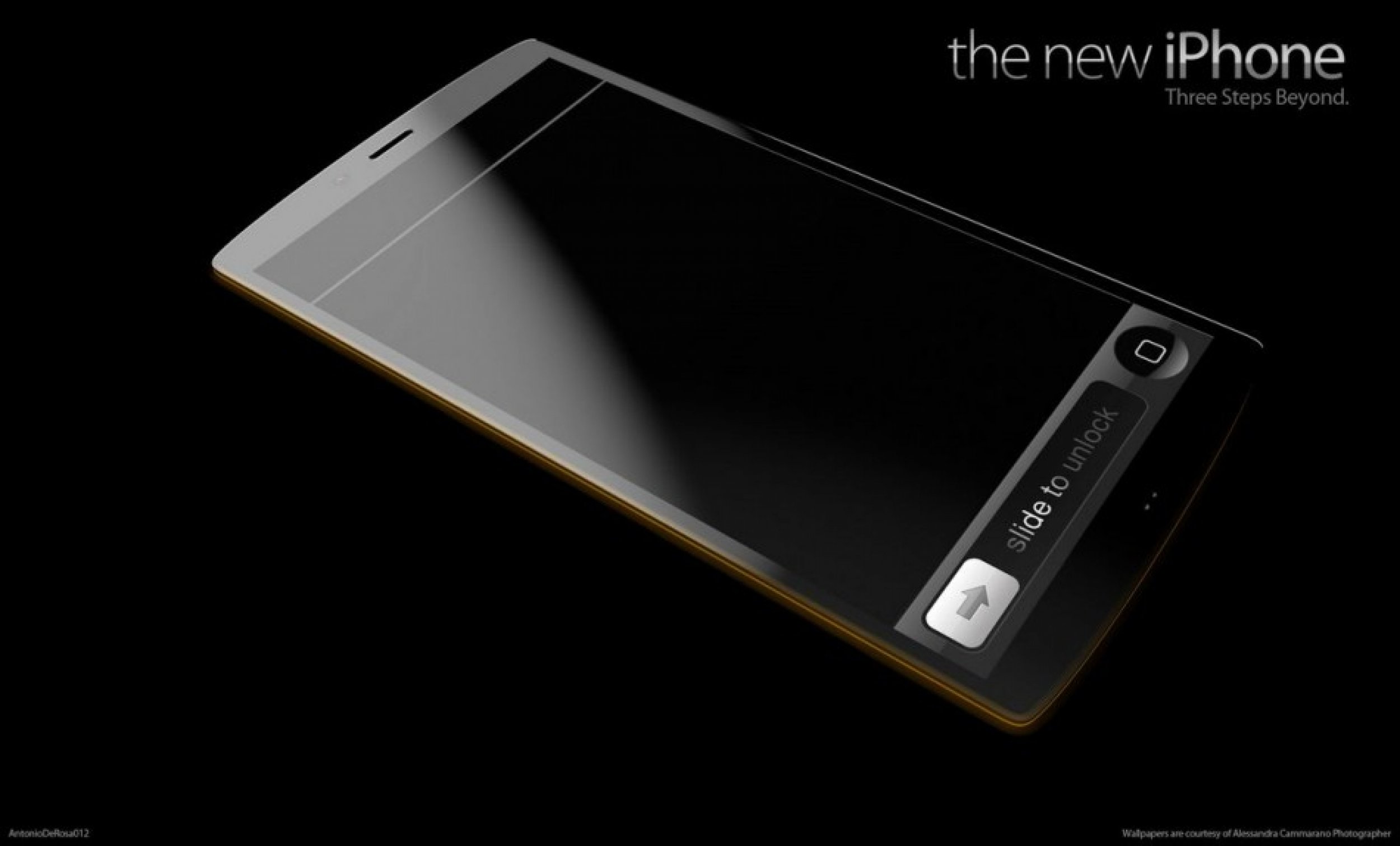 © Copyright IBTimes 2023. All rights reserved.