Apple iPhone 5 Release Date: Will Universal Remote Functionalities Make Future iPhone Control TVs?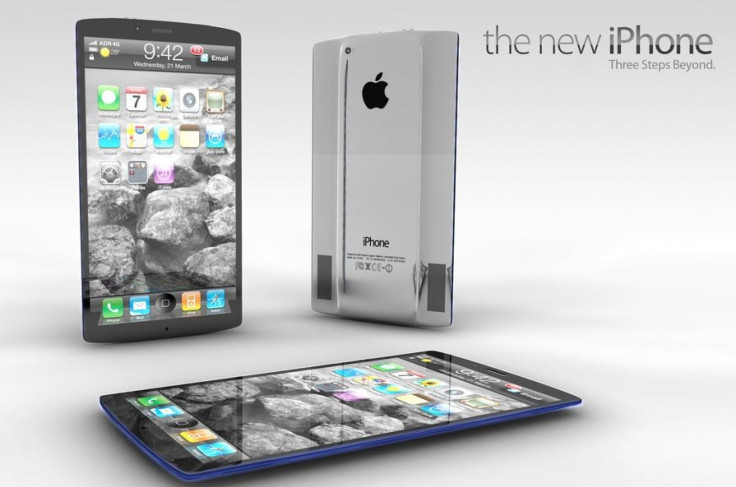 The buzz around Apple iPhone 5 is getting bigger and better day by day and the latest round of rumors suggest that the upcoming flagship smartphone is likely to receive yet another ground-breaking feature, something that will help the device make its way to your living room.
At a time when the tech world is busy churning the rumor mill about Apple TV, a recent report from Patently Apple also added iPhone 5 to the scene, saying that the Cupertino-based tech giant might offer a universal remote control feature to upcoming iPhones and possibly iPads.
The report was based on an Apple patent application released by the US patent office for a remote control device that is configurable to gather state information from controlled components.
For example, the remote control may have one or more cameras, microphones and/or other sensors. The sensors may be configured to operate upon actuation of the remote control device to determine if signals transmitted by the remote control were received and a desired result was achieved, said the report.
How would the new patent work once it's integrated in the upcoming iPads and iPhones? Patently Apple explained: you take a photo of your current TV remote and it sends it to iCloud for analysis. It then sends a 'virtual copy' of your remote, functionality and all, to your iPhone.
In the application, Apple describes the use of the iPhone as a self-configuring universal remote for home entertainment systems. It acknowledged that the iPhone would also need to have IR transmission capabilities.
The report speculated that the feature is likely to be integrated into a future iPhone (or other iOS device) instead of it being an add-on app at the App Store. The advanced features being added to Apple remote could be signaling their preparation for a standalone HDTV as it's to control a television and other related entertainment devices.
The PA report did mention that in the patent application, originally filed in Q3 2010, Apple stated that advanced universal remote controls may be capable of controlling not only home entertainment systems, including audio and video equipments, but also home automations systems like lighting, door locks and the like.
Some tech analysts have taken this speculation with a pinch of salt. While John Cox of Computer World said that the iOSsphere doesn't quite know what to make of this, Arnold Kim of MacRumors seemed skeptical whether the concept would make its way into production anytime soon.
Adam Patterson of InvestorPlace sounded even bolder, when he hastily termed the PA report as a leaked one. A leaked Apple patent reveals possible schematic changes to the upcoming iPhone 5 -- the most surprising of them being that Apple's next-gen smartphone may be usable as a universal remote, Patterson said.
A report by ITProPortal brought another point to the fore with a question: Would future users of Apple TV have to own other Apple products in order to control their new electronics in the living room?
iPhone 5 Key Rumored Features Rollup
Speculations about the release timeframe to new features on the next generation iPhone are now hot topics of discussion among tech geeks.
Display Drama: Considering that the new iPad has Retina Display with a ground breaking 2048 x 1536 resolution, the forthcoming iPhone model is also expected to feature something higher in terms of its display. While some recent reports suggest that the phone will sport a gigantic 4.6-inch screen, new reports surfaced Thursday saying that Apple had planned to stick with the current 3.5-inch screen size.
The upcoming iPhone model is also rumored to feature Quantum Dot LED curved glass edge-to-edge display with 1280 x 720 resolutions (367ppi).
4G LTE and Sprint Fiasco: Last week, a report in DigiTimes cited unnamed sources within Taiwan-based smartphone manufacturers, who claimed that the next generation iPhone will very likely contain an embedded 4G LTE radio. Given that the new iPad came with 4G LTE support, the probability of LTE technology being incorporated in Apple's next iPhone cannot be ignored right away.
But the story of a 4G-ready iPhone 5 got an interesting twist when Bernstein Research analyst Craig Moffett came up with a note saying that Sprint's scramble to deliver a 4G network could bring it to its knees once Apple unleashes its upcoming iPhone 5.
According to Moffett, debt-laden Sprint could end up filing for bankruptcy if its Network Vision upgrade didn't offer the next-generation wireless technology it needs, AllThingsD reported.
Although Moffett added that he was not predicting the Sprint bankruptcy but just pointing out risks that the iPhone 5 might bring.
To be clear, we are not predicting a Sprint bankruptcy, Moffett said. We are merely acknowledging that it is a very legitimate risk. And notwithstanding a recent rally in Sprint shares, we believe that risk is rising.
NFC - A Huge Possibility: Many reports said that the Near Field Communication (NFC) technology would also be featured in the upcoming Apple phone. The New York Times reported prior to the launch of iPhone 4S that a forthcoming iPhone would feature NFC. Since it did not turn out to be the iPhone 4S, it could well be the one on the cards.
According to a recent report by Insane Planet, the NFC technology on the iPhone 5 is becoming a huge possibility. The report cited a Patently Apple post regarding an Apple patent application about iWallet and NFC, and said that Apple had granted a patent for iWallet to payments via NFC and diagrams passed from Apple to the Patent & Trademark Office in the US shows an iPhone which may possibly be the iPhone 5.
The idea of the iWallet is to let individuals buy things by merely using their iPhone 5 or any other device of Apple. This means that the user does not need to bring a credit card to a store with NFC support, the report added.
Ultrasonic Bonding and Revamped Design: Patently Apple gave rise to another set of rumors earlier this week suggesting that iPhone 5 is likely to feature ultrasonic bonding to get stronger.
As per the PA report, on March 15, 2012, the US Patent & Trademark Office published a patent application from Apple that refines an older 2008 patent on using Ultrasonic bonding in products like the 2009 metal back iPhone and current iPods.
According to PA, ultrasonic bonding can be useful for making stronger, more lasting bond than using adhesives to hold different materials together, i.e. in a phone casing. Though it can prove complicated because of the use of materials with two different melting points, like metal and plastic, Apple's solution is to use a metallic surface that can withstand the flow of melted plastic into one or more surface irregularities therein, allowing a plastic item to be ultrasonically bonded to a metal item, said the report.
When it comes to design, analysts at UBS think that the next iPhone will have a complete revamp that includes new innovations that will be significant enough to drive above average excitement and buzz, Fox Business reported.
The complete redesign should drive a stronger than average upgrade cycle for existing iPhone users and continue to encourage other smartphone and non-smartphone users to make the switch, UBS's analysts said.
Camera, Processor, OS and Battery: Considering Android smartphones are increasingly coming with 8 megapixel camera, iPhone 5 is also expected to feature something similar or even higher. Another rumor indicated that the iPhone 5 will even have a 3D camera.
Rumors also suggest that an A6 processor will eventually power the next iPhone. It will be a superfast 1.2 to 1.5 GHz processor with 1GB or more of RAM to offer amazing processing capabilities to the smartphone.
Apple released iOS 5.1, an incremental update to iOS 5 on March 7. According to it, the current iPhone 4S and the new iPad will run the latest iOS update. Since every new Apple device comes with an upgraded version of the company's mobile operating system, speculations are rife that an update to iOS 6.0 is possible by the time of the iPhone 5 release later this year.
Will the battery finally improve? Yes, it's very likely to be. It's expected that the iPhone 5 will have better battery life than the Li-Po 1420 mAh battery in iPhone 4S that gives up to 8 hours of talk time on 3G and up to 14 hours on 2G (GSM).
Release Date: Rumors are rife that Apple will launch the iPhone 5 in the second half of 2012. It might abandon mid-year launches and consider a 12-month iPhone upgrade cycle starting in the fall. According to Asian reliable source, next iPhone will be released in September or October, and this cycle seems to be kept for years, a recent report in Japanese blog Macotakara said.
Must Read Articles:
© Copyright IBTimes 2023. All rights reserved.
FOLLOW MORE IBT NEWS ON THE BELOW CHANNELS