iPhone 5S Price Cut By Half In India: Can Apple Inc. Dominate World's Fastest-Growing Smartphone Market?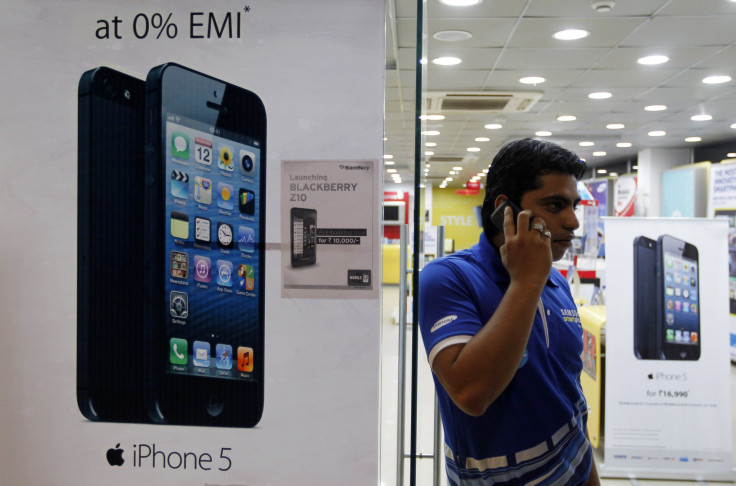 Apple is aggressively seeking to expand its market share in India by cutting the price of its best-selling model there, the iPhone 5S, by half. However, at $370 this 4-inch smartphone is still out of reach of most Indians. Further, with larger screens dominating the market, Apple could still struggle to gain a significant foothold in what is soon to be the world's second-biggest smartphone market.
The move comes at a critical time for Apple. U.S. growth of iPhone sales is expected to cool in the coming years, so the company needs to tap new, emerging markets. India, along with China, is key to that effort.
Apple cut the price of its best-selling iPhone in India after sales of its premium iPhone 6S stalled, according to a report from the Times of India, with the price of the 16GB iPhone 5S now at 24,999 rupees ($370), down from 44,500 rupees ($665) in September. However, other online retailers are offering even better deals, with the iPhone 5S available on Flipkart for 21,945 rupees while Amazon India is offering the same model for 22,300 rupees.
Although a $370 smartphone in markets like the U.S. and U.K. may be seen as a midrange device, in India this is still very much at the premium end of the market, and only 10 percent to 15 percent of all smartphones sold in the country are in this price bracket, according to Neil Shah, an analyst with CounterPoint research. In India, the company's flagship iPhone 6S sells for almost $1,000, a $350 premium to its U.S. price.
India, with a population of more than 1.2 billion and a smartphone penetration of less than 20 percent, is seen as a huge opportunity for vendors like Apple and Samsung, which are reaching a saturation point in more mature markets. According to CounterPoint Research, Apple sold 1.7 million iPhones in India in the 12 months to the end of September, giving it just 1 percent market share, though due to the relatively high price, its revenue share is 9 percent.
While such an aggressive price cut (albeit on a smartphone that is over two years old) will be seen by many as a way for Apple to increase market share in India, Shah has another theory. "For Apple, they want to get as many Indian smartphone users to enter its ecosystem and eventually lock them in and upgrade to higher ASP [average selling price] iPhones in future. This also maximizes their opportunity to cross-sell other devices and services in the future. The total CLV (customer lifetime value) is what Apple is targeting here."
Distribution
The iPhone 5S accounts for 50 percent of Apple's total sales in India, according to retailers speaking to the Times of India, making it the company's most popular model and making the price cut all the more surprising. Carolina Milanesi, head of research at Kantar WorldPanel ComTech, believes that while price cuts may help, that is not the only problem the company faces in India. "Aggressive pricing will certainly help, but I think distribution will need to be looked at, too. It's much harder in India to control and distribute stock given the plethora of mom and pop shops vs. larger stores," Milanesi told International Business Times.
Apple iPhone 5S | SpecOut
The Indian market is dominated by manufacturers like Samsung, but local companies like Micromax, Lava and Index all perform well in their home country, partly as a result of the Indian government's Made In India rules. These require 30 percent of products to be sourced locally for non-Indian companies looking to set up shop in the country. Those restrictions were recently relaxed, paving the way for Apple to launch its own stores, something that could help distribution.
Another problem for Apple is that its iPhone 5S has a 4-inch screen, which by today's standards is tiny. In India, where a smartphone is typically the only computing device a consumer owns, the phablet is king and a smartphone with a 4-inch screen is a tough sell, even when it has the added cachet of the Apple logo.
Moving The Needle
With 90 percent of smartphones in India sold in this price bracket having 5-inch screens or bigger, this price cut "won't move the needle much for Apple" in terms of market share, according to Shah, adding that the idea of a cheap iPhone could have a negative impact. "This [price drop] could also somewhat hurt Apple's brand 'premiumness' if consumers get used to getting Apple devices at huge discounts, as many Indian consumers are super price conscious and fickle to jump ship."
In this bracket, which is seen as one of the least competitive in the Indian market, Apple is going against products like the OnePlus 2, Samsung's Galaxy A series and even Google's Nexus 5X — all of which have significantly larger screens.
One possible reason for the sudden and unexpected price cut from Apple could be the imminent arrival of a newer 4-inch iPhone in the shape of the iPhone 6C, which is rumored to be introduced at an event in March alongside the Apple Watch 2 and the iPad 3. While it may offer improved performance and a better camera, it won't address the small screen concerns many Indians have with the iPhone 5S.
"Perhaps the longer term solution here is to launch a newer handset at the 5-inch screen size that is specifically aimed at these emerging markets," Kantar's Imran Choudhray told IBT.
© Copyright IBTimes 2023. All rights reserved.