iPhone 6 Competitors: 6 Smartphones Going Up Against Apple's Flagship This September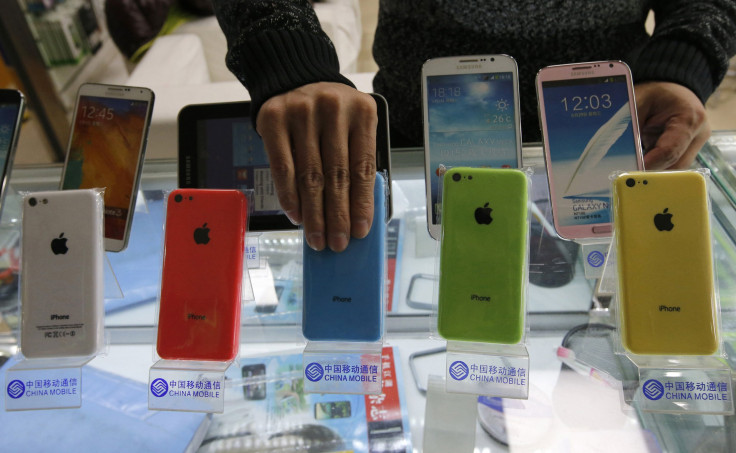 With all the hype around Apple Inc.'s (NASDAQ:AAPL) iPhone season beginning Tuesday, it's easy to forget that there are several other smartphones launching in September, in addition to many more perfectly good devices already on the market. Before you slip into iPhone 6-a-palooza, take a look at the upcoming devices from Samsung, Sony, HTC, Motorola, BlackBerry and others, as well as some favorites from the past year.
Samsung Galaxy Note 4/Samsung Galaxy Note Edge
The Galaxy Note 4 and Galaxy Edge phablets by Samsung Electronics Co. (KRX:005930) were announced last Wednesday with some standout features new to the Korean manufacturer. The Samsung Galaxy Note 4 introduces a super-high-resolution QHD (1440x2560) display to Samsung's smartphone line, which projects sharper images and brighter colors than HD or Full HD displays. The display complements the device's 16-megapixel camera, which includes image-stabilization technology, a feature long anticipated for Samsung phones. The Galaxy Note 4 camera also supports 8x digital zoom, another industry first, and includes a 3.7-megapixel front camera, great for taking selfies.
The right side of the display on the Samsung Galaxy Note Edge curves down around the edge of the phone for extended viewing. The device features interruption-free controls that allow the user to relegate notifications and other functions to the edge screen, leaving the main part of the screen free for primary functions. When turned off, the edge screen turns into an alarm clock and illuminates at night. Both the Galaxy Note 4 and Galaxy Note Edge are compatible with Samsung's Gear VR headset.
Sony Xperia Z3
The Xperia Z3 by Sony Corp. (NYSE:SNE) was announced Wednesday with many features well known to Sony, in addition to a few new ones. The Xperia Z3 has the typical rectangular Sony form factor with metal accents as well as its water- and dust-resistance with an Ingress protection rating of IP68.
New to Sony's Xperia line is compatibility with PlayStation 4 gaming with the Remote Play application. Users can pair an Xperia Z3 handset to a PS4 console through Wi-Fi and play games with a PS4 DualShock controller. With a 3100mAh battery, Sony also claims the Xperia Z3 boasts a battery life of up to two days.
HTC One M8 for Windows
The HTC One M8 has been dazzling the market with a 90 percent metal unibody since March, but HTC Corp. (TPE:2498) teamed up with software giant Microsoft Corp. (NASDAQ:MSFT) for a new model of the device that runs the Windows Phone 8.1 operating system. The HTC One M8 for Windows is identical to the original HTC One M8 by way of hardware specifications, but the Windows software provides a unique user experience. Windows Phone 8.1 includes such features as the Cortana personal assistant and a tiled layout instead of application icons. The HTC One M8 for Windows is available on Verizon (NYSE:VZ) as of Monday, but will also be available on AT&T (NYSE:T) in the future. Other models of the HTC One M8 include the original, which runs Android software with HTC's Sense user interface and the HTC One M8 Google Play Edition, which runs pure Android software with no modifications or bloatware.
Motorola Moto X (2014)
Following in the footsteps of Google Inc. (NASDAQ:GOOGL) with two generations of the Nexus 7 tablet and HTC with two generations of the HTC One smartphone, Motorola (NYSE:MSI) is introducing a second generation of its Moto X smartphone with the same name. The Moto X (2014) was announced last Friday and not only features more powerful hardware, but also a more premium external design. The new Moto X includes aluminum trim and real leather options for its back panel. Like the original Moto X, users will be able to customize the look and feel of the device with the Moto Maker designer, which has been updated for easier use. Motorola also announced a new generation of its Moto G smartphone, which will sell for a super budgeted off-contract price, under $200.
BlackBerry Passport
BlackBerry (NASDAQ: BBRY) is planning a comeback and is reportedly going back to its roots to introduce the BlackBerry Passport, a new smartphone with a physical keyboard. Prior to the slate form factor made popular by Apple, BlackBerry's feature phones with their physical QWERTY keyboards were the devices to own. Since then, BlackBerry has failed to capture the smartphone audience despite several attempts at touchscreen keyboard devices. The BlackBerry Passport is expected to have a square form factor, much different from the curved classic BlackBerry look, but should also include a higher resolution display in addition to the physical keyboard. BlackBerry is expected to announce the Passport on Sept. 24.
Others
Devices new this September aren't consumers' only option. With the introduction of new devices often come drastic price cuts on older device models. Last year's iPhone models are especially seeing price cuts as they move into the midrange space in Apple's market. Walmart (NYSE:WMT) is selling the iPhone 6c for just 97 cents with a two-year contract and the iPhone 5S for $79. Several carriers and other retailers are also offering discounts on the older iPhones in preparation for the launch of new iPhone models.
With competitors also releasing new devices during this time, their older models are also being discounted. Now would be a good time to get deals on the Samsung Galaxy S5 or the Samsung Galaxy Note 3. The HTC One M8 and LG G3 could also soon see a price cut as the new iPhone launches. Amazon.com (NASDAQ:AMZN) announced just one day before the iPhone unveiling that its Fire Phone would see a price cut from $199 with a two-year contract to just 99 cents.
Consumers also have countless options outside of the U.S. with several devices that are available only on foreign markets. The Samsung Galaxy Alpha recently launched as a midrange device with many high-end specifications, including a metal exterior. The LG G3 Beat is a compact version of the LG G3 flagship while the LG G3 Stylus is a phablet version of the device that includes a capacitive pen, as its name describes. The HTC Desire 510 is the first 64-bit Android device and will also sell at a midrange price point. The Huawei Ascend Mate 7 is the Huawei's 2014 flagship while the Huawei Ascend G7 is the midrange option. The Xiaomi Mi 4 is the Xiaomi's 2014 flagship while the Xiaomi Redmi Note is a midrange phablet.
© Copyright IBTimes 2023. All rights reserved.
FOLLOW MORE IBT NEWS ON THE BELOW CHANNELS