iPhone 6 Sales Frenzy Won't Fix The Economy, Says Goldman Sachs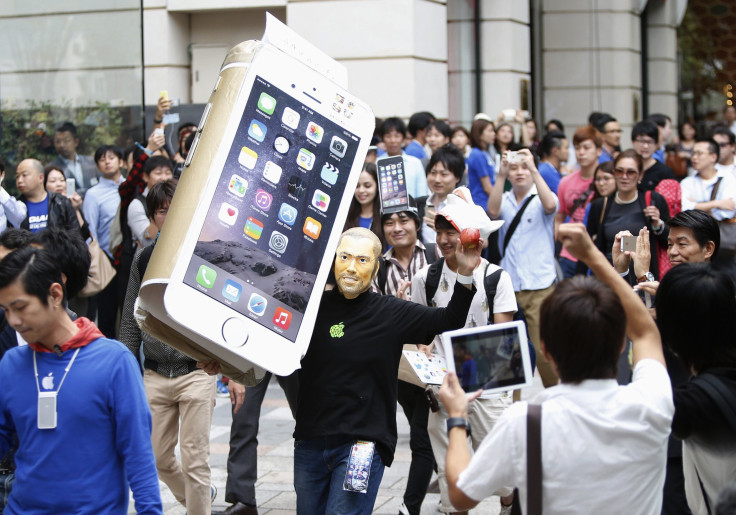 Yes, the exuberance is infectious -- celebratory headlines, long lines at Apple stores, a flood of photos on Instagram. But no, the sale of 10 million iPhone 6 and iPhone 6 Plus models during the weekend isn't expected to fix the economy, analysts at Goldman Sachs say in a research note. The premise -- that new product launches could have such an oversize impact on the U.S. economy -- may seem absurd, but Apple's iPhone has historically given core retail sales a bump on occasion, notes Zero Hedge. The positive impact of previous iPhone launches has led analysts to estimate the new iPhones could give a 0.1 percent to 0.7 percent boost to September core retail sales.
The last launch by Apple, the iPhone 5S/5C, did not have much of an impact because the 5C didn't generate quite the sales frenzy expected and there was no preorder period for the 5S.
Here's a chart (via ZH) of how iPhone launches have impacted retail sales at electronics stores and online: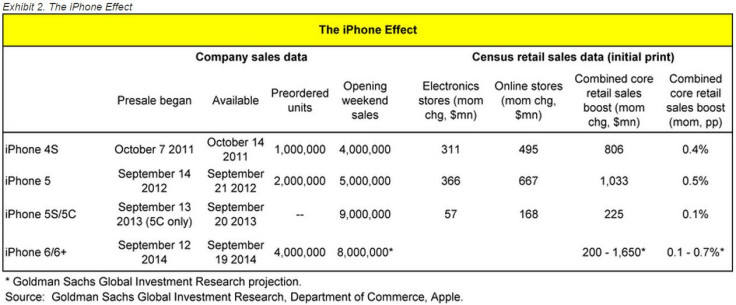 Per Goldman Sachs, seasonal adjustments could blunt the impact of the new iPhone:
Nonetheless, the indicative seasonal adjustments provided by Census do look like a tougher hurdle this year than in prior years. This could reflect a number of factors: (1) the tendency for fall product launches from Apple may be starting to be incorporated into "normal" seasonality, (2) the early timing of Labor Day could be a factor, or (3) shifting seasonality in areas completely unrelated to the iPhone could be driving the higher expected seasonal gain. The first possibility would represent the most downside risk to our earlier estimate of a 0.1 to 0.7 percent boost to September core retail sales. At this point, it is too early to have an explicit forecast for the September retail sales report, and we will refine our estimate of the iPhone effect further in coming weeks, but our early analysis points to September upside relative to the recent trend on core retail sales.
© Copyright IBTimes 2023. All rights reserved.